Boccherini: Complete Guitar Quintets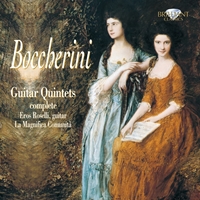 Composer
Luigi Boccherini
Artist
Eros Roselli guitar
La Magnifica Comunità
Enrico Casazza violin and concert master
Format
2 CD
Cat. number
92892
EAN code
5028421928920
Release
April 2006
About this release
The 9 guitar quintets by Luigi Boccherini are probably arrangements of other pieces he wrote. Some were originally for piano quintet, some are combinations of pieces for other instruments. Nevertheless they sound very original, have a definite Spanish feel to them and make very enjoyable listening.

Of course two movements have become famous by themselves. There is the Fandango, the final movement of the fourth quintet with an unmistakable obviously Spanish rhythm. And the ninth quintet has the highly entertaining 'La ritirata di Madrid', depicting Madrid at night. Luciano Berio liked it so much that he made an arrangement of it.

A recording by La Magnifica Communitá. This ensemble has recorded Boccherini's other quintets as well. They are here joined by guitarist Eros Roselli.
Listening
Track list
Disk 1
Luigi Boccherini: Quintetto I in D Minor, G. 445: Allegro moderato

Luigi Boccherini: Quintetto I in D Minor, G. 445: Cantabile

Luigi Boccherini: Quintetto I in D Minor, G. 445: Minuetto

Luigi Boccherini: Quintetto I in D Minor, G. 445: Allegro assai

Luigi Boccherini: Quintetto III in B-Flat Major, G. 447: Allegro moderato

Luigi Boccherini: Quintetto III in B-Flat Major, G. 447: Tempo di Minuetto

Luigi Boccherini: Quintetto III in B-Flat Major, G. 447: Adagio

Luigi Boccherini: Quintetto III in B-Flat Major, G. 447: Allegro

Luigi Boccherini: Quintetto V in D Major, G.449: Andantino pausato

Luigi Boccherini: Quintetto V in D Major, G.449: Minuetto (Allegro)

Luigi Boccherini: Quintetto V in D Major, G.449: Allegro giusto

Luigi Boccherini: Quintetto V in D Major, G.449: Andantino pausato con variazioni

Luigi Boccherini: Quintetto VI in G Major, G. 450: Allegro con vivacità

Luigi Boccherini: Quintetto VI in G Major, G. 450: Andantino lento

Luigi Boccherini: Quintetto VI in G Major, G. 450: Tempo di Minuetto

Luigi Boccherini: Quintetto VI in G Major, G. 450: Allegretto
Disk 2
Luigi Boccherini: Quintetto IV in D Major, G. 448, "Fandango": Pastorale

Luigi Boccherini: Quintetto IV in D Major, G. 448, "Fandango": Allegro maestoso

Luigi Boccherini: Quintetto IV in D Major, G. 448, "Fandango": Grave assai

Luigi Boccherini: Quintetto IV in D Major, G. 448, "Fandango": Fandango

Luigi Boccherini: Quintetto II in E Major, G. 446: Maestoso assai

Luigi Boccherini: Quintetto II in E Major, G. 446: Adagio

Luigi Boccherini: Quintetto II in E Major, G. 446: Allegretto

Luigi Boccherini: Quintetto II in E Major, G. 446: Polacca. Tempo di Minuetto

Luigi Boccherini: Quintetto in C Major, G. 453, "La Ritirata di Madrid": Allegro maestoso assai

Luigi Boccherini: Quintetto in C Major, G. 453, "La Ritirata di Madrid": Andantino

Luigi Boccherini: Quintetto in C Major, G. 453, "La Ritirata di Madrid": Allegretto

Luigi Boccherini: Quintetto in C Major, G. 453, "La Ritirata di Madrid": Maestoso e lento (La Ritirata di Madrid)