Boccherini Edition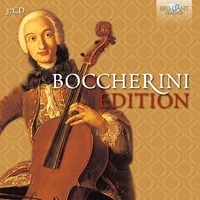 | | |
| --- | --- |
| Composer | Luigi Boccherini |
| Artist | Various artists |
| Format | 37 CD |
| Cat. number | 94386 |
| EAN code | 5028421943862 |
| Release | September 2012 |
About this release
One of the most distinguished figures of the Classical period, the Italian composer Luigi Boccherini (1743–1805) was revered by 18th-century listeners and musicians for the charm, elegance and lyrical beauty of his music. Although his legacy has been undervalued in modern times, this new 37 CD box set, the most comprehensive on the market, invites listeners to rediscover the distinctive musical voice and graceful style that won Boccherini acclaim during his own lifetime.

The composer's famed chamber works are explored in particular detail: a broad survey of the string quintets highlights the warmth and sophistication that listeners have found so appealing in Boccherini's music, and the oboe, piano and guitar quintets (including the evocative 'Fandango' Guitar Quintet) showcase his imaginative handling of instrumental and tonal colour. Boccherini's prodigious talent as a cellist is apparent in the virtuosic cello sonatas and concertos, which call for an array of dazzling instrumental techniques, while the Stabat Mater is one of just a handful of vocal works that he wrote during his career. Also included are two discs of mature symphonies, less ground-breaking than those of his contemporaries Mozart and Haydn but equally compelling for their expressive melodies subtle innovations.

Over these 37 discs, Boccherini's works are given outstanding readings by specialists in 18th-century repertoire, with a number of performances on period instruments. The collection is a testament to the enduring charm of the Italian composer's music, and listeners will cherish the opportunity to rediscover and explore it in greater depth.

Other information:
- The most comprehensive and wideranging Boccherini box set on the market, spanning both major and lesser-known
works.
- Featuring performances on period instruments by specialists in 18th-century music and others like: New Berlin Chamber
Orchestra, Michael Erxleben, Accademia i Filarmonici di Verona, Enrico Bronzi, Lajos Léncses, Parisii Quartet, Eros Roselli, La
Magnifica Comunità, Ilario Gregoletto, Ensemble Claviere, Petersen Quartet, Franco Angeleri, Enrico Gatti, Galimathias
Musicum, Luigi Puxeddu, Federico Bracalente, Claudio Lapolla, Francesco Lattuada. Francesco Ferrarini, Barbara
Vignudelli, Orchestra da Camera 'Benedetto Marcello', Flavio Emilio Scogna.
- The average music lover knows only one piece by Boccherini: the famous Menuet. And indeed it is quintessential Boccherini:
elegant, charming, sweetly melodic, warm and graceful. However there is more to this famous classical composer: his vast output
of mainly chamber music shows him an genius craftsman, ables to express himself in a wide range of emotions, in well balanced and
perfected structures of the Classical Style.
Track list
Disk 1
Luigi Boccherini: Symphony in C, G. 515: I. Allegro con moto

Luigi Boccherini: Symphony in C, G. 515: II. Menuetto – Trio

Luigi Boccherini: Symphony in C, G. 515: III. Lento

Luigi Boccherini: Symphony in C, G. 515: IV. Finale: Allegro vivo assai

Luigi Boccherini: Symphony in D Minor, G. 517: I. Allegro moderato

Luigi Boccherini: Symphony in D Minor, G. 517: II. Minuetto con moto – Trio

Luigi Boccherini: Symphony in D Minor, G. 517: III. Andante amoroso

Luigi Boccherini: Symphony in D Minor, G. 517: IV. Allegro vivo ma non presto

Luigi Boccherini: Symphony in A, G. 518: I. Allegro spiritoso

Luigi Boccherini: Symphony in A, G. 518: II. Minuetto: Allegro – Trio

Luigi Boccherini: Symphony in A, G. 518: III. Andante

Luigi Boccherini: Symphony in A, G. 518: IV. Allegro ma non presto
Disk 2
Luigi Boccherini: Symphony in C Minor, G. 519: I. Allegro vivo assai

Luigi Boccherini: Symphony in C Minor, G. 519: II. Pastorale lentarello

Luigi Boccherini: Symphony in C Minor, G. 519: III. Minuetto: Allegro – Trio

Luigi Boccherini: Symphony in C Minor, G. 519: IV. Finale: Allegro

Luigi Boccherini: Symphony in D, G. 520: I. Allegro

Luigi Boccherini: Symphony in D, G. 520: II. Andante

Luigi Boccherini: Symphony in D, G. 520: III. Minuetto: Allegro – Trio

Luigi Boccherini: Symphony in D, G. 520: IV. Finale: Presto

Luigi Boccherini: Symphony in D, G. 521: Allegro con molto spirito – Andantino – Allegro

Luigi Boccherini: Symphony in D Minor, G. 522: I. Adagio – Allegro vivo assai

Luigi Boccherini: Symphony in D Minor, G. 522: II. Andantino

Luigi Boccherini: Symphony in D Minor, G. 522: III. Minuetto: Allegro – Trio

Luigi Boccherini: Symphony in D Minor, G. 522: IV. Adagio – Allegro vivo assai
Disk 3
Luigi Boccherini: Cello Concerto in D, G. 479: I. Allegro

Luigi Boccherini: Cello Concerto in D, G. 479: II. Adagio

Luigi Boccherini: Cello Concerto in D, G. 479: III. Allegro assai

Luigi Boccherini: Cello Concerto in G, G. 480: I. Allegro

Luigi Boccherini: Cello Concerto in G, G. 480: II. Adagio

Luigi Boccherini: Cello Concerto in G, G. 480: III. Allegro

Luigi Boccherini: Cello Concerto in C, G. 477: I. Allegro

Luigi Boccherini: Cello Concerto in C, G. 477: II. Largo

Luigi Boccherini: Cello Concerto in C, G. 477: III. Allegro

Luigi Boccherini: Cello Concerto in B-Flat, G. 482: I. Allegro moderato

Luigi Boccherini: Cello Concerto in B-Flat, G. 482: II. Andante grazioso

Luigi Boccherini: Cello Concerto in B-Flat, G. 482: III. Rondo: Allegro
Disk 4
Luigi Boccherini: Cello Concerto in E-Flat, G. deest: I. Maestoso

Luigi Boccherini: Cello Concerto in E-Flat, G. deest: II. Largo

Luigi Boccherini: Cello Concerto in E-Flat, G. deest: III. Allegro

Luigi Boccherini: Cello Concerto in D, G. 478: I. Allegro con spirito

Luigi Boccherini: Cello Concerto in D, G. 478: II. Larghetto

Luigi Boccherini: Cello Concerto in D, G. 478: III. Rondo: Comodo assai

Luigi Boccherini: Cello Concerto in A, G. 475: I. Allegro

Luigi Boccherini: Cello Concerto in A, G. 475: II. Adagio

Luigi Boccherini: Cello Concerto in A, G. 475: III. Rondo: Allegro

Luigi Boccherini: Cello Concerto in D, G. 483: I. Allegro moderato

Luigi Boccherini: Cello Concerto in D, G. 483: II. Andante lentarello

Luigi Boccherini: Cello Concerto in D, G. 483: III. Allegro e con moto
Disk 5
Luigi Boccherini: Cello Concerto in E-Flat, G. 474: I. Allegro moderato

Luigi Boccherini: Cello Concerto in E-Flat, G. 474: II. Largo

Luigi Boccherini: Cello Concerto in E-Flat, G. 474: III. Rondo: Allegro

Luigi Boccherini: Cello Concerto in C, G. 573: I. Maestoso

Luigi Boccherini: Cello Concerto in C, G. 573: II. Largo cantabile

Luigi Boccherini: Cello Concerto in C, G. 573: III. Allegro comodo

Luigi Boccherini: Cello Concerto in D, G. 476: I. Allegro

Luigi Boccherini: Cello Concerto in D, G. 476: II. Largo

Luigi Boccherini: Cello Concerto in D, G. 476: III. Allegro a piacere

Luigi Boccherini: Cello Concerto in C, G. 481: I. Allegro moderato

Luigi Boccherini: Cello Concerto in C, G. 481: II. Adagio

Luigi Boccherini: Cello Concerto in C, G. 481: III. Allegretto
Disk 6
Luigi Boccherini: String Sextet in F Minor G. 457 Op. 23 No. 4: I. Allegro moderato

Luigi Boccherini: String Sextet in F Minor G. 457 Op. 23 No. 4: II. Minuetto con moto

Luigi Boccherini: String Sextet in F Minor G. 457 Op. 23 No. 4: III. Grave assai

Luigi Boccherini: String Sextet in F Minor G. 457 Op. 23 No. 4: IV. Finale: Allegro ma non presto

Luigi Boccherini: String Sextet in E-Flat, G. 454, Op. 23 No. 1: I. Allegro molto

Luigi Boccherini: String Sextet in E-Flat, G. 454, Op. 23 No. 1: II. Larghetto

Luigi Boccherini: String Sextet in E-Flat, G. 454, Op. 23 No. 1: III. Minuetto – Trio I–III

Luigi Boccherini: String Sextet in F G. 459, Op. 23 No. 6: I. Andantino grazioso

Luigi Boccherini: String Sextet in E-Flat, G. 454, Op. 23 No. 1: II. Allegro assai

Luigi Boccherini: String Sextet in E-Flat, G. 454, Op. 23 No. 1: III. Tempo di minuetto – Trio

Luigi Boccherini: String Sextet in E-Flat, G. 454, Op. 23 No. 1: IV. Finale: Prestissimo

Luigi Boccherini: String Sextet in E, G. 456, Op. 23 No. 3: I. Moderato assai

Luigi Boccherini: String Sextet in E, G. 456, Op. 23 No. 3: II. Allegro brillante

Luigi Boccherini: String Sextet in E, G. 456, Op. 23 No. 3: III. Minuetto – Trio

Luigi Boccherini: String Sextet in E, G. 456, Op. 23 No. 3: IV. Finale: Presto
Disk 7
Luigi Boccherini: Oboe Quintet in G, G. 431, Op. 55 No. 1: I. Allegro con vivicità

Luigi Boccherini: Oboe Quintet in G, G. 431, Op. 55 No. 1: II. Allegretto

Luigi Boccherini: Oboe Quintet in F, G. 432, Op. 55 No. 2: I. Andantino

Luigi Boccherini: Oboe Quintet in F, G. 432, Op. 55 No. 2: II. Minuetto

Luigi Boccherini: Oboe Quintet in D, G. 433, Op. 55 No. 3: I. Allegretto

Luigi Boccherini: Oboe Quintet in D, G. 433, Op. 55 No. 3: II. Tempo di minuetto

Luigi Boccherini: Oboe Quintet in A, G. 434, Op. 55 No. 4: I. Andantino

Luigi Boccherini: Oboe Quintet in A, G. 434, Op. 55 No. 4: II. Allegretto

Luigi Boccherini: Oboe Quintet in E-Flat, G. 435, Op. 55 No. 5: I. Andante lento

Luigi Boccherini: Oboe Quintet in E-Flat, G. 435, Op. 55 No. 5: II. Minuetto con moto

Luigi Boccherini: Oboe Quintet in E-Flat, G. 435, Op. 55 No. 5: III. Lento come prima

Luigi Boccherini: Oboe Quintet in D Minor, G. 436, Op. 55 No. 6: I. Allegretto comodo assai

Luigi Boccherini: Oboe Quintet in D Minor, G. 436, Op. 55 No. 6: II. Minuetto
Disk 8
Luigi Boccherini: Guitar Quintet in D Minor, G. 445: I. Allegro moderato

Luigi Boccherini: Guitar Quintet in D Minor, G. 445: II. Cantabile

Luigi Boccherini: Guitar Quintet in D Minor, G. 445: III. Minuetto

Luigi Boccherini: Guitar Quintet in D Minor, G. 445: IV. Finale: Allegro assai

Luigi Boccherini: Guitar Quintet in B-Flat, G. 447: I. Allegro moderato

Luigi Boccherini: Guitar Quintet in B-Flat, G. 447: II. Tempo di minuetto

Luigi Boccherini: Guitar Quintet in B-Flat, G. 447: III. Adagio

Luigi Boccherini: Guitar Quintet in B-Flat, G. 447: IV. Allegro

Luigi Boccherini: Guitar Quintet in D, G. 449: I. Andantino pausato

Luigi Boccherini: Guitar Quintet in D, G. 449: II. Minuetto: Allegro

Luigi Boccherini: Guitar Quintet in D, G. 449: III. Allegro giusto

Luigi Boccherini: Guitar Quintet in D, G. 449: IV. Andantino pausato con variazioni

Luigi Boccherini: Guitar Quintet in G, G. 450: I. Allegro con vivacità

Luigi Boccherini: Guitar Quintet in G, G. 450: II. Andantino lento

Luigi Boccherini: Guitar Quintet in G, G. 450: III. Tempo di minuetto

Luigi Boccherini: Guitar Quintet in G, G. 450: IV. Allegretto
Disk 9
Luigi Boccherini: Guitar Quintet in D, G. 448 'Fandango': I. Pastorale

Luigi Boccherini: Guitar Quintet in D, G. 448 'Fandango': II. Allegro maestoso

Luigi Boccherini: Guitar Quintet in D, G. 448 'Fandango': III. Grave assai –

Luigi Boccherini: Guitar Quintet in D, G. 448 'Fandango': Fandango

Luigi Boccherini: Guitar Quintet in E, G. 446: I. Maestoso assai

Luigi Boccherini: Guitar Quintet in E, G. 446: II. Adagio –

Luigi Boccherini: Guitar Quintet in E, G. 446: Allegretto

Luigi Boccherini: Guitar Quintet in E, G. 446: III. Polacca: Tempo di minuetto

Luigi Boccherini: Guitar Quintet in C, G. 453 'La Ritirata di Madrid': I. Allegro maestoso assai

Luigi Boccherini: Guitar Quintet in C, G. 453 'La Ritirata di Madrid': II. Andantino

Luigi Boccherini: Guitar Quintet in C, G. 453 'La Ritirata di Madrid': III. Allegretto

Luigi Boccherini: Guitar Quintet in C, G. 453 'La Ritirata di Madrid': IV. March: La Ritirata di Madrid
Disk 10
Luigi Boccherini: Guitar Quintet in C, G. 453 'La Ritirata di Madrid': I. Allegro comodo

Luigi Boccherini: Guitar Quintet in C, G. 453 'La Ritirata di Madrid': II. Adagio

Luigi Boccherini: Guitar Quintet in C, G. 453 'La Ritirata di Madrid': III. Minuetto: Con moto

Luigi Boccherini: Guitar Quintet in C, G. 453 'La Ritirata di Madrid': IV. Finale: Allegretto

Luigi Boccherini: Piano Quintet in F, G. 408, Op. 56 No. 2: I. Allegretto

Luigi Boccherini: Piano Quintet in F, G. 408, Op. 56 No. 2: II. Minuetto: Amoroso

Luigi Boccherini: Piano Quintet in F, G. 408, Op. 56 No. 2: III. Poco adagio

Luigi Boccherini: Piano Quintet in F, G. 408, Op. 56 No. 2: IV. Allegretto

Luigi Boccherini: Piano Quintet in C, G. 409, Op. 56 No. 3: I. Maestoso assai

Luigi Boccherini: Piano Quintet in C, G. 409, Op. 56 No. 3: II. Andantino

Luigi Boccherini: Piano Quintet in C, G. 409, Op. 56 No. 3: III. Allegretto
Disk 11
Luigi Boccherini: Piano Quintet in E-Flat, G. 410, Op. 56 No. 4: I. Lento

Luigi Boccherini: Piano Quintet in E-Flat, G. 410, Op. 56 No. 4: II. Allegretto

Luigi Boccherini: Piano Quintet in E-Flat, G. 410, Op. 56 No. 4: III. Allegro assai

Luigi Boccherini: Piano Quintet in D, G. 411, Op. 56 No. 5: I. Andante sostenuto

Luigi Boccherini: Piano Quintet in D, G. 411, Op. 56 No. 5: II. Minuetto: Allegro

Luigi Boccherini: Piano Quintet in D, G. 411, Op. 56 No. 5: III. Andante, come prima

Luigi Boccherini: Piano Quintet in D, G. 411, Op. 56 No. 5: IV. Allegro, a modo di marcia vivace

Luigi Boccherini: Piano Quintet in D, G. 411, Op. 56 No. 5: V. Variazioni: Andante, piùttosto lento

Luigi Boccherini: Piano Quintet in A Minor, G. 412, Op. 56 No. 6: I. Allegretto

Luigi Boccherini: Piano Quintet in A Minor, G. 412, Op. 56 No. 6: II. Andantino

Luigi Boccherini: Piano Quintet in A Minor, G. 412, Op. 56 No. 6: III. Minuetto con moto

Luigi Boccherini: Piano Quintet in A Minor, G. 412, Op. 56 No. 6: IV. Andantino come prima

Luigi Boccherini: Piano Quintet in A Minor, G. 412, Op. 56 No. 6: V. Allegro ma non presto
Disk 12
Luigi Boccherini: Piano Quintet in A, G. 413, Op. 57 No. 1: I. Allegro moderato

Luigi Boccherini: Piano Quintet in A, G. 413, Op. 57 No. 1: II. Minuetto: Tempo giusto – Trio

Luigi Boccherini: Piano Quintet in A, G. 413, Op. 57 No. 1: III. Andantino, con un poco di moto

Luigi Boccherini: Piano Quintet in A, G. 413, Op. 57 No. 1: IV. Allegro giusto

Luigi Boccherini: Piano Quintet in B-Flat, G. 414 Op. 57 No. 2: I. Allegretto moderato

Luigi Boccherini: Piano Quintet in B-Flat, G. 414 Op. 57 No. 2: II. Minuetto: Tempo giusto – Trio

Luigi Boccherini: Piano Quintet in B-Flat, G. 414 Op. 57 No. 2: III. Adagio

Luigi Boccherini: Piano Quintet in B-Flat, G. 414 Op. 57 No. 2: IV. Finale: Allegro un poco vivace

Luigi Boccherini: Piano Quintet in E Minor G. 415 Op. 57 No. 3: I. Andante lento assai

Luigi Boccherini: Piano Quintet in E Minor G. 415 Op. 57 No. 3: II. Minuetto non presto, con grazia

Luigi Boccherini: Piano Quintet in E Minor G. 415 Op. 57 No. 3: III. Provensal: Allegro vivo

Luigi Boccherini: Piano Quintet in E Minor G. 415 Op. 57 No. 3: IV. Andante lento

Luigi Boccherini: Piano Quintet in E Minor G. 415 Op. 57 No. 3: V. Provensal: Allegro vivo e pp come prima
Disk 13
Luigi Boccherini: Piano Quintet in D Minor, G. 416, Op. 57 No. 4: I. Allegro giusto ma con vivacità

Luigi Boccherini: Piano Quintet in D Minor, G. 416, Op. 57 No. 4: II. Largo cantabile

Luigi Boccherini: Piano Quintet in D Minor, G. 416, Op. 57 No. 4: III. Finale: Allegro assai

Luigi Boccherini: Piano Quintet in E, G. 417, Op. 57 No. 5: I. Allegro sostenuto e imperioso

Luigi Boccherini: Piano Quintet in E, G. 417, Op. 57 No. 5: II. Adagio

Luigi Boccherini: Piano Quintet in E, G. 417, Op. 57 No. 5: III. Polacca: Tempo di minuetto

Luigi Boccherini: Piano Quintet in C, G. 418, Op. 57 No. 6: I. Allegretto lento

Luigi Boccherini: Piano Quintet in C, G. 418, Op. 57 No. 6: II. Presto

Luigi Boccherini: Piano Quintet in C, G. 418, Op. 57 No. 6: III. Variazioni sulla Ritirata notturna di Madrid

Luigi Boccherini: Piano Quintet in C, G. 418, Op. 57 No. 6: IV. Polonese: Allegretto sostenuto
Disk 14
Luigi Boccherini: String Quintet in A, G. 265, Op. 10 No. 1: I. Andantino

Luigi Boccherini: String Quintet in A, G. 265, Op. 10 No. 1: II. Largo

Luigi Boccherini: String Quintet in A, G. 265, Op. 10 No. 1: III. Minuetto: Allegro – Trio

Luigi Boccherini: String Quintet in A, G. 265, Op. 10 No. 1: IV. Allegro assai

Luigi Boccherini: String Quintet in E-Flat, G. 266, Op. 10 No. 2: I. Amoroso

Luigi Boccherini: String Quintet in E-Flat, G. 266, Op. 10 No. 2: II. Allegro non tanto

Luigi Boccherini: String Quintet in E-Flat, G. 266, Op. 10 No. 2: III. Minuetto – Trio

Luigi Boccherini: String Quintet in E-Flat, G. 266, Op. 10 No. 2: IV. Presto

Luigi Boccherini: String Quintet in C Minor, G. 267, Op. 10 No. 3: I. Allegretto

Luigi Boccherini: String Quintet in C Minor, G. 267, Op. 10 No. 3: II. Adagio non tanto

Luigi Boccherini: String Quintet in C Minor, G. 267, Op. 10 No. 3: III. Minuetto – Trio

Luigi Boccherini: String Quintet in C Minor, G. 267, Op. 10 No. 3: IV. Presto
Disk 15
Luigi Boccherini: String Quintet in C, G. 268 Op. 10 No. 4: I. Adagio

Luigi Boccherini: String Quintet in C, G. 268 Op. 10 No. 4: II. Allegro e con forza

Luigi Boccherini: String Quintet in C, G. 268 Op. 10 No. 4: III. Adagio

Luigi Boccherini: String Quintet in C, G. 268 Op. 10 No. 4: IV. Rondeau: Allegro

Luigi Boccherini: String Quintet in E-Flat, G. 269, Op. 10 No. 5: I. Non tanto sostenuto

Luigi Boccherini: String Quintet in E-Flat, G. 269, Op. 10 No. 5: II. Allegro assai

Luigi Boccherini: String Quintet in E-Flat, G. 269, Op. 10 No. 5: III. Allegretto

Luigi Boccherini: String Quintet in D, G. 270, Op. 10 No. 6: I. Pastorale

Luigi Boccherini: String Quintet in D, G. 270, Op. 10 No. 6: II. Allegro maestoso

Luigi Boccherini: String Quintet in D, G. 270, Op. 10 No. 6: III. Minuetto con variazioni
Disk 16
Luigi Boccherini: String Quintet in B-Flat, G. 271, Op. 11 No. 1: I. Allegro

Luigi Boccherini: String Quintet in B-Flat, G. 271, Op. 11 No. 1: II. Adagio non tanto

Luigi Boccherini: String Quintet in B-Flat, G. 271, Op. 11 No. 1: III. Allegro assai

Luigi Boccherini: String Quintet in C, G. 273, Op. 11 No. 3: I. Allegro molto

Luigi Boccherini: String Quintet in C, G. 273, Op. 11 No. 3: II. Larghetto

Luigi Boccherini: String Quintet in C, G. 273, Op. 11 No. 3: III. Minuetto – Trio

Luigi Boccherini: String Quintet in C, G. 273, Op. 11 No. 3: IV. Presto

Luigi Boccherini: String Quintet in A, G. 272, Op. 11 No. 2: I. Allegro non molto

Luigi Boccherini: String Quintet in A, G. 272, Op. 11 No. 2: II. Larghetto

Luigi Boccherini: String Quintet in A, G. 272, Op. 11 No. 2: III. Minuetto – Trio

Luigi Boccherini: String Quintet in A, G. 272, Op. 11 No. 2: IV. Allegro assai
Disk 17
Luigi Boccherini: String Quintet in F Minor, G. 274 Op. 11 No. 4: I. Larghetto

Luigi Boccherini: String Quintet in F Minor, G. 274 Op. 11 No. 4: II. Vivace

Luigi Boccherini: String Quintet in F Minor, G. 274 Op. 11 No. 4: III. Minuetto – Trio

Luigi Boccherini: String Quintet in F Minor, G. 274 Op. 11 No. 4: IV. Presto

Luigi Boccherini: String Quintet in E, G. 275, Op. 11 No. 5: I. Amoroso

Luigi Boccherini: String Quintet in E, G. 275, Op. 11 No. 5: II. Allegro e con spirito

Luigi Boccherini: String Quintet in E, G. 275, Op. 11 No. 5: III. Minuetto – Trio

Luigi Boccherini: String Quintet in E, G. 275, Op. 11 No. 5: IV. Rondeau: Andante

Luigi Boccherini: String Quintet in D, G. 276, Op. 11 No. 6 'L'Uccelliera': I. Adagio assai

Luigi Boccherini: String Quintet in D, G. 276, Op. 11 No. 6 'L'Uccelliera': II. Allegro giusto

Luigi Boccherini: String Quintet in D, G. 276, Op. 11 No. 6 'L'Uccelliera': III. Allegro (Li pastori e li cacciatori)

Luigi Boccherini: String Quintet in D, G. 276, Op. 11 No. 6 'L'Uccelliera': IV. Tempo di minuetto

Luigi Boccherini: String Quintet in D, G. 276, Op. 11 No. 6 'L'Uccelliera': V. Tempo di prima
Disk 18
Luigi Boccherini: String Quintet in E-Flat, G. 277, Op. 13 No. 1: I. Maestoso

Luigi Boccherini: String Quintet in E-Flat, G. 277, Op. 13 No. 1: II. Larghetto con espressione

Luigi Boccherini: String Quintet in E-Flat, G. 277, Op. 13 No. 1: III. Minuetto: Allegro

Luigi Boccherini: String Quintet in E-Flat, G. 277, Op. 13 No. 1: IV. Presto

Luigi Boccherini: String Quintet in C, G. 278, Op. 13 No. 2: I. Allegro maestoso

Luigi Boccherini: String Quintet in C, G. 278, Op. 13 No. 2: II. Larghetto

Luigi Boccherini: String Quintet in C, G. 278, Op. 13 No. 2: III. Presto

Luigi Boccherini: String Quintet in F, G. 279 Op. 13 No. 3: I. Prestissimo

Luigi Boccherini: String Quintet in F, G. 279 Op. 13 No. 3: II. Largo

Luigi Boccherini: String Quintet in F, G. 279 Op. 13 No. 3: III. Tempo di minuetto – Trio

Luigi Boccherini: String Quintet in F, G. 279 Op. 13 No. 3: IV. Presto
Disk 19
Luigi Boccherini: String Quintet in D Minor, G. 280, Op. 13 No. 4: I. Allegro

Luigi Boccherini: String Quintet in D Minor, G. 280, Op. 13 No. 4: II. Andante sostenuto

Luigi Boccherini: String Quintet in D Minor, G. 280, Op. 13 No. 4: III. Fuga: Allegro giusto

Luigi Boccherini: String Quintet in A, G. 281, Op. 13 No. 5: I. Andantino

Luigi Boccherini: String Quintet in A, G. 281, Op. 13 No. 5: II. Allegro giusto

Luigi Boccherini: String Quintet in A, G. 281, Op. 13 No. 5: III. Presto assai

Luigi Boccherini: String Quintet in E, G. 282, Op. 13 No. 6: I. Andante sostenuto

Luigi Boccherini: String Quintet in E, G. 282, Op. 13 No. 6: II. Allegro con spirito

Luigi Boccherini: String Quintet in E, G. 282, Op. 13 No. 6: III. Minuetto

Luigi Boccherini: String Quintet in E, G. 282, Op. 13 No. 6: IV. Rondeau: Allegro
Disk 20
Luigi Boccherini: String Quintet in C Minor, G. 283, Op. 18 No. 1: I. Allegro moderato

Luigi Boccherini: String Quintet in C Minor, G. 283, Op. 18 No. 1: II. Grave

Luigi Boccherini: String Quintet in C Minor, G. 283, Op. 18 No. 1: III. Minuetto – Trio

Luigi Boccherini: String Quintet in C Minor, G. 283, Op. 18 No. 1: IV. Allegro assai

Luigi Boccherini: String Quintet in D, G. 284, Op. 18 No. 2: I. Allegro assai

Luigi Boccherini: String Quintet in D, G. 284, Op. 18 No. 2: II. Adagio

Luigi Boccherini: String Quintet in D, G. 284, Op. 18 No. 2: III. Minuetto – Trio

Luigi Boccherini: String Quintet in D, G. 284, Op. 18 No. 2: IV. Allegro assai

Luigi Boccherini: String Quintet in E-Flat G. 285, Op. 18 No. 3: I. Allegro molto

Luigi Boccherini: String Quintet in E-Flat G. 285, Op. 18 No. 3: II. Larghetto

Luigi Boccherini: String Quintet in E-Flat G. 285, Op. 18 No. 3: III. Tempo di minuetto – Trio

Luigi Boccherini: String Quintet in E-Flat G. 285, Op. 18 No. 3: IV. Rondeau: Allegro
Disk 21
Luigi Boccherini: String Quintet in C, G. 286, Op. 18 No. 4: I. Allegro

Luigi Boccherini: String Quintet in C, G. 286, Op. 18 No. 4: II. Largo cantabile

Luigi Boccherini: String Quintet in C, G. 286, Op. 18 No. 4: III. Minuetto con moto – Trio

Luigi Boccherini: String Quintet in C, G. 286, Op. 18 No. 4: IV. Allegro assai – Andantino – Allegro assai

Luigi Boccherini: String Quintet in D Minor, G. 287, Op. 18 No. 5: I. Allegro moderato

Luigi Boccherini: String Quintet in D Minor, G. 287, Op. 18 No. 5: II. Lento

Luigi Boccherini: String Quintet in D Minor, G. 287, Op. 18 No. 5: III. Allegro con moto

Luigi Boccherini: String Quintet in E, G. 288, Op. 18 No. 6: I. Grave

Luigi Boccherini: String Quintet in E, G. 288, Op. 18 No. 6: II. Allegro

Luigi Boccherini: String Quintet in E, G. 288, Op. 18 No. 6: III. Minuetto – Trio

Luigi Boccherini: String Quintet in E, G. 288, Op. 18 No. 6: IV. Presto
Disk 22
Luigi Boccherini: String Quintet in E-Flat, G. 289, Op. 20 No. 1: I. Allegro vivo molto

Luigi Boccherini: String Quintet in E-Flat, G. 289, Op. 20 No. 1: II. Larghetto

Luigi Boccherini: String Quintet in E-Flat, G. 289, Op. 20 No. 1: III. Grave

Luigi Boccherini: String Quintet in E-Flat, G. 289, Op. 20 No. 1: IV. Minuetto con moto – Trio

Luigi Boccherini: String Quintet in E-Flat, G. 289, Op. 20 No. 1: V. Allegro vivace assai

Luigi Boccherini: String Quintet in B-Flat, G. 290, Op. 20 No. 2: I. Allegro giusto

Luigi Boccherini: String Quintet in B-Flat, G. 290, Op. 20 No. 2: II. Cantabile adagio assai

Luigi Boccherini: String Quintet in B-Flat, G. 290, Op. 20 No. 2: III. Minuetto con molto moto – Trio

Luigi Boccherini: String Quintet in B-Flat, G. 290, Op. 20 No. 2: IV. Prestissimo

Luigi Boccherini: String Quintet in F, G. 291, Op. 20 No. 3: I. Adagio non tanto

Luigi Boccherini: String Quintet in F, G. 291, Op. 20 No. 3: II. Allegro moderato

Luigi Boccherini: String Quintet in F, G. 291, Op. 20 No. 3: III. Minuetto – Trio

Luigi Boccherini: String Quintet in F, G. 291, Op. 20 No. 3: IV. Allegro assai
Disk 23
Luigi Boccherini: String Quintet in G, G. 292, Op. 20 No. 4: I. Allegro brioso assai

Luigi Boccherini: String Quintet in G, G. 292, Op. 20 No. 4: II. Andante lentarello

Luigi Boccherini: String Quintet in G, G. 292, Op. 20 No. 4: III. Minuetto – Trio

Luigi Boccherini: String Quintet in G, G. 292, Op. 20 No. 4: IV. Prestissimo

Luigi Boccherini: String Quintet in D Minor, G. 293, Op. 20 No. 5: I. Allegro assai

Luigi Boccherini: String Quintet in D Minor, G. 293, Op. 20 No. 5: II. Adagio

Luigi Boccherini: String Quintet in D Minor, G. 293, Op. 20 No. 5: III. Minuetto – Trio

Luigi Boccherini: String Quintet in D Minor, G. 293, Op. 20 No. 5: IV. Rondeau: Allegretto

Luigi Boccherini: String Quintet in A Minor, G. 294, Op. 20 No. 6: I. Allegro moderato

Luigi Boccherini: String Quintet in A Minor, G. 294, Op. 20 No. 6: II. Minuetto – Trio

Luigi Boccherini: String Quintet in A Minor, G. 294, Op. 20 No. 6: III. Larghetto

Luigi Boccherini: String Quintet in A Minor, G. 294, Op. 20 No. 6: IV. Allegro ma non presto
Disk 24
Luigi Boccherini: String Quintet in D Minor, G. 295, Op. 25 No. 1: I. Larghetto

Luigi Boccherini: String Quintet in D Minor, G. 295, Op. 25 No. 1: II. Allegro

Luigi Boccherini: String Quintet in D Minor, G. 295, Op. 25 No. 1: III. Minuetto con moto – Trio

Luigi Boccherini: String Quintet in D Minor, G. 295, Op. 25 No. 1: IV. Rondeau: Allegretto

Luigi Boccherini: String Quintet in E-Flat, G. 296, Op. 25 No. 2: I. Sostenuto assai

Luigi Boccherini: String Quintet in E-Flat, G. 296, Op. 25 No. 2: II. Allegro vivo

Luigi Boccherini: String Quintet in E-Flat, G. 296, Op. 25 No. 2: III. Minuetto – Trio

Luigi Boccherini: String Quintet in A, G. 297, Op. 25 No. 3: I. Moderato assai

Luigi Boccherini: String Quintet in A, G. 297, Op. 25 No. 3: II. Allegro con brio

Luigi Boccherini: String Quintet in A, G. 297, Op. 25 No. 3: III. Minuetto – Trio
Disk 25
Luigi Boccherini: String Quintet in C, G. 298, Op. 25 No. 4: I. Allegro

Luigi Boccherini: String Quintet in C, G. 298, Op. 25 No. 4: II. Larghetto

Luigi Boccherini: String Quintet in C, G. 298, Op. 25 No. 4: III. Minuetto – Trio

Luigi Boccherini: String Quintet in C, G. 298, Op. 25 No. 4: IV. Allegro

Luigi Boccherini: String Quintet in D, G. 299, Op. 25 No. 5: I. Allegro moderato assai

Luigi Boccherini: String Quintet in D, G. 299, Op. 25 No. 5: II. Largo assai

Luigi Boccherini: String Quintet in D, G. 299, Op. 25 No. 5: III. Minuetto – Trio

Luigi Boccherini: String Quintet in D, G. 299, Op. 25 No. 5: IV. Grave

Luigi Boccherini: String Quintet in D, G. 299, Op. 25 No. 5: V. Rondeau: Allegretto

Luigi Boccherini: String Quintet in A Minor, G. 300, Op. 25 No. 6: I. Allegro non molto

Luigi Boccherini: String Quintet in A Minor, G. 300, Op. 25 No. 6: II. Minuetto – Trio

Luigi Boccherini: String Quintet in A Minor, G. 300, Op. 25 No. 6: III. Largo cantabile

Luigi Boccherini: String Quintet in A Minor, G. 300, Op. 25 No. 6: IV. Finale: Allegro giusto
Disk 26
Luigi Boccherini: String Quintet in A, G. 301, Op. 27 No. 1: I. Andante con un poco di moto

Luigi Boccherini: String Quintet in A, G. 301, Op. 27 No. 1: II. Allegro con moto

Luigi Boccherini: String Quintet in G, G. 302, Op. 27 No. 2: I. Allegro

Luigi Boccherini: String Quintet in G, G. 302, Op. 27 No. 2: II. Minuetto – Trio

Luigi Boccherini: String Quintet in E Minor, G. 303, Op. 27 No. 3: I. Moderato assai

Luigi Boccherini: String Quintet in E Minor, G. 303, Op. 27 No. 3: II. Minuetto – Trio

Luigi Boccherini: String Quintet in E-Flat, G. 304, Op. 27 No. 4: I. Sostenuto

Luigi Boccherini: String Quintet in E-Flat, G. 304, Op. 27 No. 4: II. Minuetto – Trio

Luigi Boccherini: String Quintet in G Minor, G. 305, Op. 27 No. 5: I. Moderato

Luigi Boccherini: String Quintet in G Minor, G. 305, Op. 27 No. 5: II. Minuetto – Trio

Luigi Boccherini: String Quintet in B Minor, G. 306, Op. 27 No. 6: I. Allegro moderato

Luigi Boccherini: String Quintet in B Minor, G. 306, Op. 27 No. 6: II. Minuetto – Trio
Disk 27
Luigi Boccherini: String Quintet in F, G. 307, Op. 28 No. 1: I. Allegro giusto

Luigi Boccherini: String Quintet in F, G. 307, Op. 28 No. 1: II. Larghetto

Luigi Boccherini: String Quintet in F, G. 307, Op. 28 No. 1: III. Minuetto – Trio

Luigi Boccherini: String Quintet in F, G. 307, Op. 28 No. 1: IV. Finale: Allegro

Luigi Boccherini: String Quintet in A, G. 308, Op. 28 No. 2: I. Allegro vivace

Luigi Boccherini: String Quintet in A, G. 308, Op. 28 No. 2: II. Minuetto – Trio

Luigi Boccherini: String Quintet in A, G. 308, Op. 28 No. 2: III. Larghetto

Luigi Boccherini: String Quintet in A, G. 308, Op. 28 No. 2: IV. Allegro vivace

Luigi Boccherini: String Quintet in E-Flat, G. 309, Op. 28 No. 3: I. Larghetto

Luigi Boccherini: String Quintet in E-Flat, G. 309, Op. 28 No. 3: II. Allegro molto

Luigi Boccherini: String Quintet in E-Flat, G. 309, Op. 28 No. 3: III. Minuetto – Trio

Luigi Boccherini: String Quintet in E-Flat, G. 309, Op. 28 No. 3: IV. Allegro vivo
Disk 28
Luigi Boccherini: String Quintet in C, G. 310, Op. 28 No. 4: I. Allegro con moto

Luigi Boccherini: String Quintet in C, G. 310, Op. 28 No. 4: II. Minuetto con moto – Trio

Luigi Boccherini: String Quintet in C, G. 310, Op. 28 No. 4: III. Grave

Luigi Boccherini: String Quintet in C, G. 310, Op. 28 No. 4: IV. Rondeau: Allegro con moto

Luigi Boccherini: String Quintet in D Minor, G. 311, Op. 28 No. 5: I. Allegro con moto

Luigi Boccherini: String Quintet in D Minor, G. 311, Op. 28 No. 5: II. Andante

Luigi Boccherini: String Quintet in D Minor, G. 311, Op. 28 No. 5: III. Minuetto – Trio

Luigi Boccherini: String Quintet in D Minor, G. 311, Op. 28 No. 5: IV. Finale: Allegro

Luigi Boccherini: String Quintet in B-Flat G. 312, Op. 28 No. 6: I. Allegro giusto

Luigi Boccherini: String Quintet in B-Flat G. 312, Op. 28 No. 6: II. Minuetto – Trio

Luigi Boccherini: String Quintet in B-Flat G. 312, Op. 28 No. 6: III. Larghetto

Luigi Boccherini: String Quintet in B-Flat G. 312, Op. 28 No. 6: IV. Finale: Allegro vivo
Disk 29
Luigi Boccherini: String Quintet in B-Flat, G. 337, Op. 39 No. 1: I. Andante lento

Luigi Boccherini: String Quintet in B-Flat, G. 337, Op. 39 No. 1: II. Allegro vivo – Tempo di minuetto – Tempo I

Luigi Boccherini: String Quintet in B-Flat, G. 337, Op. 39 No. 1: III. Rondeau: Allegro ma non tanto – Tempo di minuetto – Tempo I

Luigi Boccherini: String Quintet in F, G. 338, Op. 39 No. 2: I. Allegro vivo non presto

Luigi Boccherini: String Quintet in F, G. 338, Op. 39 No. 2: II. Adagio non tanto

Luigi Boccherini: String Quintet in F, G. 338, Op. 39 No. 2: III. Minuetto – Trio

Luigi Boccherini: String Quintet in F, G. 338, Op. 39 No. 2: IV. Finale: Allegro vivo

Luigi Boccherini: String Quintet in D, G. 339, Op. 39 No. 3: I. Allegro vivo

Luigi Boccherini: String Quintet in D, G. 339, Op. 39 No. 3: II. Pastorale: Amoroso ma non lento

Luigi Boccherini: String Quintet in D, G. 339, Op. 39 No. 3: III. Finale: Presto
Disk 30
Luigi Boccherini: String Quartet in F, G. 248, Op. 64 No. 1: I. Allegro molto

Luigi Boccherini: String Quartet in F, G. 248, Op. 64 No. 1: II. Adagio non tanto

Luigi Boccherini: String Quartet in F, G. 248, Op. 64 No. 1: III. Allegro vivo ma non presto

Luigi Boccherini: String Quartet in D, G. 177, Op. 15 No. 1: I. Presto

Luigi Boccherini: String Quartet in D, G. 177, Op. 15 No. 1: II. Allegro rondeau

Luigi Boccherini: String Quartet in G Minor, G. 194, Op. 24 No. 6: I. Allegro vivo assai

Luigi Boccherini: String Quartet in G Minor, G. 194, Op. 24 No. 6: II. Adagio

Luigi Boccherini: String Quartet in G Minor, G. 194, Op. 24 No. 6: III. Minuetto – Trio

Luigi Boccherini: String Quartet in A, G. 213, Op. 39: I. Allegro moderato

Luigi Boccherini: String Quartet in A, G. 213, Op. 39: II. Minuetto – Trio

Luigi Boccherini: String Quartet in A, G. 213, Op. 39: III. Grave

Luigi Boccherini: String Quartet in A, G. 213, Op. 39: IV. Allegro giusto
Disk 31
Luigi Boccherini: Sonata for piano and violin in B-Flat, G. 25, Op. 5 No. 1: I. Allegro con moto

Luigi Boccherini: Sonata for piano and violin in B-Flat, G. 25, Op. 5 No. 1: II. Grave

Luigi Boccherini: Sonata for piano and violin in B-Flat, G. 25, Op. 5 No. 1: III. Presto assai

Luigi Boccherini: Sonata for piano and violin in C, G. 26, Op. 5 No. 2: I. Allegro e con spirito

Luigi Boccherini: Sonata for piano and violin in C, G. 26, Op. 5 No. 2: II. Largo

Luigi Boccherini: Sonata for piano and violin in C, G. 26, Op. 5 No. 2: III. Allegretto

Luigi Boccherini: Sonata for piano and violin in B-Flat, G. 27, Op. 5 No. 3: I. Moderato

Luigi Boccherini: Sonata for piano and violin in B-Flat, G. 27, Op. 5 No. 3: II. Allegro

Luigi Boccherini: Sonata for piano and violin in D, G. 28, Op. 5 No. 4: I. Andante

Luigi Boccherini: Sonata for piano and violin in D, G. 28, Op. 5 No. 4: II. Allegro assai

Luigi Boccherini: Sonata for piano and violin in D, G. 28, Op. 5 No. 4: III. Rondo: Allegretto

Luigi Boccherini: Sonata for piano and violin in G Minor, G. 29, Op. 5 No. 5: I. Allegro molto

Luigi Boccherini: Sonata for piano and violin in G Minor, G. 29, Op. 5 No. 5: II. Andante lento

Luigi Boccherini: Sonata for piano and violin in G Minor, G. 29, Op. 5 No. 5: III. Presto

Luigi Boccherini: Sonata for piano and violin in E-Flat, G. 30, Op. 5 No. 6: I. Allegro maestoso

Luigi Boccherini: Sonata for piano and violin in E-Flat, G. 30, Op. 5 No. 6: II. Rondo: Allegretto
Disk 32
Luigi Boccherini: Sonata for piano, violin and cello in C, G. 143: I. Poco andante

Luigi Boccherini: Sonata for piano, violin and cello in C, G. 143: II. Allegro molto

Luigi Boccherini: Sonata for piano, violin and cello in C, G. 143: III. Tempo di minuetto

Luigi Boccherini: Sonata for piano, violin and cello in E Minor, G. 144: I. Allegro molto

Luigi Boccherini: Sonata for piano, violin and cello in E Minor, G. 144: II. Minuetto affettuoso

Luigi Boccherini: Sonata for piano, violin and cello in E-Flat, G. 145: I. Allegro

Luigi Boccherini: Sonata for piano, violin and cello in E-Flat, G. 145: II. Presto

Luigi Boccherini: Sonata for piano, violin and cello in D, G. 146: I. Moderato e arioso

Luigi Boccherini: Sonata for piano, violin and cello in D, G. 146: II. Allegro molto

Luigi Boccherini: Sonata for piano, violin and cello in D, G. 146: III. Minuetto militare

Luigi Boccherini: Sonata for piano, violin and cello in B-Flat, G. 147: I. Andante

Luigi Boccherini: Sonata for piano, violin and cello in B-Flat, G. 147: II. Presto

Luigi Boccherini: Sonata for piano, violin and cello in G Minor, G. 148: I. Presto

Luigi Boccherini: Sonata for piano, violin and cello in G Minor, G. 148: II. Allegro moderato
Disk 33
Luigi Boccherini: Cello Sonata in C, G. 3: I. Allegro

Luigi Boccherini: Cello Sonata in C, G. 3: II. Andante

Luigi Boccherini: Cello Sonata in C, G. 3: III. Minuetto (with variations)

Luigi Boccherini: Cello Sonata in C, Minor, G. 2a: I. Adagio

Luigi Boccherini: Cello Sonata in C, Minor, G. 2a: II. Allegro

Luigi Boccherini: Cello Sonata in C, Minor, G. 2a: III. Allegretto

Luigi Boccherini: Cello Sonata in F, G. 1: I. Allegretto

Luigi Boccherini: Cello Sonata in F, G. 1: II. Largo

Luigi Boccherini: Cello Sonata in F, G. 1: III. Allegretto

Luigi Boccherini: Cello Sonata in A, G. 4a: I. Allegro moderato

Luigi Boccherini: Cello Sonata in A, G. 4a: II. Adagio

Luigi Boccherini: Cello Sonata in A, G. 4a: III. Affettuoso

Luigi Boccherini: Cello Sonata in G, G. 5: I. Allegro militare

Luigi Boccherini: Cello Sonata in G, G. 5: II. Largo

Luigi Boccherini: Cello Sonata in G, G. 5: III. Tempo di minuetto

Luigi Boccherini: Cello Sonata in A, G. 4b: I. Allegro moderato

Luigi Boccherini: Cello Sonata in C Minor, G. 2b: I. Allegro

Luigi Boccherini: Cello Sonata in C Minor, G. 2b: II. Largo

Luigi Boccherini: Cello Sonata in C Minor, G. 2b: III. Allegretto
Disk 34
Luigi Boccherini: Cello Sonata in C, G. 6: I. Allegro

Luigi Boccherini: Cello Sonata in C, G. 6: II. Largo assai

Luigi Boccherini: Cello Sonata in C, G. 6: III. Allegro moderato

Luigi Boccherini: Cello Sonata in C, G. 7: I. Allegro

Luigi Boccherini: Cello Sonata in C, G. 7: II. Andante

Luigi Boccherini: Cello Sonata in C, G. 7: III. Grazioso

Luigi Boccherini: Cello Sonata in B-Flat G. 8: I. Allegro

Luigi Boccherini: Cello Sonata in B-Flat G. 8: II. Andante affettuoso

Luigi Boccherini: Cello Sonata in B-Flat G. 8: III. Allegro

Luigi Boccherini: Cello Sonata in F, G. 9: I. Andantino

Luigi Boccherini: Cello Sonata in F, G. 9: II. Adagio assai

Luigi Boccherini: Cello Sonata in F, G. 9: III. Tempo di minuetto amoroso

Luigi Boccherini: Cello Sonata in E-Flat, G. 10: I. Allegro

Luigi Boccherini: Cello Sonata in E-Flat, G. 10: II. Adagio

Luigi Boccherini: Cello Sonata in E-Flat, G. 10: III. Affettuoso

Luigi Boccherini: Cello Sonata in E-Flat, G. 11: I. Allegro (moderato assai)

Luigi Boccherini: Cello Sonata in E-Flat, G. 11: II. Largo

Luigi Boccherini: Cello Sonata in E-Flat, G. 11: III. Tempo di minuetto
Disk 35
Luigi Boccherini: Cello Sonata in B-Flat, G. 12: I. Allegro moderato

Luigi Boccherini: Cello Sonata in B-Flat, G. 12: II. Grave

Luigi Boccherini: Cello Sonata in B-Flat, G. 12: III. Minuetto

Luigi Boccherini: Cello Sonata in A, G. 13: I. Allegro

Luigi Boccherini: Cello Sonata in A, G. 13: II. Largo

Luigi Boccherini: Cello Sonata in A, G. 13: III. Allegro

Luigi Boccherini: Cello Sonata in E-Flat, G. 14: I. Allegro brillante

Luigi Boccherini: Cello Sonata in E-Flat, G. 14: II. Andante non tanto, legato sempre

Luigi Boccherini: Cello Sonata in E-Flat, G. 14: III. Minuetto con variazioni

Luigi Boccherini: Cello Sonata in G, G. 15: I. Allegro

Luigi Boccherini: Cello Sonata in G, G. 15: II. Larghetto

Luigi Boccherini: Cello Sonata in G, G. 15: III. Allegro

Luigi Boccherini: Cello Sonata in E-Flat, G. 16: I. Allegro

Luigi Boccherini: Cello Sonata in E-Flat, G. 16: II. Amoroso (minuetto)

Luigi Boccherini: Cello Sonata in C, G. 17: I. Allegro (allegretto)

Luigi Boccherini: Cello Sonata in C, G. 17: II. Largo assai

Luigi Boccherini: Cello Sonata in C, G. 17: III. Rondo: Allegro

Luigi Boccherini: Cello Sonata in C Minor, G. 18 (arranged for viola and basso): I. Moderato

Luigi Boccherini: Cello Sonata in C Minor, G. 18 (arranged for viola and basso): II. Largo

Luigi Boccherini: Cello Sonata in C Minor, G. 18 (arranged for viola and basso): III. Minuetto
Disk 36
Luigi Boccherini: Cello Sonata in B-Flat, G. 565a: I. Allegro moderato

Luigi Boccherini: Cello Sonata in B-Flat, G. 565a: II. Largo

Luigi Boccherini: Cello Sonata in B-Flat, G. 565a: III. Allegro

Luigi Boccherini: Cello Sonata in B-Flat, G. 565b: I. Comodo

Luigi Boccherini: Cello Sonata in B-Flat, G. 565b: II. Largo

Luigi Boccherini: Cello Sonata in B-Flat, G. 565b: III. Tempo di minuetto

Luigi Boccherini: Cello Sonata in E-Flat, G. 566: I. Moderato

Luigi Boccherini: Cello Sonata in E-Flat, G. 566: II. Adagio

Luigi Boccherini: Cello Sonata in E-Flat, G. 566: III. Allegro

Luigi Boccherini: Cello Sonata in E-Flat G. deest: I. Allegro

Luigi Boccherini: Cello Sonata in E-Flat G. deest: II. Largo assai

Luigi Boccherini: Cello Sonata in E-Flat G. deest: III. Allegro assai

Luigi Boccherini: Cello Sonata in G, G. deest: I. Adagio

Luigi Boccherini: Cello Sonata in G, G. deest: II. Allegro

Luigi Boccherini: Cello Sonata in G, G. deest: III. Andante

Luigi Boccherini: Cello Sonata in A, G. deest: I. Adagio

Luigi Boccherini: Cello Sonata in A, G. deest: II. Allegro

Luigi Boccherini: Cello Sonata in A, G. deest: III. Minuetto con variazioni
Disk 37
Luigi Boccherini: Stabat Mater, G. 532 (first version, 1781): Stabat mater dolorosa: Grave assai

Luigi Boccherini: Stabat Mater, G. 532 (first version, 1781): Cujus animam gementem: Allegro

Luigi Boccherini: Stabat Mater, G. 532 (first version, 1781): Quae moerebat et dolebat: Allegretto con moto

Luigi Boccherini: Stabat Mater, G. 532 (first version, 1781): Quis est homo qui non fleret: Adagio assai – Recitativo

Luigi Boccherini: Stabat Mater, G. 532 (first version, 1781): Pro peccatis suae gentis: Allegretto

Luigi Boccherini: Stabat Mater, G. 532 (first version, 1781): Eja mater, fons amoris: Larghetto non tanto

Luigi Boccherini: Stabat Mater, G. 532 (first version, 1781): Tui nati vulnerati: Allegro vivo – Adagio – Allegro come prima

Luigi Boccherini: Stabat Mater, G. 532 (first version, 1781): Virgo virginum praeclara: Andantino

Luigi Boccherini: Stabat Mater, G. 532 (first version, 1781): Fac ut portem Christi mortem: Larghetto

Luigi Boccherini: Stabat Mater, G. 532 (first version, 1781): Fac me plagis vulnerari: Allegro comodo

Luigi Boccherini: Stabat Mater, G. 532 (first version, 1781): Quando corpus morietur: Andante lento