Bohemian Songs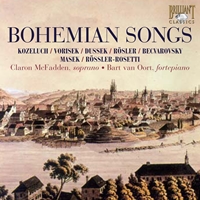 Composer
Various Composers
Artist
Claron McFadden soprano
Bart van Oort fortepiano
Format
1 CD
Cat. number
93867
EAN code
5028421938677
Release
September 2008
About this release
Bohemia at the end of the 18th century and the early 19th was teeming with highly skilled composers and musicians, centred around the city of Prague. Charles Burney described it as 'the conservatory of Europe'. He also found that rural areas were rich in musical activities, especially in schools. The majority of the composers wrote for their particular instrument, and the names of Dussek and Kozeluch in particular have survived to this day. They along with Vorisek are the best known composers on this fascinating programme of songs from this golden age of Czech music.

At this time, songs by Bohemian composers were nearly always set in German or Italian. Czech was considered a peasant language, and German was of course the language of the ruling Hapsburg dynasty. Many of the songs produced by composers such as Dussek, Vorisek (and their contemporary Tomasek) show that their influence was not lost upon Schubert.

Other information:
- American soprano Claron McFaddon has appeared in many of the worlds leading opera houses, including Glyndebourne where she made her debut in the title role of Lulu conducted by Sir Andrew Davis. She has performed regularly at the Salzburg
Festival, Bregenz, Aix-en-Provence and at Covent Garden.
- Rare repertoire, a must for fans of lieder.
- Comprehensive booklet notes and texts included.
Track list
Disk 1
Songs, Op. 31: Sognando mi parea, Op. 31/1

Songs, Op. 31: Un serto di fiori, Op. 31/4

Songs, Op. 31: Sento amor, Op. 31/3

Songs, Op. 31: Chi un dolce amor, Op. 31/6

Songs, Op. 31: Misero to non sei, Op. 31/8

Songs, Op. 31: Spira pur, Op. 31/11

Songs, Op. 31: Per pieta, bell'idol mio, Op. 31/12

Or che un istante

A che congiuri

Dolce speme, del ciel dono

Leggiarde ninfe

La Verita

Herbstlied

An die Entfernte

Die Natur

Nähe des Geliebten

Das Veilchen im Mai

Die Abschiedsträne

Liebe

An Sie

Das Täubchen

Die Liebeserklärung