Bolling: Concerto for Classical Guitar & Jazz Piano Trio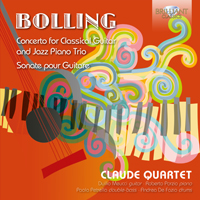 Composer
Claude Bolling
Artist
Claude Quartet
Duilio Meucci guitar
Roberto Porzio piano
Paolo Petrella double bass
Andrea De Fazio drums
Format
1 CD
Cat. number
95227
EAN code
5028421952277
Release
April 2016
About this release
Now 86 years old, Claude Bolling was a leading light in French jazz for over 60 years, winning his first competition as a prodigious pianist at the age of 14 and soon afterwards forming his first band. His eponymous big band has been a fixture on the international circuit for decades, and with it he made the first unabridged recording of Duke Ellington's magnum opus, the Black, Brown and Beige suite.

Bolling engaged in stylish crossover projects with many classically trained French soloists of his generation, among them the flautist Jean-Pierre Rampal (Suite for Flute and Jazz Piano, 1975) and the trumpeter Maurice André (Toot Suite, 1981). This concerto works the other way around, bringing formal, if not strictly Classical, constraints to bear on a quintessential instrumentation for mid-20th-century jazz, the guitar quartet. The concerto is not an abstract three-movement form but a sequence of seven character-pieces whose melodic and rhythmic flavour may be scented from their titles, including 'Hispanic Dance', 'Mexicaine' and 'Africaine'. Blues, swing and bossa-nova are all synthsised by Bolling with tremendous verve for the combination at hand. Listen out, too, for the neo-Baroque fantasy of the 'Invention', where Bolling shows he knows his counterpoint as well as Jacques Loussier…

Likewise, the Guitar Sonata does not bow the knee too deeply to Classical precedents, with its Jazzo Brasileiro setting the tone for a work full of virtuoso pyrotechnics. Neither Sonata nor Concerto has recently been recorded; the young Italian guitarist Duilio Meucci joins such illustrious company on disc as Angel Romero and Alexander Lagoya, accompanied respectively by George Shearing and the composer himself.

Claude Bolling was born in 1930 in Cannes, where he became one of the most popular figures of the French jazz scene. He composed music for over 100 films, and he worked together with Duke Ellington, Juliette Greco, Liza Minelli and others.
Claude Bolling was one of the first "Crossover" composers, collaborating with classical musicians like Jean-Pierre Rampal and Alexandre Lagoya.
Bolling's most famous work is the Concerto for Classical Guitar and Jazz Piano Trio. It is the perfect synthesis of Jazz, Blues, Latin-American and Classical music, a unique creation of multicultural expression!
Also included in this new recording is the Sonata for Classical Guitar.
Performed with gusto and a free spirit by the wonderful musicians of the Claude Quartet, with guitarist Duilio Meucci.
Track list
Disk 1
Hispanic Dance

Mexicaine

Invention

Serenade

Rhapsodic

Africaine

Finale

Sonate pour guitar: I. Jazzo Brasileiro

Sonate pour guitar: II. Baladina

Sonate pour guitar: III. Fogoso