Bonelli: Complete Keyboard Music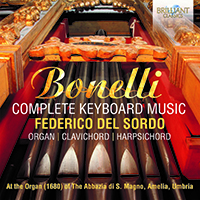 | | |
| --- | --- |
| Composer | Aurelio Bonelli |
| Artist | Federico del Sordo organ |
| Format | 1 CD |
| Cat. number | 95816 |
| EAN code | 5028421958163 |
| Release | July 2019 |
About this release
Following the release last year of works by Holzer, Antegnati and Pellegrini, the renowned organist Federico Del Sordo further delves into the world of Renaissance and early Baroque keyboard repertoire. In this set, he turns his attention to Italian composer Aurelio Bonelli.

Bonelli's life is shrouded in mystery and today little remains of his creative output. The set features works from the collection Il primo libro de ricercari et canzoni a quattro voci of which only two copies remain. An artist by day it's thought he learnt painting from Agostino Carracci, a key figure of the Bologna School. They worked together on the frescos of Bologna's Olivetan monastery of San Michele in Bosco and in approximately 1611 Bonelli was appointed monastery organist.

The set opens with eight four-part Ricercari. This gives a fascinating insight into how the Italian ricercar evolved from simply a vessel for compositional experimentation with few formal structures, to a defined style governed by rules, eventually making it the keyboard equivalent of the liturgical vocal motet. Bonelli's ricercari can be placed in the middle of this transition period. Ricercar del Secondo Tuono and Ricercar del Quinto Tuono for example have identifiable forms but irregularities occur with the introduction of new stylistic and formal elements at the end of the second section which contradict received ideas about the tripartite form.

Classical themes are reflected in the eight four-part canzoni where names are drawn from mythology and epics: 'Licori', 'Arete', 'Urania', 'Istrina', 'Nisa', 'Irene', 'Artemisia' and 'Erina'. Again, we hear the conflict between experimentation and modern rules, and the pieces all feature four or five different themes and regularly change metres. This gives the impression there are as many as four or five different parts while only 'Urania' strictly follows the ternary structure.

Federico Del Sordo plays the organ of the Abbey of San Magno. Dating from the 1600s, it is the oldest organ with surviving double pedals, allowing works written for two organs to be performed. The artist also plays a harpsichord strung with iron wire rather than brass to replicate the sound of the period. This release is a rare find and offers us a comprehensive overview of Bonelli, and his repertoire provides a detailed snapshot of the era's musical progression.
Listening
Track list
Disk 1
Aurelio Bonelli: Ricercar del I tuono

Aurelio Bonelli: Ricercar del II tuono

Aurelio Bonelli: Ricercar del III tuono

Aurelio Bonelli: Ricercar del IV tuono

Aurelio Bonelli: Ricercar del V tuono

Aurelio Bonelli: Ricercar del VI tuono

Aurelio Bonelli: Ricercar del VII tuono

Aurelio Bonelli: Ricercar del VIII tuono

Aurelio Bonelli: Toccata a 8 "Cleopatra"

Aurelio Bonelli: Dialogo a 8 "anime pellegrine"

Aurelio Bonelli: Canzone "licor"

Aurelio Bonelli: Canzone "arete"

Aurelio Bonelli: Canzone "urania"

Aurelio Bonelli: Canzone "istrina"

Aurelio Bonelli: Canzone "nisa"

Aurelio Bonelli: Canzone "Irene"

Aurelio Bonelli: Canzone "artemisia"

Aurelio Bonelli: Canzone "erina"

Aurelio Bonelli: Dialogo a 8 "s'un dì, mosso a pietà"

Aurelio Bonelli: Toccata a 8 "athalanta"