Bononcini: Stabat Mater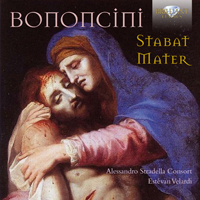 Composer
Antonio Maria Bononcini
Artist
Alessandro Stradella Consort
Estévan Velardi conductor
Format
1 CD
Cat. number
95486
EAN code
5028421954868
Release
April 2017
About this release
Pergolesi is the author of the most famously affecting setting of the 12th-century hymn by Jacopone di Todi in which Mary is depicted at the foot of the cross, mourning the death of her son in graphically detailed poetry which has been a gift to musicians ever since. In fact Brilliant Classics has collected up all the versions of Stabat mater by composers of any renown from the last 600 years and issued them in a brand-new 14CD boxset (BC95370).

Within that box is a new recording of the Stabat mater by Antonio Maria Bononcini, who died just a decade before Pergolesi. Their settings are on a roughly similar scale, though Bononcini's is slightly grander, using four singers to Pergolesi's two, and dividing the text into even more sections. Bononcini himself should not be confused with his father Giovanni Maria (composer and violinist) or indeed his brother Giovanni, all three of them outstanding composers of the Modenese school. Antonio made his name in Vienna, where he was appointed composer to the court of Emperor Joseph I in 1710, and one may hear why from the restrained pathos of this Stabat mater, with its slowly-modulating grand choruses of great tension and its arias which suspend time with contemplation of a particular aspect of Christ's agony on the Cross.

The Stabat mater is complemented here by a much less-familiar sacred cantata, Dio e la vergine: an anonymous six-movement text in which Mary stands before her Lord and proclaims her love for him, and He for her; a surprisingly common trope of 18th-century oratorios where God himself was given a part. The only other recording of this cantata is considerably older in style; this new one is made by the stylish Alessandro Stradella Consort, who produced for Brilliant the well-received recording of an oratorio by Alessandro Scarlatti, San Filippo Neri (BC94037).

This CD contains the Stabat Mater by Antonio Maria Bononcini (1677-1726), one of the earliest and most famous works in this genre, on a par with the Stabat Mater by Pergolesi.
In this work, in the tragic key of C minor, Bononcini reaches a noble purity of expression of the deep human feelings of the lamenting Mother. The polyphony is strong but never overwhelming, the melodic lines have a powerful simplicity and serenity, breathing a devotional piety and sincerity throughout the whole work.
Also presented on this CD is the Sacred Cantata Dio e la Vergine, for two soloists and ensemble.
Estévan Velardi is an Italian conductor and musicologist, specialised in the research, publication and (first) performance of musical scores from the Italian Baroque, notably the works of Stradella and Alessandro Scarlatti.
The booklet contains liner notes and sung texts.
Track list
Disk 1
Stabat mater in C Minor: Stabat mater. Largo chorus

Stabat mater in C Minor: O quam tristis. Andante soprano

Stabat mater in C Minor: Quis est homo. Andante soprano, alto

Stabat mater in C Minor: Pro peccatis. Adagio alto

Stabat mater in C Minor: Eja Mater. Cantabile alto

Stabat mater in C Minor: Sancta Mater. Tempo giusto chorus

Stabat mater in C Minor: Fac me vere tecum stare. Sostenuto alto

Stabat mater in C Minor: Juxta crucem. Andante bass

Stabat mater in C Minor: Virgo virginum. Tempo giusto chorus

Stabat mater in C Minor: Fac, ut portem. Vivace tenor

Stabat mater in C Minor: Fac me plagis vulnerary. Adagio alto, tenor, chorus

Stabat mater in C Minor: Inflammatus alto, tenor, chorus

Stabat mater in C Minor: Fac me cruce custodiri. Tempo giusto bass

Stabat mater in C Minor: Fac me cruce custodiri. Affettuoso soprano

Stabat mater in C Minor: Quando corpus. Largo e pianissimo chorus

Stabat mater in C Minor: Paradisi gloria. Adagio soprano, alto, tenor, bass, chorus

Dio e la vergine: Recitativo. Non anche avea natura Dio

Dio e la vergine: Aria. Vergine bella Dio

Dio e la vergine: Recitativo. Signor, poiché a te piacque Vergine

Dio e la vergine: Aria. Io voglio solo Vergine

Dio e la vergine: Recitativo. Da me fosti Dio, Vergine

Dio e la vergine: Duetto. Sei tutta bella Dio, Vergine