Bosgraaf & Honing: Hotel Terminus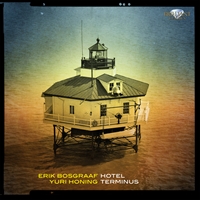 Composer
Bosgraaf, Honing, Van Es, Vanoli, Haanstra, Lijbaart
Artist
Erik Bosgraaf recorder
Yuri Honing saxophone
Format
1 CD
Cat. number
9418
EAN code
5029365941822
Release
February 2013
About this release
150 words about Hotel Terminus
by Henkjan Honing, professor of music cognition and author of
"Everyone is musical. What we know about listening to music "

"Even lazy on the couch, listening to music is an active occupation. Music plays with your expectations, emotions and memory. Music violates or confirms those expectations (to where leads this melody?) but can also simply be intangible, like a piece of wet soap. It is the interaction between the music and the listener that makes a listening experience so special.

Little music makes so cunningly use of the cognition of the listener as Hotel Terminus. The crisp and rich audio recordings reveal themselves gradually as the soundtrack to a movie that have not yet been made. A resourceful, by electro-acoustic instruments assembled darkness that still permeable and is understandable. From piercing painful to gracefully lyrical, and fed by a slow and compelling harmony filled with distilled remnants from the Baroque.

This is an album for listeners looking for adventure, for listeners to which one listen is not enough. Let your expectations be violated and rejoice in the traces of these cathartic darkness will leave in your memory. "

OTHER INFORMATION:
- Composed and arranged by Bosgraaf, Honing, Van Es, Vanoli, Haanstra & Lijbaart.
- Inspired by Johann Sebastian Bach's Brandenburg Concertos.
- " A bewitching recorder player" (The Guardian).
- " One of the most creative and fearless saxophonists of the moment" (The Times).
Track list
Disk 1
Adler

Ibis

Western

Sheraton

Hyatt

Umai

Terminus