Brahms: Complete Piano Quartets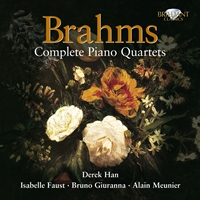 Composer
Johannes Brahms
Artist
Derek Han piano
Isabelle Faust violin
Bruno Giuranna viola
Alain Meunier cello
Format
2 CD
Cat. number
93040
EAN code
5028421930404
Release
July 2012
About this release
The chamber works of Johannes Brahms (1833–1897) have long been seen as a window onto the German composer's rigorous, intricate approach to composition and restrained yet Romantic style. This is true of his piano quartets; although he only composed three, in their individual characters and masterful control of musical material, they are an integral aspect of Brahms's chamber output.

The Piano Quartet in G minor Op.25, the earliest of Brahms's works in this genre, reveals the composer's great creativity. Based on short motifs that are continuously extended and combined to form larger structures, it draws on song-like melodies in the first movement and Hungarian folk music in the finale, to create a work that, at times, seems to stray into the territory of orchestral music. The second Quartet in A Op.26 is relaxed and expansive in comparison, with flowing, extended melodies that retain a sense of control and poise, while The Piano Quartet No.3 in C minor is the most dramatic, practically operatic in style.

Since the initial release of this popular Brilliant Classics recording, its performers have gone from strength to strength. While Isabelle Faust has forged a reputation as one of the leading international violinists, particularly in chamber music, Derek Han, Bruno Giuranna and Alain Meunier are some of the most acclaimed musicians in their fields. Chamber music enthusiasts should not be without this world-class recording in their collections.

Other information:
- This 2-CD set, features the 3 great Piano Quartets of Brahms, each a masterwork on its own, in inspired performances by Isabelle Faust, violin (one of the most respected and appreciated violinists of today), Derek Han, piano, Bruno Giaranna, viola and Alain Meunier, cello.
- 'Among recommendable versions of the Brahms Piano Quartets, these recordings continue to wear well… this release is sure to satisfy more than budget-minded collectors looking for all three Brahms Piano Quartets in one package.' Jed Distler, ClassicsToday.com.
Track list
Disk 1
Piano Quartet No. 1 in G Minor, Op. 25: Allegro

Piano Quartet No. 1 in G Minor, Op. 25: Intermezzo, allegro ma non troppo

Piano Quartet No. 1 in G Minor, Op. 25: Andante con moto

Piano Quartet No. 1 in G Minor, Op. 25: Rondo alla Zingarese

Piano Quartet No. 3 in C Minor, Op. 60: Allegro non troppo

Piano Quartet No. 3 in C Minor, Op. 60: Scherzo, allegro

Piano Quartet No. 3 in C Minor, Op. 60: Andante

Piano Quartet No. 3 in C Minor, Op. 60: Finale, allegro comodo
Disk 2
Piano Quartet No. 2 in A, Op. 26: Allegro non troppo

Piano Quartet No. 2 in A, Op. 26: Poco adagio

Piano Quartet No. 2 in A, Op. 26: Scherzo, poco allegro

Piano Quartet No. 2 in A, Op. 26: Finale, allegro