Brahms: Late piano pieces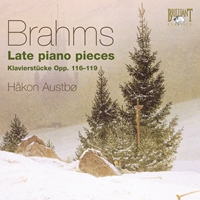 | | |
| --- | --- |
| Composer | Johannes Brahms |
| Artist | Håkon Austbö piano |
| Format | 1 CD |
| Cat. number | 93990 |
| EAN code | 5028421939902 |
| Release | August 2009 |
About this release
Brahms was a formidable pianist, and his early works were written to show off his tremendous technique. The piano sonatas Opp. 1-3 typify the highly virtuosic muscular style that suited his performing style. Brahms never revisited the piano sonata form after these early works, and his output for solo piano falls distinctly into three groups: The early impetuous works, then, from 1854-73, the more technical works, and finally, the late works from the 1890s included on this CD. These works are contemplative and autumnal, though the drama and tensions of the earlier works are never far away. The Op. 116 set is remarkable in that its seven linked numbers form a single unity. It is in fact a seven movement sonata.

Op. 117 contains probably some of the most beautiful music Brahms's composed. The 3 Intermezzi are reflective, deeply personal works. Op. 118 contains severe technical demands for the performer, as well as music of incredible passion and sadness. Op. 119 contains a Rhapsody, which is widely regarded as a final tribute to his pianist friend Clara Schumann. Brahms was madly in love with her, but although they were great friends, his love went unrequited.

Other information:
- Håkon Austbo was born in Norway, and now resides on Holland.
- In 1971, Håkon he won the prestigious Olivier Messiaen prize.
Track list
Disk 1
Fantasien Op.116: Capriccio in D Minor: Presto energico

Fantasien Op.116: Intermezzo in A Minor: Andante

Fantasien Op.116: Capriccio in G Minor: Allegro passionato

Fantasien Op.116: Intermezzo in E: Adagio

Fantasien Op.116: Intermezzo in E Minor: Andante con grazia ed intimissimo sentimento

Fantasien Op.116: Intermezzo in E: Andantino teneramente

Fantasien Op.116: Capriccio in D Minor: Allegro agitato

Intermezzi Op.117: No.1 in E flat: Andante moderato

Intermezzi Op.117: No.2 in B flat Minor: Andante non troppo

Intermezzi Op.117: No.3 in C sharp Minor: Andante con moto

Klavierstücke Op.118: Intermezzo in A Minor: Allegro non assai

Klavierstücke Op.118: Intermezzo in A: Andante teneramente

Klavierstücke Op.118: Ballade in G Minor: Allegro energico

Klavierstücke Op.118: Intermezzo in F Minor: Allegretto un poco agitato

Klavierstücke Op.118: Romanze in F: Andante

Klavierstücke Op.118: Intermezzo in E flat Minor: Andante, largo e mesto

Klavierstücke Op.119: Intermezzo in B Minor:Adagio

Klavierstücke Op.119: Intermezzo in E Minor: Andantino un poco agitato

Klavierstücke Op.119: Intermezzo in C: Grazioso e giocoso

Klavierstücke Op.119: Rhapsodie in E flat: Allegro risoluto