Brahms: Lieder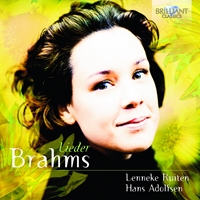 Download booklet
Composer
Johannes Brahms
Artist
Lenneke Ruiten soprano
Hans Adolfsen piano
Format
1 CD
Cat. number
94611
EAN code
5028421946115
Release
January 2013
About this release
Although Johannes Brahms (1833–1897) is best known for his symphonies, string quartets and piano music, he was also a prolific writer of lieder, composing over 200 pieces in the medium. This charming collection celebrates his wonderfully rich, lyrical style through detailing 27 such works – ones which span much of his 40-year song career.

The earliest works on the compilation date from his second lieder collection, Op. 6, composed when Brahms was just eighteen years old. Also touching on his Op. 14 and Op. 16 collections (Brahms gave the first performance of Ein Sonett Op. 14 No. 4 with Julius Stockhausen), the collection features two songs from Op. 48 – of which the Liebesklage des Mädchens 'vibrates with marvellous originality and the deepest heartfelt pain', according to the great Bach biographer Philipp Spitta. From Op. 85 to Op. 95, we explore the late period of a composer who set verses by such iconic poets as Geibel, Heine and Goethe. Maienkätzchen Op. 107 No. 4 is the final song to be featured.

Performing these works is the celebrated young Dutch soprano Lenneke Ruiten, who enjoys a busy career as a recitalist, concert soloist and opera singer. She is joined on the recording by talented pianist (and composer) Hans Adolfsen.

Other information:
- Recorded 27–29 June 2007, Adventkirche, Niedersprockhövel, Germany.
- Lenneke Ruiten is quickly establishing herself as one of the leading sopranos of her generation. She started her tuition with Maria Rondel en Meinard Kraak in The Hague, and subsequently took lessons with Elle Ameling, Robert Holl, Hans Hotter, Walter Berry and Robert Tear. Her breakthrough came with winning the International Vocalist Competition of 's Hertogenbosch. She sang in all the important opera houses of Europe, and with conductors like Gardiner, Brüggen, Biondi, Koopman, Dantone. In 2011 she made her Salzburger Festspiele debut in Die Frau ohne Schatten conducted by Christian Thielemann.
- This well chosen selection of Brahms songs shows her warm timbre, her wide range of colours and her complete understanding of the text.
- Includes English and German booklet notes and biographies.
- Sung texts available on this page by clicking 'Download booklet' below the cover image.
Track list
Disk 1
Frühlingslied, Op. 85 No. 5

Serenade, Op. 70 No. 3

Es schauen die Blumen, Op. 96 No. 3

Regenlied, Op. 59 No. 3

Nachklang, Op. 59 No. 4

Liebesklage des Mädchens, Op. 48 No 3

Gold überwiegt die Liebe, Op. 48 No. 4

Ein Sonett, Op. 14 No. 4

Ständchen, Op. 14 No. 7

Sehnsucht, Op. 18 No. 8

Bitteres zu sagen denkst du, Op. 32 No. 7

Frühlingstrost, Op. 63 No. 1

Erinnerung, Op. 63 No. 2

Junge Lieder II, Op. 63 No. 6

Heimweh I, Op. 63 No. 7

Nachtigall, Op. 97 No. 1

Dort in den Weiden, Op. 97 No. 4

Trennung, Op. 97 No. 6

Spanisches Lied, Op. 6 No. 1

Juchhe! Op. 6 No. 4

Nachtigallen schwingen lustig, Op. 6 No. 6

Am Sonntag Morgen, Op. 49 No. 1

Das Mädchen, Op. 95 No. 1

Beim Abschied, Op. 95 No. 3

Vorschneller Schwur, Op. 95 No. 5

Mädchenlied, Op. 95 No. 6

Maienkätzchen, Op. 107 No. 4