Brahms: Sonata for 2 Pianos and the Haydn Variations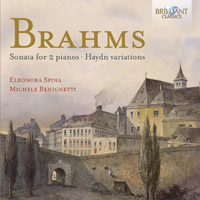 Composer
Johannes Brahms
Artist
Eleonora Spina piano
Michele Benignetti piano
Format
1 CD
Cat. number
94956
EAN code
5028421949567
Release
June 2015
About this release
This unassuming-looking "Sonata for two pianos" in fact represents a seminal work in Brahms's output, as it became the Piano Quintet – whose symphonic dimensions, no less than that of the First Piano Concerto, were one of the many precursors to Brahms finally facing up to the task of composing a symphony proper.
In fact while working on the score, Brahms had showed it to Joachim, who deemed the piece too heavy for strings and (in an unusual instance of Brahms taking advice from anyone) the composer rewrote it for piano duo. Clara Schumann contributed her two-penny-worth too: "It is no sonata but rather a work whose ideas you could – you must – scatter over the entire orchestra as if from a horn of plenty! Right from the first time I played it I had the feeling of its being an arrangement."

However, Brahms retained a fondness for this 'original' form of a work that would become so famous, and indeed it reflects the essentially domestic side of so much of his music-making, conceived for friends and musicians together, however strong and unbridled the passions expressed therein. It was Clara herself who remarked that only once she could play through the Third Symphony did she feel able to comment on it: reading and even listening to it weren't enough.

Brahms made his own arrangements of almost all his orchestral music for the lucrative domestic market, at a time when such work would routinely be farmed out to professional arrangers and lesser musicians.
That includes the Haydn Variations (as we call them, though Haydn had nothing to do with the melody on which Brahms works with such good-humoured ingenuity).

This is the first disc in a projected complete series of Brahms's work for this combination; all to be recorded by the young Italian musicians Eleonora Spina and Michele Benignetti.

Brahms' Op. 34 is one of the many attempts of the young composer at a large symphonic form. First conceived as a string quartet his friend the great violinist Joseph Joachim found it not suited for strings, so Brahms wrote a setting for two pianos, which her premiered himself with Carl Tausig. Again on advice of a close friend, this time his beloved Clara Schumann, who found the work too grand in scope to be limited to two pianos, he wrote a version for piano and strings, the piano quintet Op. 34a. However Brahms still favoured the version for 2 pianos, which indeed is a master piece in its genre.
The Haydn variations Op.56 were simultaneously composed for 2 pianos and for orchestra. This ever popular work is often heard in concert, and shows Brahms as the genius of the variation form, transforming the popular St Antoni Chorale into variations of great invention and different characters, from tendernes, playfulness to the joyful maestoso finale.
Excellent performances by a young Italian duo, Michele Benignetti and Eleonora Spina, winners of several international chamber music competitions.
Listening
Track list
Disk 1
Johannes Brahms: Sonata for 2 Piano's in F Minor Op. 34b: I. Allegro non troppo

Johannes Brahms: Sonata for 2 Piano's in F Minor Op. 34b: II. Andante, un poco adagio

Johannes Brahms: Sonata for 2 Piano's in F Minor Op. 34b: III. Scherzo, allegro

Johannes Brahms: Sonata for 2 Piano's in F Minor Op. 34b: IV. Finale. Poco sostenuto – allegro non troppo

Johannes Brahms: Variations on a Theme by Haydn, Op. 56b: I. Choral St. Antoni – Andante

Johannes Brahms: Variations on a Theme by Haydn, Op. 56b: II. Variation I. Andante con moto, poco più animato

Johannes Brahms: Variations on a Theme by Haydn, Op. 56b: III. Variation II. Più vivace

Johannes Brahms: Variations on a Theme by Haydn, Op. 56b: IV. Variation III. Con moto

Johannes Brahms: Variations on a Theme by Haydn, Op. 56b: V. Variation IV. Andante con moto

Johannes Brahms: Variations on a Theme by Haydn, Op. 56b: VI. Variation V. Poco presto, vivace

Johannes Brahms: Variations on a Theme by Haydn, Op. 56b: VII. Variation VI. Vivace

Johannes Brahms: Variations on a Theme by Haydn, Op. 56b: VIII. Variation VII. Grazioso

Johannes Brahms: Variations on a Theme by Haydn, Op. 56b: IX. Variation VIII. Poco presto

Johannes Brahms: Variations on a Theme by Haydn, Op. 56b: X. Finale – Andante