Brahms: Violin Sonatas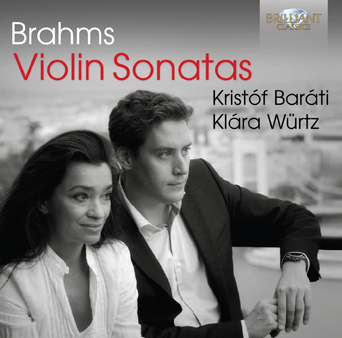 Composer
Johannes Brahms
Artist
Kristóf Baráti violin
Klára Würtz piano
Format
1 CD
Cat. number
94824
EAN code
5028421948249
Release
September 2014
About this release
After their acclaimed complete recording of Beethoven's violin sonatas on Brilliant Classics (BC 94310), Kristóf Baráti and Klára Würtz turn to the three sonatas by Johannes Brahms, an unique triptych of perfect works. All three sonatas are among the most frequently performed works for violin and piano, beloved by performers and listeners alike; and for all their delightful variety each sonata builds an impressively architectural unity and addresses itself to us, personally and collectively, with an almost metaphysical depth of inquiry and understanding.

Today the First Sonata in G major is considered by many violinists to be one of the most beautiful sonatas ever written for their instrument, with a finale in which Brahms seems to stir up the memory of long-forgotten feelings. The dialogue between a recurring theme on the violin and an undercurrent of semiquavers in the piano, like raindrops, derives from the Regenlied, Op.59 No.3, ('Rainsong') which Brahms had composed six years earlier to words by Klaus Groth: 'Pour, rain, pour down / Awaken again in me those dreams / That I dreamt in childhood'. Brahms's friend Billroth wrote to the composer about the Second, 'The whole sonata has immense grace and kindness, a lovely child, so dear and charming!' Brahms wrote his Third Violin Sonata in the same year as the Second but for some reason he withheld it, perhaps himself taken aback by its violent emotional and dynamic range to which Baráti and Würtz do full dramatic justice.

Other information:
- Recorded in 2013.
- The three violin sonatas of Brahms are core repertoire for every violinist. Each a masterwork in its genre it offers vintage Brahms: lyrical, mellifluous melodic lines, sumptuous harmonics, instrumental richness and that unmistakable Brahmsian mixture of passion, melancholy and intimacy.
- A deeply musical performance by two Hungarians: Kristóf Baráti and Klára Würtz, who already received rave reviews for their recording of the complete violin sonatas by Beethoven (BC 94310): "reference recording" (the leading German daily newspaper), 5 Stars (Diapason), "Amazing..once you've heard Baráti and Würtz you'll never listen to anyone else again" (Fanfare), "Truly exceptional..dazzling range of bow strokes and ear-ringing intonations…deeply compelling emotional narratives…a highly distinguished release" (The Strad on Baráti's Ysaye recording, BC 94678).
- Recorded in the spectacular acoustics of the new Concert Hall in Pécs, Hungary.
- "Lest I also be guilty of ignoring Baráti's partner in these miraculous performances, let me say that pianist Klára Würtz is every bit as amazing a player as Baráti. Her interplay with him and the violin part is as attentive and attention-grabbing as I've ever heard" (Fanfare).
Track list
Disk 1
Sonata No. 1 in G Major, Op. 78: I. Vivace ma non troppo

Sonata No. 1 in G Major, Op. 78: II. Adagio

Sonata No. 1 in G Major, Op. 78: III. Allegro molto moderato

Sonata No. 2 in A Major, Op. 100: I. Allegro amabile

Sonata No. 2 in A Major, Op. 100: II. Andante tranquillo - Vivace - Andante - Vivace di più - Andante - Vivace

Sonata No. 2 in A Major, Op. 100: III. Allegretto grazioso, quasi andante

Sonata No. 3 in D Minor, Op. 108: I. Allegro

Sonata No. 3 in D Minor, Op. 108: II. Adagio

Sonata No. 3 in D Minor, Op. 108: III. Un poco presto e con sentimento

Sonata No. 3 in D Minor, Op. 108: IV. Presto agitato