Briccialdi: Flute Concertos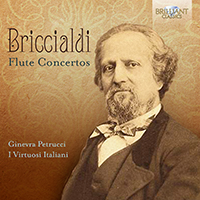 Composer
Giulio Briccialdi
Artist
Ginevra Petrucci flute
I Virtuosi Italiani
Format
1 CD
Cat. number
95767
EAN code
5028421957678
Release
June 2018
About this release
First recordings of four Romantic concertos by a Paganini of the flute.

This 2008 recording has been reissued to mark the 200th anniversary of the birth of Giulio Briccialdi (1818-1881). As a principal flautist in the major opera orchestras of Italy and across Europe, Briccialdi attracted renown not only for his performing virtuosity but also his ability to exploit and stimulate the rapid technical evolution of his instrument. A new flute was invented for him by Boehm and named after him. Further technical innovations were made in flute-manufacture at his instigation by Emilio Piana in Florence, where he was flute professor at the Istituto Musicale in Florence.

Although he wrote an opera and a symphony, his legacy as a composer rests upon his works for his own instrument. These include many chamber works for flute and piano: fantasias and operatic fantasias capitalising on the popular success of dramatic works, especially by Verdi. There are several attractive wind quintets and the Carnevale di Venezia Op.78, a concertante work for flute and orchestra which has been recorded several times.

These four concertos represent some of Briccialdi's most valuable and original works: conceived as a pinnacle of virtuosic display for the soloist's skill, and based entirely on original material, Briccialdi mostly kept those works for his personal use. In fact the great majority of Briccialdi's work remains unpublished and the scores of these concertos were only published earlier this year by the Italian firm of Ricordi. They are all cast in the standard three-movement concerto format, by and large as brief as they are attractive, and unfailingly well written for the soloist: one highlight is the two-minute 'Valse lento' which forms the middle movement of the Fourth.

The concertos received their first recordings at the hands of Ginevra Petrucci, a Roman-born flautist who has worked with composers in Europe and the US and had several works written for her. The Flutist Quarterly praised her for 'beautiful phrasing, brilliant virtuosity and a legato worthy of a great singer.'

World premiere of the 4 Flute Concertos by Briccialdi.
Giulio Briccialdi (1818-1881) was from an early aged destined to became what he was universally called "The Prince of the Flute". He started his career as flutist and composer by playing in the intervals of opera productions throughout Italy, later he spread his wings and was active in several European capitals like Vienna, Budapest, Munich and London, a celebrated virtuoso mixing with the most important musical figures of his time.
The 4 Flute Concertos were only recently published and are recorded here for the first time: fresh, inventive and virtuoso works written in warm Italian bel canto style: exquisite!
Beautifully played by Ginevra Petrucci, one of Italy's foremost flutists, who also prepared the editions. She recorded already 5 CD's for Brilliant Classics, with music by Kuhlau, Dupuy, Büchner, Muczynski and others.
Listening
Track list
Disk 1
Giulio Briccialdi: Flute Concerto No. 1 in B-Flat Major: I. Allegro maestoso

Giulio Briccialdi: Flute Concerto No. 1 in B-Flat Major: II. Andante sostenuto

Giulio Briccialdi: Flute Concerto No. 1 in B-Flat Major: III. Allegro

Giulio Briccialdi: Flute Concerto No. 2 in E Minor: I. Allegro marziale

Giulio Briccialdi: Flute Concerto No. 2 in E Minor: II. Adagio

Giulio Briccialdi: Flute Concerto No. 2 in E Minor: III. Allegro moderato

Giulio Briccialdi: Flute Concerto No. 3 in C Major: I. Allegro molto moderato

Giulio Briccialdi: Flute Concerto No. 3 in C Major: II. Andante un poco sostenuto

Giulio Briccialdi: Flute Concerto No. 3 in C Major: III. Allegro ma non tanto

Giulio Briccialdi: Flute Concerto No. 4 in A-Flat Major: I. Allegro ma non tanto

Giulio Briccialdi: Flute Concerto No. 4 in A-Flat Major: II. Valse lento

Giulio Briccialdi: Flute Concerto No. 4 in A-Flat Major: III. Allegro con fuoco –Allegro giusto