Britten: Complete Folk Songs for Voice and Piano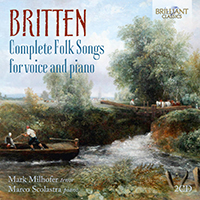 Download booklet
Composer
Benjamin Britten
Artist
Mark Milhofer tenor
Marco Scolastra piano
Format
2 CD
Cat. number
96009
EAN code
5028421960098
Release
February 2021
About this release
It was probably Peter Pears, Britten's partner in music and life, who drew the composer's attention to the rich heritage of English folksong and its attractions, as a way to introduce texture, variety and a lighter tone to their song recitals together during the 1940s. According to the tenor, Britten 'wanted to recreate these melodies with their texts for concert performance, to make them art-songs … he therefore takes the tune as if he had written it himself and thinks himself back as to how he would turn it into a song.' Thus the piano parts are no mere accompaniments but highly wrought, deftly illustrative comments on the texts and stories of love and country life.
In cases such as The Foggy, Foggy Dew and O Waly, Waly, Britten's arrangements have become better known than any 'original' version; they have assumed the identity of the song in the popular imagination, and the distinctive voice of Pears singing them imprinted itself on the imaginations of countless music-lovers in the second half of the last century. However, the songs retain their place in the concert repertoire of many young singers, often as more than encore material, and they admit a rich variety of interpretative approaches.
The tenor Mark Milhofer has previously taken part in Brilliant Classics surveys of the complete song output of Alban Berg (95549) and Francesco Tosti (Vol.1 – 95201), with the Berg attracting particularly enthusiastic praise: 'Totally absorbing… convincingly performed from the first note to the last. Each performer brings sincerity and enthusiasm to this varied repertoire. The recording is ideal' (MusicWeb International).
To this repertoire he brings a native facility and familiarity with the texts, and a keen sympathy also at work in his booklet essay for the collection. He began his musical career as a Choral Scholar at Magdalen College, Oxford, but subsequently became a student of Renata Scotto and Leyla Gencer in Rome; a vocal versatility which is ideally suited to Britten's song-writing.

- It was during Benjamin Britten's stay in the United States in the early 1940s that he began to make his first arrangements of traditional folksongs. It was a way in which the then homesick composer could reconnect with his English roots. They also served well as encores and "lighter" material for his numerous recitals with Peter Pears. So successful and useful did the first collection prove to be that Britten went on to make a further six volumes of arrangements, including French, Scottish and Irish as well as English folksongs, the last (for tenor and harp) dating from the very last year of his life. They became regular features of Britten and Pears' recital programmes and continue to be widely performed today.
- Not being restricted by "authenticity" Britten had experimented with using folksongs as thematic material but deliberately lending them an unconventional, even quirky treatment that defies one's expectations, putting put his own personal stamp on what are sometimes very familiar tunes.
- One of the most versatile tenors of his generation, Mark Milhofer is as much at home in the music of Rossini as in the repertoire of Monteverdi, Mozart or Benjamin Britten. He sang at the London Royal Opera, Staatsoper Berlin, Opera Stuttgart, Vienna and numerous other famous opera houses. His piano partner is Marco Scolastra, one of Italy's foremost accompanists and chamber music players.
Listening
Track list
Disk 1
Benjamin Britten: I Wonder as I Wander

Benjamin Britten: The Salley Gardens

Benjamin Britten: Little Sir William

Benjamin Britten: The Bonny Earl o' Moray

Benjamin Britten: O Can Ye Sew Cushions?

Benjamin Britten: The Trees They Grow so High

Benjamin Britten: The Ash Grove

Benjamin Britten: Oliver Cromwell

Benjamin Britten: The Crocodile

Benjamin Britten: Greensleeves

Benjamin Britten: The Holly and the Ivy

Benjamin Britten: La noël passée

Benjamin Britten: Voici le printemps

Benjamin Britten: Fileuse

Benjamin Britten: Le roi s'en va-t'en chasse

Benjamin Britten: La belle est au jardin d'amour

Benjamin Britten: Il est quelqu'un sur terre

Benjamin Britten: Eho! Eho!

Benjamin Britten: Quand j'etais chez mon père

Benjamin Britten: he Plough Boy

Benjamin Britten: There's None to Soothe

Benjamin Britten: Sweet Polly Oliver

Benjamin Britten: The Miller of Dee

Benjamin Britten: The Foggy, Foggy Dew

Benjamin Britten: The Stream in the Valley
Disk 2
Benjamin Britten: O Waly, Waly

Benjamin Britten: Come you not from Newcastle?

Benjamin Britten: Pray Goody

Benjamin Britten: he Deaf Woman's Courtship

Benjamin Britten: At the Mid Hour of Night

Benjamin Britten: Rich and Rare

Benjamin Britten: Dear Harp of my Country!

Benjamin Britten: The Last Rose of Summer

Benjamin Britten: O the Sight Entrancing

Benjamin Britten: Avenging and Bright

Benjamin Britten: Sail on, Sail on

Benjamin Britten: How Sweet the Answer

Benjamin Britten: The Minstrel Boy

Benjamin Britten: Oft in the Stilly Night

Benjamin Britten: Soldier, Won't you Marry me?

Benjamin Britten: The Brisk Young Widow

Benjamin Britten: Sally in our Alley

Benjamin Britten: The Lincolnshire Poacher

Benjamin Britten: Early One Morning

Benjamin Britten: Ca' the Yowes

Benjamin Britten: Tom Bowling

Benjamin Britten: Dink's Song