Britten: War Requiem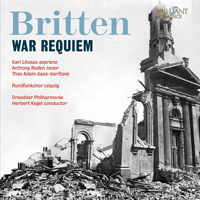 Download booklet
Composer
Benjamin Britten
Artist
Rundfunkchor Leipzig
Dresdner Philharmonie
Herbert Kegel conductor
Kari Lövaas soprano
Anthony Roden tenor
Theo Adam bass-baritone
Format
2 CD
Cat. number
95354
EAN code
5028421953540
Release
April 2016
About this release
The Dresden-born conductor Herbert Kegel felt a deep connection to the work of Benjamin Britten: in 1967 he made just the second recording of the War Requiem, a version that has not received wider circulation because it was sung in a German-language version, which had been produced by Dietrich Fischer-Dieskau to communicate Wilfred Owen's poetry, and Britten's incandescent settings, to a local audience.

When Kegel returned to the work in 1989 he recorded it in the original English (and Latin); the set became a memorial to him, after his suicide, in Dresden, the following year. It is a measured and deeply considered performance, in which the consolation offered by the composer's own recording on Decca is – or so it seems with hindsight – rejected for a bleaker vision of man's inhumanity to man: an impression only intensified by Kegel's chosen coupling of that other, outraged, 60s lament for pacifism, Penderecki's Threnody for the Victims of Hiroshima. 'An alert, clear-sighted and well-balanced interpretation,' noted Rob Cowan in Gramophone in April 2002, and so it is. The experience of its context, however, lends it a frisson not available to any other recording: made on the other side of the Iron Curtain that had been built by decades of conflict between Germany and the rest of Europe, in the dying days of the Cold War.

The Berg concerto here is likewise Kegel's second recording of a personal elegy (the first, with the Hungarian violinist György Garay, has never appeared on CD). The soloist here is Manfred Scherzer, another musical son of Dresden (1933-2013).

The common theme of the three works presented on these 2 CD is Death, the transience of earthly existence. Britten's famous and substantial War Requiem was written in commemoration of the 2nd World War victims, dedicated to the people of the destroyed city of Coventry, Penderecki's Threnody is dedicated to the victims of Hiroshima, and Alban Berg's moving Violin Concerto is written "to the memory of an angel", the death of the 19 year old daughter of Alma Mahler.
Performances conducted by the great East-German conductor Herbert Kegel, a specialist in 20th century masterworks. He conducts the Dresdner Philharmonie and the Leipzig Radio-Sinfonieorchester, soloists include the great Kari Lövaas and Theo Adam.
A reissue from the rich archives of Berlin Classics, treasures from the DDR.
Track list
Disk 1
War Requiem, Op. 66: I. Requiem aeternam. Requiem aeternam (chorus/boys' choir)

War Requiem, Op. 66: I. Requiem aeternam. What passing-bells (tenor)

War Requiem, Op. 66: I. Requiem aeternam. Kyrie eleison (chorus)

War Requiem, Op. 66: II. Dies irae. Dies irae, dies illa (chorus)

War Requiem, Op. 66: II. Dies irae. Bugles Sang (baritone)

War Requiem, Op. 66: II. Dies irae. Liber scriptus proferetur (soprano/chorus)

War Requiem, Op. 66: II. Dies irae. Out There, We walked Quite Friendly up To Death (tenor/baritone)

War Requiem, Op. 66: II. Dies irae. Recordare, Jesu pie (chorus)

War Requiem, Op. 66: II. Dies irae. Be Slowly Lifted up (baritone)

War Requiem, Op. 66: II. Dies irae. Dies irae, dies illa (chorus/soprano)

War Requiem, Op. 66: II. Dies irae. Lacrimosa (chorus) – Move Him into the Sun (tenor)

War Requiem, Op. 66: II. Dies irae. Pie Jesu domine (chorus)

War Requiem, Op. 66: III. Offertorium. Domine Jesu Christe (boys' choir)

War Requiem, Op. 66: III. Offertorium. Sed signifer sanctus Michael (chorus)

War Requiem, Op. 66: III. Offertorium So Abram rose (baritone/tenor)

War Requiem, Op. 66: III. Offertorium Quam olim Abrahae (chorus)

War Requiem, Op. 66: IV. Sanctus. Sanctus (soprano/chorus)

War Requiem, Op. 66: IV. Sanctus. Hosanna – Benedictus – Hosanna (chorus/soprano)

War Requiem, Op. 66: IV. Sanctus. After the Blast (baritone)
Disk 2
War Requiem, Op. 66: V. Agnus dei. One Ever Hangs (tenor/chorus)

War Requiem, Op. 66: VI. Libera me. Libera me (chorus/soprano)

War Requiem, Op. 66: VI. Libera me. It Seemed (tenor/baritone)

War Requiem, Op. 66: VI. Libera me. Let Us Sleep Now (tenor/baritone/soprano/boys' choir/chorus)

Threnody "To the Victims of Hiroshima"

Violin Concerto: I. Andante – Allegretto

Violin Concerto: II. Allegro, ma sempre rubato, frei wie eine Kadenz – Adagio