Brixi: Organ Concertos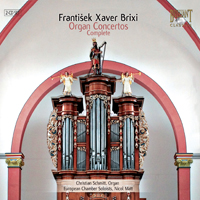 | | |
| --- | --- |
| Artist | |
| Format | 2 CD |
| Cat. number | 93133 |
| EAN code | 5028421931333 |
| Release | January 1996 |
About this release
• Very nice music, but who was this Brixi?

• František Xaver Brixi (1732-1771) was born in Bohemia and worked as an organist and composer in Prague. From 1752 until his death he even was the best known composer in this city. His output consists of over 500 works including some 400 sacred pieces.

• His music appeals easily to listeners and had a lasting influence on Bohemian musical taste. It distinguishes itself from works by his contemporaries through its fresh melodies and liveliness. His instrumentation is simple but effective.

• Among his instrumental music are 5 concertos for organ and orchestra. Pleasant music which is quite a joy to the ear. For the recorded performances the new edition published by Butz Verlag has been used.

• Organist Christian Schmitt recorded Brixi's music at the Weimbs organ in Zeltingen-Rachtig (Germany) together with an ensemble conducted by Nicol Matt.
Track list
Disk 1
Organ Concerto No. 6 In G Major : Moderato

Organ Concerto No. 6 In G Major : Adagio

Organ Concerto No. 6 In G Major : Allegro Assai

Organ Concerto No. 3 In D Major : Moderato

Organ Concerto No. 3 In D Major : Adagio

Organ Concerto No. 3 In D Major : Presto

Organ Concerto No. 1 In C Major : Allegro

Organ Concerto No. 1 In C Major : Adagio

Organ Concerto No. 1 In C Major : Presto

Organ Concerto No. 5 In F Major : Allegro Moderato

Organ Concerto No. 5 In F Major : Adagio

Organ Concerto No. 5 In F Major : Allegro Assai
Disk 2
Organ Concerto No. 2 In C Major : Allegro Assai

Organ Concerto No. 2 In C Major : Adagio

Organ Concerto No. 2 In C Major : Allegro

Organ Concerto No. 7 In G Major : Allegro Moderato

Organ Concerto No. 7 In G Major : Adagio

Organ Concerto No. 7 In G Major : Allegro Molto

Organ Concerto No. 4 In D Major : Allegro Moderato

Organ Concerto No. 4 In D Major : Andante Molto

Organ Concerto No. 4 In D Major : Allegro

Organ Concerto No. 8 In D Major : Allegro

Organ Concerto No. 8 In D Major : Adagio

Organ Concerto No. 8 In D Major : Allegro