Bruch: Complete String Quartets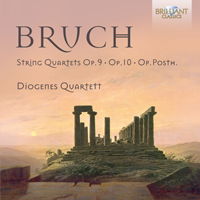 Composer
Max Bruch
Artist
Diogenes Quartett
Stefan Kirpal violin
Gundula Kirpal violin
Alba González i Becerra viola
Stephen Ristau violincello
Format
1 CD
Cat. number
95051
EAN code
5028421950518
Release
January 2016
About this release
The two opus-numbered quartets of Max Bruch were first recorded only in 1993 by an Italian ensemble, and the recognised expertise of the Diogenes Quartet in music of this style and era makes their new recording the obvious first choice, but their album is further enhanced by the inclusion of a C minor quartet which was rediscovered as recently as 2013, in a box in the archives of the Mozart-Stiftung in Frankfurt. Further research revealed that this was an unpublished work by Bruch, composed in 1852 at the age of 14, in application for a scholarship from the foundation. Louis Spohr, in approving the application, was fulsome in his praise: 'I am very interested to learn more about him, as I prophesy a brilliant career for him.'

This youthful effort is clearly influenced by the estimable models of Beethoven and Schubert, but its composer's melodic gift is already revealed by the slow movement, an enchanting Notturno of great expressive strength. This is a subtle, finely balanced movement, woven with precocious sophistication by the teenage Bruch into an intricate fabric of voices, which cushions the sensitive melody, as it were, on a bed of roses. Four years later – and still only 18 – he referred back to elements of the quartet in his first acknowledged work in the genre, designated Op.9

The tunefulness of all three quartets will come as no surprise to anyone familiar with his best-known (only known?) work, the First Violin Concerto, and efforts have been made from time to time to expand the recognition outside his native Germany of a broad oeuvre in all the major genres, but with limited success. The string quintets have achieved a fragile toehold on the repertoire, but perhaps thanks to the Diogenes' spirited advocacy, the quartets will join them.

This CD contains a World Premiere! The C minor Quartet by Max Bruch.
In 2013 an unknown quartet was discovered in the archives of the Mozart-Stiftung in Frankfurt, further research made it clear it was by the 14-year old Max Bruch! This fresh and spontaneous youth work clearly has its roots in the romantic tradition going back to Beethoven, Mendelssohn, Schubert and Schumann.
The well known String Quartets Op.9 and Op.10 are vintage Bruch: although not revolutionary in any sense, they abound in catchy romantic melodies, the warm sonorities and harmonies adding to the feel-good atmosphere.
Excellent performances by the German Diogenes Quartet, who already recorded successfully for Brilliant Classics works by Gernsheim and a complete Schubert cycle.
Scholarly liner notes in both English and German are included in the booklet.
Listening
Track list
Disk 1
Max Bruch: String Quartet in C Minor, Op. Posth.: I. Adagio ma non troppo – Allegro molto

Max Bruch: String Quartet in C Minor, Op. Posth.: II. Adagio

Max Bruch: String Quartet in C Minor, Op. Posth.: III. Scherzo. Allegro molto

Max Bruch: String Quartet in C Minor, Op. Posth.: IV. Finale. Presto agitato

Max Bruch: String Quartet No. 1 in C Minor, Op. 9: I. Andante – Allegro ma non troppo

Max Bruch: String Quartet No. 1 in C Minor, Op. 9: II. Adagio

Max Bruch: String Quartet No. 1 in C Minor, Op. 9: III. Allegro molto energico

Max Bruch: String Quartet No. 1 in C Minor, Op. 9: IV. Molto vivace

Max Bruch: String Quartet No. 2 in E Major, Op. 10: I. Allegro maestoso

Max Bruch: String Quartet No. 2 in E Major, Op. 10: II. Andante quasi adagio

Max Bruch: String Quartet No. 2 in E Major, Op. 10: III. Vivace non troppo - Un poco meno vivo

Max Bruch: String Quartet No. 2 in E Major, Op. 10: IV. Finale. Vivace