Bruch: Double Concerto for Clarinet, Viola and Orchestra Op.88, 8 Pieces for Clarinet, Viola and Piano Op.83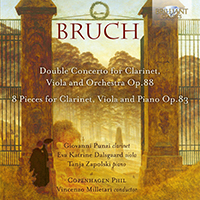 Download booklet
Composer
Max Bruch
Artist
Giovanni Punzi clarinet
Eva Katrine Dalsgaard viola
Tanja Zapolski piano
Copenhagen Philharmonica
Vincenzo Millitarì conductor
Format
1 CD
Cat. number
95673
EAN code
5028421956732
Release
December 2018
About this release
Ripe and romantic chamber and orchestral music from the Indian summer of Bruch's career.

The spring of Bruch's invention was running dry in the first decade of the last century when it was refreshed once more by the sound of the clarinet. Just as the playing of Richard Muhlfeld had inspired Brahms to write his Clarinet Quintet and two sonatas, so Bruch discovered the melodies flowing from his pen once more thanks to his clarinettist son, Max Felix, to write the two works on this new album.

Having composed no chamber music for several decades, he wrote the Eight Pieces for clarinet, viola and piano in 1909. They belong to the genre of character pieces by Schumann such as the eight Fantasiestücke Op.12, though they lean towards reflective introversion. The cycle's high-point arrives with the fourth piece, a Romanian melody introduced to him by a young and beautiful aristocrat, the Princess zu Wied.

Two years later, having retired from all his official posts of teaching and performing, Bruch produced a harvest of choral and instrumental music including this lovely Double Concerto for clarinet and viola in E minor. The two solo instruments thread and entwine melody around each other in the manner of Brahms's Double Concerto: it's a rhapsodic work, full of his son's youthful high spirits, that captivates many listeners once they have encountered it, hardly less than the composer's First Violin Concerto, and a discovery well worth making for anyone not wholly in thrall to the tenets of Modernism which Bruch resisted so stoutly.
Principal clarinet of the Copenhagen Phil and professor of clarinet at the Royal Danish Academy of Music, Giovanni Punzi was born in Salerno in 1989. He is joined here by Danish colleagues.

Max Bruch (1838-1920) enjoyed a long, successful and fruitful career as a composer and conductor, holding several important posts in Germany. His musical language is firmly rooted in the German Romantic Tradition of Schumann and Brahms, as opposed to the "New Music" of Liszt, Wagner and Mahler.
Bruch wrote his works for clarinet at the end of his musical life, when he actually had declared that his "source of inspiration had dried up". But the clarinet playing of his son Max Felix inspired him to write two substantial works featuring the clarinet: the beautiful and still neglected Double Concerto for Clarinet, Viola and Orchestra Op. 88 and the substantial "8 Pieces for Clarinet, Viola and Piano" Op. 83, delightful Character Pieces in the style of Schumann's Märchenerzählungen.
Giovanni Punzi is one of the foremost clarinet players of the young Italian generation. He played in the Mahler Youth Orchestra, the Verbier Festival Orchestra under conductors like Abbado, Gergiev, Muti, Gatti and Nagano. On this recording he plays with the Copenhagen Philharmonic Orchestra, of which he is principal Clarinetist.
Listening
Track list
Disk 1
Max Bruch: Double Concerto in E Minor, Op. 88: I. Andante con moto

Max Bruch: Double Concerto in E Minor, Op. 88: II. Allegro moderato

Max Bruch: Double Concerto in E Minor, Op. 88: III. Allegro molto

Max Bruch: 8 Pieces for Clarinet, Viola and Piano, Op. 83: I. Andante

Max Bruch: 8 Pieces for Clarinet, Viola and Piano, Op. 83: II. Allegro molto

Max Bruch: 8 Pieces for Clarinet, Viola and Piano, Op. 83: III. Andante con moto

Max Bruch: 8 Pieces for Clarinet, Viola and Piano, Op. 83: IV. Allegro agitato

Max Bruch: 8 Pieces for Clarinet, Viola and Piano, Op. 83: V. Rumanische Melodie

Max Bruch: 8 Pieces for Clarinet, Viola and Piano, Op. 83: VI. Nachtgesang

Max Bruch: 8 Pieces for Clarinet, Viola and Piano, Op. 83: VII. Allegro vivace, ma non troppo

Max Bruch: 8 Pieces for Clarinet, Viola and Piano, Op. 83: VIII. Moderato