Bruhns: Complete Organ Music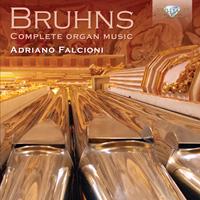 | | |
| --- | --- |
| Composer | Dietrich Buxtehude, Heinrich Scheidemann, Jan Pieterszoon Sweelinck, Nicolaus Bruhns, Samuel Scheidt |
| Artist | Adriano Falcioni organ |
| Format | 1 CD |
| Cat. number | 94447 |
| EAN code | 5028421944470 |
| Release | April 2014 |
About this release
The Bruhns family formed a musical dynasty in 17th-century Germany. Nicholas Bruhns – organist, violinist and viol player – learned organ from Dietrich Buxtehude, who regarded him as a favourite pupil. Bruhns was employed as organist in Copenhagen, where his salary was – unusually – raised to ensure his loyalty. Immensely happy in this post, he remained there until his death in 1697 at just 31 years old.

The four Praeludia are modelled after those of Buxtehude, and owe much to the style of his teacher through the use of repeated-note subjects and thematic transformation. The two E minor works are unsung gems of the Baroque period, which make prominent use of the echo device (common to the works of Jan Pieterszoon Sweelinck), while Bruhns' toccatas are as technically brilliant as those by Vincent Lübeck, displaying qualities reminiscent of the violin idiom and extended passages for pedal. The selection of Bruhns' works is completed with the Adagio in D and the Chorale Fantasia 'Num komm, der Heiden Heiland'. This special collection teams Bruhns' works with pieces by Schiedemann, Scheidt, Sweelinck and Buxtehude.

Adriano Falconi enjoys an international reputation and has been a finalist and prize-winner for many organ competitions throughout Europe. He teaches organ at the Conservatory of Sassari and is principal organist of the Metropolitan Cathedral of St Lawrence in Perugia.

Other information:
- Brilliant Classics continues its fascinating survey of Pre-Bachian keyboard music with a new recording of the complete organ works of Nicholas Bruhns.
- Bruhns, born into a musical dynasty, was organist, violist and violinist in Copenhagen, pupil of the famous Buxtehude, where he remained till his death, only 31 years old.
- Bruhn's works make full use of the many newly developed possibilities of the organ in his days, and form a splendid display of keyboard (and pedal!) virtuosity, and intricate counterpoint.
- To complement Bruhns' complete organ works this recording presents other works by Sweelinck (his famous Chromatic Fantasy), Scheidemann, Scheidt and Buxtehude.
- Adriano Falcioni is one of the foremost organists of this time, winner of many international competitions. He already made several organ recordings for Brilliant Classics (Franck, Muffat, Couperin, Duruflé).
- Liner notes by the artist, all specification of the organ included, the magnificent organ of the Chiesa di San Giorgio in Ferrara, Italy.
- Contains liner notes on the composer and works, an artist biography and organ specifications.
Track list
Disk 1
Nicolaus Bruhns: Praeludium in E Minor "Big"

Nicolaus Bruhns: Praeludium in E Minor "Little"

Nicolaus Bruhns: Praeludium in G Major

Nicolaus Bruhns: Praeludium in G Minor

Nicolaus Bruhns: Adagio in D Major

Nicolaus Bruhns: Chorale Fantasia "Num komm, der Heiden Heiland"

Jan Pieterszoon Sweelinck: Fantasia chromatica, SwWV 258

Heinrich Scheidemann: Galliarda ex D

Samuel Scheidt: Variationen über das Niederlandische Lied "Ach du feiner Reiter"

Samuel Scheidt: Bergamasca

Dietrich Buxtehude: Praeludium in G Minor, BuxWV 148