Burney: Sonatas for Four Hands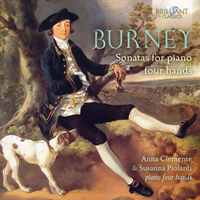 Composer
Charles Burney
Artist
Anna Clemente piano
Suzanna Piolanti piano
Format
2 CD
Cat. number
95447
EAN code
5028421954479
Release
July 2017
About this release
Here's a release of rare repertoire sure to intrigue and delight anyone with more than a passing interest in 18th-century musical culture. The English scholar, musician and inveterate traveller, observer and collector Charles Burney is known for many things – fine taste, a ready wit and a capacious address book principal among them – but his own compositions have so far received almost no attention.

Burney's diaries make for immensely entertaining reading. In them may be relished vivid accounts of musical circles and activities in Italian, German, Dutch, French and English cities, and mention is made of Handel, Metastasio, Sammartini, Mozart, C.P.E. Bach and many others. However, Burney's musical personality was deeper and more complex than reading his diaries might lead one to believe. For the fact is that he was not only a 'musicologist', but also a practising musician active as a composer, a professional organist, harpsichordist and violinist.

Burney's encyclopedic knowledge and breadth of sympathy are evident in the two volumes of the Four Sonatas or Duets for two performers on one Pianoforte or Harpsichord, which he published at his own expense in London in 1777. In fact the novelty of the sonatas was a commercially astute decision, for although they are in essence conceived for solo piano, there was at the time no other published music for the increasingly popular form of duet music at a single keyboard.

Each sonata has two movements: a slow and expressive introduction leads to a lively Allegro, though the second sonata of the second volume reverses this order, and the final sonata begins with an elaborate Andantino which overshadows the concluding Rondo. Burney also took care to exploit the dynamic possibilities of the hammer-action instruments which were gradually displacing the harpsichord; Anna Clemente & Susanna Piolanti perform the sonatas on a square, English model fortepiano dating from 1800: the booklet includes both photographs of the instrument and an invaluable introduction to Burney the composer.

The historical significance of Charles Burney (1726-1814) as an author lies in his "General history of Music" and his numerous diaries, in which he describes the musical life of the countries he visits and the famous musicians and composers he meets there, all written with an deep insight grounded in profound musical knowledge.
As a musician he was active as organist, harpsichordist and violinist. His sonatas for keyboard 4 hands ("for the pianoforte or harpsichord") were published for domestic use by a growing middleclass, eager to consume not too challenging keyboard works. They are delightful sonatas in the style of Clementi and Johann Christian Bach (the "London Bach"), fully exploring the possibilities of the new keyboards quickly gaining popularity.
Played by Anna Clementi and Susanna Piolanti on a historic square English piano built in 1800 by Josephus Kirckman.
Track list
Disk 1
Charles Burney: Sonata No. 1 in Major: I. Largo

Charles Burney: Sonata No. 1 in Major: II. Allegro

Charles Burney: Sonata No. 2 in D Major: I. Affettuoso

Charles Burney: Sonata No. 2 in D Major: II. Allegro

Charles Burney: Sonata No. 3 in B-Flat Major: I. Affettuoso

Charles Burney: Sonata No. 3 in B-Flat Major: II. Allegro moderato

Charles Burney: Sonata No. 4 in C Major: I. Affettuoso

Charles Burney: Sonata No. 4 in C Major: II. Allegro
Disk 2
Charles Burney: Sonata No. 1 in E-Flat Major: I. Andante grazioso

Charles Burney: Sonata No. 1 in E-Flat Major: II. Allegretto

Charles Burney: Sonata No. 2 in G Major: I. Allegro

Charles Burney: Sonata No. 2 in G Major: II. Grazioso

Charles Burney: Sonata No. 3 in D Major: I. Affettuoso

Charles Burney: Sonata No. 2 in G Major: II. Allegro

Charles Burney: Sonata No. 4 in F Major: I. Andantino con espressione

Charles Burney: Sonata No. 4 in F Major: II. Rondo – Andantino