Busoni: Complete Music for Clarinet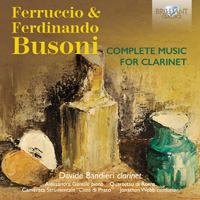 Composer
Ferruccio Dante Micheangelo Benvenuto Busoni
Artist
Davide Bandieri clarinet
Quartetto di Roma
Alessandra Gentile piano
Camerata Strumentale Città di Prato
Jonathan Webb conductor
Format
2 CD
Cat. number
94978
EAN code
5028421949789
Release
June 2015
About this release
Ferdinando Busoni (1834-1909) was Ferruccio's father, and in an autobiographical note Ferruccio described his father as "a clarinettist who handled his instrument as a soloist in a special way, sometimes drawing inspiration from the violin, sometimes from Italian vocal music. During his lifetime he turned his nose up at playing in an orchestra, partly out of pride and partly because he was a 'natural' artist who largely followed his instincts."

This rather special set includes two short pieces by Ferdinando, a Melodia for clarinet in B flat and piano that dates back to the 1880s, and the Rêverie pastorale for clarinet in B flat and piano written in 1870, a composition that is half way between the Feuille d'album and a genre piece, entirely in keeping with the late 19th century taste for what was distinctive and recherché. Alongside them are early pieces by Ferruccio in a gently Romantic style, written when he was just 10 years of age.

Inevitably, beyond the rarity value of such pieces, attention will turn to the pieces of Busoni's maturity – most strikingly the Elegia for clarinet and piano and the Concertino composed in 1918. In both works we may hear the delicate but strenuously achieved balance between high Classicism, modelled on Busoni's ultimate hero Mozart, and the post-Romantic language of his own era.

Davide Bandieri has performed in the Lucerne Festival Orchestra and the Mahler Chamber Orchestra under Claudio Abbado: he is one of Italy's brightest young clarinettists.

This release presents the complete music for clarinet and piano by Ferruccio Busoni. The works span Busoni's whole creative life, from the classical forms of his youth to the highly chromatic and expressionist language of his mature age.
Ferruccio Busoni went into history as one of the greatest pianists who ever lived, and as the composer of an extraordinary and eclectic oeuvre, consisting of piano works, chamber music, a monumental piano concerto and operas. His father Ferdinando Busoni was a famous clarinettist, so no wonder this instrument had a special attraction for Ferruccio.
As a bonus two works by his father Ferdinando are included in the programme, a Melodia and a Rêverie, exquisite genre pieces of the late 19th century.
Italian clarinettist Davide Bandieri is a versatile musician and scholar, he plays solo clarinet in the Lausanne Chamber Orchestra, is an avid chamber music player and is specialised in contemporary music. He wrote the extensive liner notes for this set himself.
Listening
Track list
Disk 1
Ferruccio Dante Micheangelo Benvenuto Busoni: Suite BV 88, Op. 10: I. Improvvisata in B-Flat Major (Impromptu)

Ferruccio Dante Micheangelo Benvenuto Busoni: Suite BV 88, Op. 10: II. Barcarola in E-Flat Major

Ferruccio Dante Micheangelo Benvenuto Busoni: Suite BV 88, Op. 10: III. Elegia in E-Flat Minor

Ferruccio Dante Micheangelo Benvenuto Busoni: Suite BV 88, Op. 10: IV. Danza campestre in A-Flat Major

Ferruccio Dante Micheangelo Benvenuto Busoni: Suite BV 88, Op. 10: V. Serenata in B-Flat Major

Ferruccio Dante Micheangelo Benvenuto Busoni: Suite BV 88, Op. 10: VI. Tema variato in F Minor

Ferruccio Dante Micheangelo Benvenuto Busoni: Andante con moto in E Minor, BV 72

Ferruccio Dante Micheangelo Benvenuto Busoni: Solo Dramatique in B-Flat Minor, BV 101

Ferruccio Dante Micheangelo Benvenuto Busoni: Andantino in C Major, BV 107

Ferruccio Dante Micheangelo Benvenuto Busoni: Serenade in C Major, BV 108

Ferruccio Dante Micheangelo Benvenuto Busoni: Novellette in D Minor, BV 116

Ferruccio Dante Micheangelo Benvenuto Busoni: Clarinet Sonata in D Major, BV 138: I. Allegro deciso

Ferruccio Dante Micheangelo Benvenuto Busoni: Clarinet Sonata in D Major, BV 138: II. Andante

Ferruccio Dante Micheangelo Benvenuto Busoni: Clarinet Sonata in D Major, BV 138: III. Menuetto
Disk 2
Ferruccio Dante Micheangelo Benvenuto Busoni: Suite in G Minor, K 176: I. Andantino – Vivace assai

Ferruccio Dante Micheangelo Benvenuto Busoni: Suite in G Minor, K 176: II. Vivace e marcato

Ferruccio Dante Micheangelo Benvenuto Busoni: Suite in G Minor, K 176: III. Moderato

Ferruccio Dante Micheangelo Benvenuto Busoni: Abendlied, Op. 85 No. 12

Ferruccio Dante Micheangelo Benvenuto Busoni: Introduction BV 110

Ferruccio Dante Micheangelo Benvenuto Busoni: Elegia BV 110

Ferruccio Dante Micheangelo Benvenuto Busoni: Rèverie pastorale

Ferruccio Dante Micheangelo Benvenuto Busoni: Melodia

Ferruccio Dante Micheangelo Benvenuto Busoni: Elegie in E-Flat Major, BV 286

Ferruccio Dante Micheangelo Benvenuto Busoni: Concertino in B-Flat Major, Op. 48, BV 276