Busoni: Music for Violin and Piano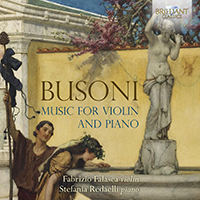 Download booklet
Composer
Ferruccio Busoni
Artist
Fabrizio Falasca violin
Stefania Redaelli piano
Format
1 CD
Cat. number
95854
EAN code
5028421958545
Release
September 2019
About this release
A new recording of Busoni's complete output for violin and piano by a violinist in demand with the world's great orchestras.

Assistant leader of the Philharmonia Orchestra since 2016, Fabrizio Falasca studied with Salvatore Accardo at the Walter Stauffer Academy and has subsequently played chamber music with him on many occasions. He has made concerto appearances across Europe and in the USA, China and Souther America, as well as making appearances as leader of the Suisse Romande and BBC Philharmonic orchestras, among others.

For his debut on Brilliant Classics, Fabrizio Falasca has chosen to record the two sonatas by his countryman Ferruccio Busoni. They form separate landmarks in Busoni's career despite their relatively close opus numbers. Adolf Brodsky accepted the dedication of the First Sonata Op.29 from the 24-year-old Busoni despite being the pre-eminent German soloist of his day; but then the composer had a prodigious childhood behind him and could already be counted an experienced composer – as one may hear from the Sonata's sophisticated translation of sonata form and its references to the German musical tradition from Bach and Mozart onwards.

Also from this early period but much less familiar is the collection of four graceful Bagatelles which Busoni dedicated to the seven-year-old Egon Petri, who would become, as a pianist, the composer's foremost disciple and interpreter on record. Both works, however, shrink somewhat beside the mastery of the Second Sonata which Busoni completed in 1898 shortly before the move to Berlin where, as a teacher, he would exercise a decisive influence over a generation of composers and performers. The Sonata opens with a serene and intensely lyrical slow movement, followed by a brief and Beethovenian bridge to the keystone of the sonata, a spacious set of six variations on a Bach chorale. Here is all the depth of feeling, dark humour and harmonic ambiguity that underpin Busoni's mature style.

The Italian virtuoso pianist, composer and intellectual, Ferruccio Busoni, is mainly remembered for his magnificent works for piano, which are some of the most ferociously demanding in the repertoire. Devoted to the music of Liszt and later in life to Bach, Busoni wrote in a highly personal Late-Romantic style, complex, chromatic and hauntingly beautiful.
This new recording presents the two violin sonatas and a selection of the bagatelles Op. 28. The first sonata is from his youth, the magnificent second sonata is one of his first mature works in which he firmly establishes his new style: intensely lyrical and passionate, the third movement being a set of variations on a Bach Chorale, Wie wohl ist mir, O Freund der Seelen.
Fabrizio Falasca is one of the foremost Italian violinists of his generation. He performed at important festivals and with leading orchestras, presently he is concert master of the Philharmonia Orchestra. Pianist Stefania ReSdaelli collaborated with famous soloists such as Cecilia Bartoli, Salvatore Accardo and Viktor Tretiakov.
Listening
Track list
Disk 1
Ferruccio Busoni: Violin Sonata No. 1 in E Minor, Op. 29: I. Allegro deciso

Ferruccio Busoni: Violin Sonata No. 1 in E Minor, Op. 29: II. Molto sostenuto

Ferruccio Busoni: Violin Sonata No. 1 in E Minor, Op. 29: III. Allegro molto e deciso

Ferruccio Busoni: Violin Sonata No. 2 in E Minor, Op. 36a: I. Langsam

Ferruccio Busoni: Violin Sonata No. 2 in E Minor, Op. 36a: II. Presto

Ferruccio Busoni: Violin Sonata No. 2 in E Minor, Op. 36a: III. Andante piuttosto grave

Ferruccio Busoni: Violin Sonata No. 2 in E Minor, Op. 36a: IV. Alla marcia vivace

Ferruccio Busoni: 4 Bagatelles, Op. 28: I. Aus der Zopfzeit

Ferruccio Busoni: 4 Bagatelles, Op. 28: II. Kleiner Mohrentanz

Ferruccio Busoni: 4 Bagatelles, Op. 28: III. Wiener Tanzweise

Ferruccio Busoni: 4 Bagatelles, Op. 28: IV. Kosakenritt