Byrd: Complete Harpsichord and Organ Music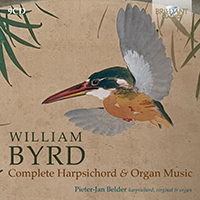 | | |
| --- | --- |
| Composer | William Byrd |
| Artist | Pieter-Jan Belder harpsichord, virginal & organ |
| Format | 9 CD |
| Cat. number | 97074 |
| EAN code | 5028421970745 |
| Release | November 2023 |
About this release
Byrd's vocal works would have assured him a place in history as the greatest English composer of his generation. Yet he was also the outstanding composer of his time in the realm of instrumental music - indeed, probably the first musician to achieve supreme stature simultaneously in music for voices, for instrumental consort and for solo keyboard instrument.

This richly imaginative and polished music gives no hint of its pioneer nature; considering the keyboard tradition, or rather the apparent lack of tradition before Byrd, the originality of his achievement is awesome. His genius is to transfer with such apparent ease his ideas from the brain to the page, and to the keyboard, without spoiling their freshness in the process. 'The Naturall inclination and love to the Art of Musicke,' he wrote, 'wherein I have spent the better part of mine age, have been so powerfull in me, that even in my old yeares which are desirous of rest, I cannot containe my selfe from taking some paines therein.'

His words indicate not only a continually refreshed wellspring of imagination but also a perfectionist temperament that continually drove him to refine his technique. In the hands of Pieter-Jan Belder, whose experience in the field of 17th-century keyboard music is almost unrivalled, these songs and dances and themes and variations seem to develop and unfold as naturally as a tree buds and spreads.
Only one recording of Byrd's complete music for keyboards has been made before now, and it is now unavailable, leaving this new recording by Pieter-Jan Belder in magnificent solitude. The collection begins with two discs of pieces for organ, played on a trio of Dutch instruments chosen for their varied colours and sizes. CD3 and 4 contains the pieces to be found in the Fitzwilliam Virginal Book, of which Belder made the first ever complete recording for Brilliant Classics. The last three discs are dedicated to My Lady Nevells Booke, the beautifully preserved collection which most comprehensively preserves his contribution to keyboard literature.

- William Byrd (c.1540-1623) was an English composer of late Renaissance music. Considered among the greatest composers of the Renaissance, he had a profound influence on composers both from his native England and on the continent. On his death, he was reported in the records of the Chapel Royal as 'father of Music'. He wrote in many of the forms current in England at the time, including various types of sacred and secular polyphony, keyboard (the so-called Virginalist school), and consort music. His keyboard music is of the highest order, it includes dances like the Gaillard and Pavan, Voluntaries and sets of variations on songs.
- Byrd's harpsichord pieces, notable for their intricate counterpoint and rich harmonies, reveal his deep understanding of keyboard technique and his ability to convey intricate emotions through his music. His organ works exhibit a sense of grandeur and solemnity, capturing the ecclesiastical atmosphere of the time. The collection "My Ladye Nevells Booke" stands as a testament to his prowess, offering a varied selection of keyboard pieces.
- Byrd's exploration of polyphony and chromaticism within the confines of his keyboard compositions reflects his remarkable skill and artistic innovation. His complete harpsichord and organ music remain an invaluable treasure trove, offering a glimpse into the soul of Renaissance England's musical genius.
- This set presents a new recording of the complete organ music, the complete works from the Fitzwilliam Virginal Book and the complete Ladye Nevells Booke.
- Pieter-Jan Belder is one of the world's foremost keyboard players, with an astonishing number of CDs to his name: the complete Scarlatti Sonatas, Bach keyboard works, Rameau, Soler, Duphly, Marais, CPE Bach, Corelli, Purcell, Telemann, the complete Fitzwilliam Virginal Book...to be continued. Critics praise his versatility, his innate feeling for style, his impeccable technique: "Superb keyboard artistry and consummate technique" (MusicWeb), "alive, fresh-sounding and thoroughly engaged.." (Fanfare), "The most vital Bach performances of the moment" (Volkskrant).
Listening
Track list
Disk 1
William Byrd: Jhon, Come Kisse me Now, BK81

William Byrd: Pavan, BK16a

William Byrd: Galliard, BK16b

William Byrd: Pavan Ph[ilippa] Tr[egian], BK60a

William Byrd: Galliard, BK60b

William Byrd: Ladye Monteagle's Pavan, BK75

William Byrd: A Ground, BK9

William Byrd: The Queenes Alman, BK10

William Byrd: If my complaints, BK103 (Pipers Galliard)

William Byrd: Pavan the Earl of Salisbury, BK15a

William Byrd: Galliards, BK15b/c

William Byrd: Susanna Fair, MBLV50 (123)

William Byrd: An Alman, BK117

William Byrd: Echo Pavan, BK114a

William Byrd: Galliard, BK114b

William Byrd: Pavan, BK76

William Byrd: Galliard, BK77

William Byrd: The Bells, BK38

William Byrd: Robbin Hood, MBV63

William Byrd: Pavan, BK100a

William Byrd: Galliard, BK100b
Disk 2
William Byrd: A Praeludium, BK116

William Byrd: Ut, re, mi, fa, sol, la, BK58

William Byrd: Three French Coranto's, BK21

William Byrd: O quam gloriosum est regnum, BK119

William Byrd: ….Secunda pars, BK120

William Byrd: Goe from my Windoe, BK79

William Byrd: A Horne Pype, BK39

William Byrd: Pavana lachrymae, BK54

William Byrd: Galiarda, BK55 (Harding set by Byrd)

William Byrd: Paven, BK73a

William Byrd: Galiard, BK73b

William Byrd: A Grounde, BK43

William Byrd: Pavion, BK23a

William Byrd: Galliard, BK23b

William Byrd: A Fancy, MBLV55 (arr. Tomkins)

William Byrd: If my Complaints or Pypers gal[iard], BK118

William Byrd: Pavan, BK33a

William Byrd: Galliard, BK33b

William Byrd: Care for thy Soule, MBLV52

William Byrd: Galliardo Mris. Marye Brownlo, BK34

William Byrd: Paven, BK72a

William Byrd: Galliard, BK72b

William Byrd: Parludam, BK115

William Byrd: A Grounde, BK86
Disk 3
William Byrd: La volta, BK91

William Byrd: Pavan, BK99a

William Byrd: Galliard, BK99c

William Byrd: Quadran pavan, BK70a

William Byrd: Quadran galliard, BK70b

William Byrd: The Hunt's up, BK40

William Byrd: Pavana, BK4a

William Byrd: Galliarda, BK4b

William Byrd: Prelude in A Minor, BK12 (First Version)

William Byrd: Fantasia in A Minor, BK13 (First Version)

William Byrd: Pavana, BK52a

William Byrd: Galliarda, BK52b

William Byrd: Fantasia in G Major, BK62

William Byrd: Wolsey's/Wilson's Wilde, BK37

William Byrd: Ut mi re, BK65 (First Version)

William Byrd: O mistris myne, BK83

William Byrd: The Ghost, BK78
Disk 4
William Byrd: Sir John Gray's Galliard, BK104

William Byrd: Gipseis Round, BK80

William Byrd: Monsieurs Alman, BK44

William Byrd: Malt's Come Down, BK69

William Byrd: A Medley, BK62

William Byrd: Pavana Delight, BK5a

William Byrd: Galliarda [Delight], BK5b

William Byrd: Miserere 3 Parts, BK48 (First Version)

William Byrd: Miserere 4 Parts, BK49 (First Version)

William Byrd: Callino casturame, BK35

William Byrd: Pavan Bray, BK59a

William Byrd: Galliarda [Bray], BK59b

William Byrd: A Gigg, BK22

William Byrd: Prelude, BK24

William Byrd: Pavan, BK101

William Byrd: Corranto, BK45

William Byrd: Fortune, BK6

William Byrd: Alman, BK11

William Byrd: Galliard, BK53

William Byrd: Monsieurs Alman, BK87

William Byrd: Alman, BK89

William Byrd: La volta (Morley set by Byrd), BK90

William Byrd: In Nomine, BK51(Parsons, set by Byrd)
Disk 5
William Byrd: Prelude in G Minor, BK1

William Byrd: Fantasia in G Major, BK63

William Byrd: Christe, qui lux [es et dies], BK121

William Byrd: Fantasia, MBLV55 (Byrd arr. Thomas Tomkins)

William Byrd: In nominee, BK51 (Parsons set by Byrd)

William Byrd: Ut re mi, BK65

William Byrd: Gloria tibi trinitas, BK50

William Byrd: A Ground, BK9

William Byrd: Prelude & Fantasia in A Minor, BK12&13

William Byrd: The Queens Alman, BK10

William Byrd: Voluntary for my Lady Nevell, BK61

William Byrd: Pavan Lachrymae, BK54 (Dowland arr. Byrd)

William Byrd: Fantasia in G Major, BK62
Disk 6
William Byrd: Fantasia A Lesson in Voluntaire in C Major, BK26

William Byrd: Miserere, BK66

William Byrd: Miserere, BK67

William Byrd: Ut, re, mi, fa, sol, la, BK58

William Byrd: Ut, re, mi, fa, sol, la, BK64

William Byrd: A Verse of Two Parts, BK28

William Byrd: A Fancie in D Minor, BK46

William Byrd: Salvator Mundi, BK68

William Byrd: Salvator Mundi, BK69

William Byrd: A Voluntarie in C Major, BK27

William Byrd: Clarifica me, BK47

William Byrd: Clarifica me, BK48

William Byrd: Clarifica me, BK49

William Byrd: Prelude and Fantasia in C Major, BK24&25
Disk 7
William Byrd: My Ladye Nevells Booke, IWB 162: I. My Ladye Nevels Grownde, MB57

William Byrd: My Ladye Nevells Booke, IWB 162: II. Qui passe for my Ladye Nevell, MB19

William Byrd: My Ladye Nevells Booke, IWB 162: III. The Marche Before the Battell, MB93

William Byrd: My Ladye Nevells Booke, IWB 162: IV. The Battell, MB94 - The Souldiers Sommons - The Marche of the Foote Men - The Marche of the Horsmen - The Trumpetts - The Irishe Marche - The Bagpipe and the Drone - The Flute and the Droome - The Marche to the Fight - The Retreat

William Byrd: My Ladye Nevells Booke, IWB 162: V. The Galliarde for the Victorie, MB95

William Byrd: My Ladye Nevells Booke, IWB 162: VI. The Barelye Breake, MB92

William Byrd: My Ladye Nevells Booke, IWB 162: VII. A Galliards Gygge, MB18

William Byrd: My Ladye Nevells Booke, IWB 162: VIII. The Huntes Upp, MB41

William Byrd: My Ladye Nevells Booke, IWB 162: IX. Ut Re Mi Fa Sol La, MB64

William Byrd: My Ladye Nevells Booke, IWB 162: X. The Firste Pavian, MB29

William Byrd: My Ladye Nevells Booke, IWB 162: XI. The Galliarde to the Same

William Byrd: My Ladye Nevells Booke, IWB 162: XII. The II Pavian, MB71

William Byrd: My Ladye Nevells Booke, IWB 162: XIII. The Galliarde to the Same

William Byrd: My Ladye Nevells Booke, IWB 162: XIV. The III Pavian, MB14

William Byrd: My Ladye Nevells Booke, IWB 162: XV. The Galliarde to the Same
Disk 8
William Byrd: My Ladye Nevells Booke, IWB 162: XVI. The IIII Pavian, MB30

William Byrd: My Ladye Nevells Booke, IWB 162: XVII. The Galliarde

William Byrd: My Ladye Nevells Booke, IWB 162: XVIII.The V Pavian, MB31

William Byrd: My Ladye Nevells Booke, IWB 162: XIX. The Galliarde

William Byrd: My Ladye Nevells Booke, IWB 162: XX. Pavana the VI. Kinbrugh Goodd, MB32

William Byrd: My Ladye Nevells Booke, IWB 162: XXI. The Galliard

William Byrd: My Ladye Nevells Booke, IWB 162: XXII. The Seventh Pavian, MB74

William Byrd: My Ladye Nevells Booke, IWB 162: XXIII. The Eighte Pavian, MB17

William Byrd: My Ladye Nevells Booke, IWB 162: XXIV. The Passinge Mesures Pavan, MB2

William Byrd: My Ladye Nevells Booke, IWB 162: XXV. The Galliarde

William Byrd: My Ladye Nevells Booke, IWB 162: XXVI. A Voluntarie for my Ladye Nevell, MB61

William Byrd: My Ladye Nevells Booke, IWB 162: XXVII. Will Yow Qalke the Woodes Soe Wylde, MB85

William Byrd: My Ladye Nevells Booke, IWB 162: XXVIII. The Maidens Song, MB82

William Byrd: My Ladye Nevells Booke, IWB 162: XXIX. A Lesson of Voluntarie, MB26

William Byrd: My Ladye Nevells Booke, IWB 162: XXX. The Seconde Grownde, MB42
Disk 9
William Byrd: My Ladye Nevells Booke, IWB 162: XXXI. Have with Yow to Walsingame, MB8

William Byrd: My Ladye Nevells Booke, IWB 162: XXXII. All in a Garden Grine, MB56

William Byrd: My Ladye Nevells Booke, IWB 162: XXXIII. Lord Willobies Welcome Home, MB7

William Byrd: My Ladye Nevells Booke, IWB 162: XXXIV. The Carmans Whistle, MB36

William Byrd: My Ladye Nevells Booke, IWB 162: XXXV. Hughe Ashstons Ground, MB20

William Byrd: My Ladye Nevells Booke, IWB 162: XXXVI. A Fancie, MB25

William Byrd: My Ladye Nevells Booke, IWB 162: XXXVII. Sellingers Rownde, MB84

William Byrd: My Ladye Nevells Booke, IWB 162: XXXVIII. Munsers Almaine, MB88

William Byrd: My Ladye Nevells Booke, IWB 162: XXXIX. The Tenthe Pavian, Mr W Peter, MB3

William Byrd: My Ladye Nevells Booke, IWB 162: XL. The Galliard

William Byrd: My Ladye Nevells Booke, IWB 162: XLI. A Fancie, MB46

William Byrd: My Ladye Nevells Booke, IWB 162: XLII. A Voluntarie, MB27