Cabanilles: Complete Vocal Music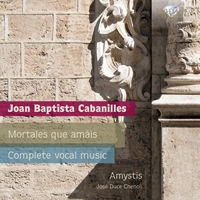 Composer
Juan Baptista José Cabanilles
Artist
Amystis chamber choir & musicological society
José Duce Chenoll conductor
Format
2 CD
Cat. number
94781
EAN code
5028421947815
Release
February 2014
About this release
Hailed in his time as Spain's greatest living composer, Joan Baptista Cabanilles is today considered by many to be the greatest of all Spanish Baroque composers, one whose wealth of ideas, mastery of counterpoint and command of form represent the climax of the Iberian tradition of organ music that stretched as far back as Cabezón. That Cabanilles was held in high esteem by his contemporaries is shown by his music's wide distribution in manuscripts. Though the vast majority is for keyboard, there do exist some 10 sacred choral works – precious remnants of what must have been a much larger repertory, probably conceived for the cathedral of Valencia in which the composer spent most of his working life.

All of the works are assembled on this charming release, recorded by the chamber choir and musicological society Amystis, and a significant addition the Spanish Baroque discography that follows the completion of the critical edition by José Duce Chenoll of Cabanilles' entire vocal music output. Chenoll, who directs and provides the intonation, postulates in the liner notes that not all of the compositions – which include a Mass and Magnificat as well as works honouring the Blessed Sacrament – were performed in Cabanilles' lifetime, given that many are written on sketch paper (and possibly, too, in the composer's hand), but this should not detract from their masterful quality. Revealing the composer's great expertise in the use of musical rhetoric as well as his concern regarding varied rhythmic and harmonic effects, they are performed with aplomb by an ensemble that have made it their special task to research and promote, always via novel means, unpublished repertoire from the late 16th to early 18th centuries.

Other information:
- Recorded June & October 2012, El Puig de Santa Maria Royal Monastery, Valencia, Spain.
- Juan Cabanilles (1644-1712) was one of the most important Spanish Baroque composers. He served for 45 years as Maestro di Cappella and organist of the Cathedral of Valencia.
He wrote a substantial oeuvre for keyboard (organ and harpsichord), and a fine body of choral works, of which this new issue presents the first complete recording.
- Cabanilles' choral works are grand scale, virtuoso and festive, composed for filling the vast spaces of the Valencia Cathedral.
- Beautifully sung by the Coro Amystis, who did extensive research into the works of this neglected Spanish composer.
-An important release, a valuable discovery of a treasure from the Spanish Baroque!
- Excellent liner notes written by the artists, sung texts downloadable by clicking 'DOWNLOAD BOOKLET' on this page (on release).
Track list
Disk 1
Juan Baptista José Cabanilles: Beatus vir

Juan Baptista José Cabanilles: Mass: Kyrie

Juan Baptista José Cabanilles: Mass: Gloria

Juan Baptista José Cabanilles: Mass: Credo

Juan Baptista José Cabanilles: Mass: Sanctus

Juan Baptista José Cabanilles: Magnificat

Juan Baptista José Cabanilles: Mortales que amáis a un dios inmortal
Disk 2
Juan Baptista José Cabanilles: Villancico "Ah! de la región celeste"

Juan Baptista José Cabanilles: Duet "El galán que ronda las calles"

Juan Baptista José Cabanilles: Tone "Atiende a mis suspiros"

Juan Baptista José Cabanilles: Tone "Arroyuelo no huyas

Juan Baptista José Cabanilles: Tone "Son las fieras

Juan Baptista José Cabanilles: Villancico "Mi esposo asesta sus flechas"