Cabezon: Pour un Plaisir, Intabulations for Renaissance double harp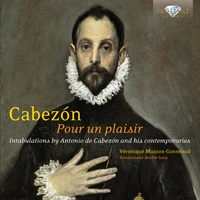 | | |
| --- | --- |
| Composer | Antonio de Cabezón, Alonso Mudarra (1), Francisco Fernández Palero, Hernando de Cabezón, Juan de Cabezón |
| Artist | Veronique Musson-Gonneaud Renaissance double harp |
| Format | 1 CD |
| Cat. number | 94351 |
| EAN code | 5028421943510 |
| Release | April 2012 |
About this release
During the mid-16th century in Spain, it became increasingly common for collections of music to include tablature that would enable performers of other polyphonic instruments to perform the repertoire. With the recent addition of chromatic strings, the harp was one such mechanism to benefit from this, and its presentation in this beautifully performed compilation of works offers a fascinating glimpse into the rich world of Iberian Renaissance music making.

The compositions detailed in this recording are taken from three separate sources of the period: books by Mudarra, Venegas de Henestrosa and Antonio de Cabezón. While Mudarra's work 'for harp or organ' is unique in that it's the closest thing we have to genuine 16th-century harp music, the compilation focuses primarily on the keyboard works of Antonio de Cabezón and includes intabulations (arrangements of chansons and madrigals originally written by some of the most renowned mid-century composers), dances, variations and tientos – freely-composed polyphonic fantasias.

Not only does the recording introduce us to the different genres of the period, revealing an instrument that had grown 'as perfect as the clavichord', it honours the work of a man who was in fact one of the foremost keyboard performers and composers of his time. Surveying a lesser-known facet of one of the most famous periods in music history, this collection is a must-buy for the Renaissance connoisseur.

Other information:
- New recording made in 2010.
- Booklet notes in English and French, providing essential information on both repertoire and instrument.
Track list
Disk 1
Antonio de Cabezón: Canción Francesca (Clemens non Papa)

Antonio de Cabezón: Tiento Primo tono

Antonio de Cabezón: Differencias sobre el canto Ilano del Caballero

Antonio de Cabezón: Tiento del quarto tono sobre Maheur me bat

Antonio de Cabezón: Differencias sobre la gallarda milanesa

Alonso Mudarra: Tiento para harpa ó organo

Antonio de Cabezón: Anchor que col partire (Cipriano de Rore)

Antonio de Cabezón: Pavana (con su glosa)

Juan de Cabezón: Quien Ilamo al partir partir

Francisco Fernández Palero: Mort m'a privé par sa cruelle envie

Antonio de Cabezón: Tres 'Sobre el canto Ilano de la alta'

Antonio de Cabezón: Tiento Cuarto tono

Antonio de Cabezón: Pour un plaisir (Thomas Crecquillon)

Antonio de Cabezón: Romance 'Para quien crie yo cabellos'

Anonymous: Tiento Secondo tono

Antonio de Cabezón: Je suis ayme de la plus belle (Crecquillon)

Anonymous: Cinque differencias sobre Las Vacas

Hernando de Cabezón: Doulce Memoire (Pierre Sandrin)