Caccini: Amarilli, Le Nuove Musiche 1601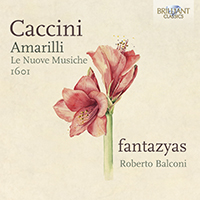 Composer
Giulio Caccini
Artist
Fantazyas
Roberto Balconi tenor
Format
1 CD
Cat. number
96254
EAN code
5028421962542
Release
June 2021
About this release
In this expert recording, singer Roberto Balconi and group Fantasyas approach Giulio Caccini's (1551-1618) Le Nuove Musiche with a focus on authentic performance practice as specified in great detail by the composer himself in the preface to the work.
Dated 1601 and published in 1602, Le Nuove Musiche contains madrigals and arias for solo voice with basso continuo accompaniment and is a seminal collection in the establishment of the new Baroque style of monody which broke with Renaissance practices in many significant ways.
In the preface, Caccini exhorts the performers to honour the primacy of speech and speech rhythm. Balconi explains: 'Monody is more about words and metre than singing, focusing on the declamation of the semantic, rhetorical and prosodic elements of the poetic text rather than constructing a melody.' This was a departure from the combined voices of Renaissance counterpoint, a move towards solo poetic recitation with the nuance of music in service of the meaning.
Caccini lays out guidelines for the retrained and appropriate use of the improvised ornamentation that was the vogue in his day but which he considered too often gratuitous and overly virtuosic at the expense of the music. He stresses these should be used judiciously so that the singer can 'almost speak in harmony', in other words recite the text more or less normally using music.
In adhering assiduously to Caccini's compositional concept, Balconi and Fantazyas create an authentic and powerfully moving document of the birth of monody, which not only inspired the invention of opera but changed the entire course of music history.

Recorded in June of 2020 in Sondrio, Italy
The booklet contains liner notes on the composer and the music, written by singer and founder–conductor of Fantazyas, Roberto Balconi, as well as biographies of the artists
Original Italian sung texts available with this release
Giulio Caccini was a celebrated Italian composer, singer, instrumentalist and teacher. The Duke of Tuscany, Francesco de Medici, was so impressed by the voice of the young man that he took him to his court in Florence, where Caccini stayed the rest of his life.
Caccini's new musical language changed the course of music history and laid the foundations for the modern Opera. In his "Le Nuove Musiche" (the New Music) he eschewed complex counterpoint in favour of a new monodic style, in which a solo voice is supported by a rich continuo, putting the expression of the poetry and its emotions to the foreground.
This new recording contains arias and madrigals from the ground-breaking publication "Le Nuove Musiche" from 1601.
The works presented here are given an authoritative yet highly original interpretation by expert early music group Fantazyas. Alongside their director Roberto Balconi, described as 'one of the best voices on the countertenor scene' (L'Opera), the ensemble brings a sweet, pure sound to these overlooked Italian gems.
In the liner notes Roberto Balconi presents an extensive description of the vocal style and musical "affects" of the music.
Track list
Disk 1
Giulio Caccini: Le nuove musiche: I. Movetevi a pietà

Giulio Caccini: Le nuove musiche: II. Queste lagrim'amare

Giulio Caccini: Le nuove musiche: III. Dolcissimo sospiro

Giulio Caccini: Le nuove musiche: IV. Io parto, amati lumi

Giulio Caccini: Le nuove musiche: V. Amor, io parto

Giulio Caccini: Le nuove musiche: VI. Ardi, cor mio

Giulio Caccini: Le nuove musiche: VII. Non più guerra, pietate!

Giulio Caccini: Le nuove musiche: VIII. Perfi dissimo volto

Giulio Caccini: Le nuove musiche: IX. Ard'il mio petto misero

Giulio Caccini: Le nuove musiche: X. Vedrò 'l mio sol

Giulio Caccini: Le nuove musiche: XI. Fere selvaggie

Giulio Caccini: Le nuove musiche: XII. Fillide mia

Giulio Caccini: Le nuove musiche: XIII. Amarilli mia bella

Giulio Caccini: Le nuove musiche: XIV. Sfogava con le stelle

Giulio Caccini: Le nuove musiche: XV. Fortunato augellino

Giulio Caccini: Le nuove musiche: XVI. Udite, udite amanti

Giulio Caccini: Le nuove musiche: XVII. Occh'immortali

Giulio Caccini: Le nuove musiche: XVIII. Dovrò dunque morire

Giulio Caccini: Le nuove musiche: XIX. Odi euterpe il dolce canto

Giulio Caccini: Le nuove musiche: XX. Filli, mirando il cielo

Giulio Caccini: Le nuove musiche: XXI. Belle rose purpurine