Cage: Music for Piano 1-84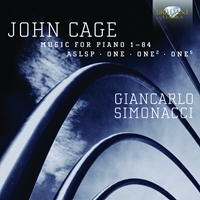 | | |
| --- | --- |
| Composer | John Cage |
| Artist | Giancarlo Simonacci piano |
| Format | 3 CD |
| Cat. number | 9263 |
| EAN code | 5029365926324 |
| Release | June 2012 |
About this release
Cage specialist Giancarlo Simonacci continues his survey into the works of John Cage with this newly recorded 3-CD set of music for piano solo.

A composer, philosopher and writer on music who became one of the leading figures of the post-war avant-garde, John Cage is best remembered for his pioneering of the prepared piano, as well as his development of aleatoric (chance-controlled) music.

This release is dedicated to two of his most monumental creations, separated by almost 30 years of prolific composition.
Written between 1952 and 1956, Music for piano 1–84 is the first to be featured. It's a case in point as regards Cage's belief that the interpretation of music is just as important as its composition, and although the score includes many a musical event, all of the detail – dynamics, tempi, character, quality of sound – is left to the pianist. This concept of handing power to the performer also applies to ASLSP for piano, whose purpose is revealed in its full title As SLow aS Possible; composed in 1985 and later revised for organ (so that its notes could sustain for even longer), the work typically ranges between 20 minutes and several hours in length. Cage wrote these pieces in full knowledge that the choices of each interpreter would produce substantially different artistic outcomes.

Featuring a wealth of timbres and including such experimental techniques as striking the inside of the piano's iron framework, Simonacci's performance is an authoritative one that seeks to challenge the listener's perception of what exactly constitutes music.

Other Information:
- Recorded in 2011 in Italy.
- Includes booklet notes in English and Italian by the performer.
- Simonacci's earlier issue of the music of Cage (Brilliant Classics 8189, 8850, 9176) have met with great critical acclaim, hailing him as one of the foremost Cage protagonists.
Track list
Disk 1
Music for piano 1 (1952)

Music for piano 2 (1953)

Music for piano 3 (1953)

Music for piano 4–19 (1953)

Music for piano 20 (1953)

Music for piano 21–36 (1955)
Disk 2
Music for piano 37–52 (1955)

Music for piano 53–68 (1956)

Music for piano 69–84 (1956)
Disk 3
ASLSP for piano (1985): I.

ASLSP for piano (1985): II.

ASLSP for piano (1985): III.

ASLSP for piano (1985): VII. (as 4th piece)

ASLSP for piano (1985): V.

ASLSP for piano (1985): VI.

ASLSP for piano (1985): VII.

ASLSP for piano (1985): VIII.

ONE for piano (1987)

ONE2 for 1–4 pianos (1989)

ONE5 for piano (1990)