Cage: Music for Piano & Percussion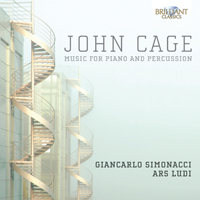 Composer
John Cage
Artist
Giancarlo Simonacci piano
Ars Ludi percussion ensemble
Gianluca Ruggeri conductor
Format
2 CD
Cat. number
94745
EAN code
5028421947457
Release
June 2014
About this release
Although John Cage was trained in the European tradition, he was quick to forge his own unique style, rejecting the Western concept of music as a dramatic development from A to B and instead viewing it as a state of mind, changing but not heading towards a goal. The development of this approach is particularly apparent in his works for percussion – the focus of this CD – where the instrumental family's hitherto traditional role of simply supporting the phrasing and architecture is rejected, its primal energy instead harnessed and showcased as a source for new sounds. 'I do not deal in purposes; I deal in sounds,' wrote Cage of Sixteen Dances, the first piece on the album. It's an apt description for pretty much his entire musical oeuvre.

Sixteen Dances in fact form a pretty clear example of Cage's approach, whereby systematic sections of music underpin the work but are not necessarily played in the order given in the score. The execution of the performance is very much left to chance, therefore, although the work's clear structure, coupled with motivic variation and development throughout, ensure that there remains a dimension of deliberate intention – even if the music often sounds playful and without direction! Credo in Us is remarkable for the intrusion in 'artistic sound' of sounds from daily life – note the use of the radio and phonograph in order to cite works by Beethoven, Tchaikovsky or Shostakovich. Also featured is Third Construction, which also makes use of percussion instruments without pitch, thus stimulating the listener to focus on the sound, the rhythm in the sound and the new approach to form.

Performing these engaging, fascinating pieces are Ars Ludi, a variable percussion ensemble that uses its international concert activity to raise awareness of the need for more contemporary percussion repertoire. All of the works make use of the piano, and the group is joined by fellow Italian Giancarlo Simonacci for the recording.

Other information:
- Recorded: April and May 2013, Controfase Studios, Rome.
- A valuable addition to the growing Cage discography on Brilliant Classics: the music for piano and percussion.
- John Cage, one of the icons of 20th century music, frequently experimented with the performing mode of his music, and in several pieces he left the execution and the order of performance to the decision of the players themselves, or to mere chance. Thus the score is not a blueprint of a fixed composition but more the starting point of a fascinating journey, each performance taking its own unique course.
- Italian pianist Giancarlo Simonacci is one of the champions of Cage's music (search the Brilliant Classics website for his Cage discography). In these performances he collaborates with the Italian group Ars Ludi, an excellent body of percussionists.
- Includes detailed notes on the music as well as performer biographies.
Track list
Disk 1
Sixteen Dances: Dance No. 1

Sixteen Dances: Dance No. 2

Sixteen Dances: Dance No. 3

Sixteen Dances: Dance No. 4

Sixteen Dances: Dance No. 5

Sixteen Dances: Dance No. 6

Sixteen Dances: Dance No. 7

Sixteen Dances: Dance No. 8

Sixteen Dances: Dance No. 9

Sixteen Dances: Dance No. 10

Sixteen Dances: Dance No. 11

Sixteen Dances: Dance No. 12

Sixteen Dances: Dance No. 13

Sixteen Dances: Dance No. 14

Sixteen Dances: Dance No. 15

Sixteen Dances: Dance No. 16

Credo in US (1949)
Disk 2
First Construction in Metal, for Percussion Sextet, with Assistant

Trio for Percussion Trio (1936)

Double Music for Percussion Quartet (1941)

Third Construction for Percussion Quartet (1941)

Fads and Fancies in the Academy: I. Axioms. The Pupil is Eager to Learn

Fads and Fancies in the Academy: I. Axioms. The Pupil is Constitutionally Lazy

Fads and Fancies in the Academy: I. Axioms. We Deal with the Total Child

Fads and Fancies in the Academy: II. A Short Historical Sketch. Reactionaries

Fads and Fancies in the Academy: II. A Short Historical Sketch. Revolutionaries – Pitched Battle

Fads and Fancies in the Academy: III. Vistas of the Future. Pessimist

Fads and Fancies in the Academy: III. Vistas of the Future. Optimist