Cage: Piano Works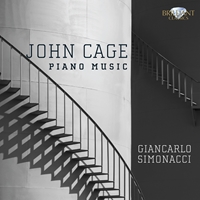 Composer
John Cage
Artist
Giancarlo Simonacci piano
Marco Simonacci cello
Format
3 CD
Cat. number
9176
EAN code
5029365917629
Release
June 2010
About this release
John Cage (1912–92) is regarded as one of the most influential and controversial composers of the 20th century.

It is not only his music that this reputation is based on – his ideas were revolutionary, and he cast doubt on the supremacy of European art, and music when it was unchallenged and such views were considered heretic.

Cage rejected the status held by harmony, instrumentation, and even the development of music from one point to another. He disconnected harmony from rhythm to liberate western music from its hitherto privileged hierarchies – iconoclastic stuff for 1940s America!

Cage studied with Schoenberg in Los Angeles, and although he adopted the 12-tone technique he abandoned Schoenberg's expressionist style.

Cage was also influenced the maverick composer – Erik Satie. Satie had also ridiculed the musical establishment, and Cage arranged Satie's longest work Socrate (a monodrama for piano and voice) for two pianos. It is worth mentioning that Cage's favourite Satie composition was Vexations, a short work for piano, with instructions that it may be performed 840 times without pause or change.

Other information:
- Recorded in 2009.
- Important repertoire and an ideal introduction to John Cage.
Track list
Disk 1
Three Easy Pieces (1933): Round

Three Easy Pieces (1933): Duo

Three Easy Pieces (1933): infinite CaNon

Three Easy Pieces (1933): Quest

Metamorphosis (1938): Metamorphosis I

Metamorphosis (1938): Metamorphosis II

Metamorphosis (1938): Metamorphosis III

Metamorphosis (1938): Metamorphosis IV

Metamorphosis (1938): Metamorphosis V

Jazz study (1942)

Tripled paced (first version, 1943): Tripled paced - 1a versione I

Tripled paced (first version, 1943): Tripled paced - 1a versione II

Tripled paced (first version, 1943): Tripled paced - 1a versione III

Ad lib

Soliloquy

Ophelia

Two pieces (1946): Two pieces I

Two pieces (1946): Two pieces II

in A landscape

Dream

Suite for toy Piano - versione per Pianoforte - I

Suite for toy Piano - versione per Pianoforte - II

Suite for toy Piano - versione per Pianoforte - III

Suite for toy Piano - versione per Pianoforte - IV

Suite for toy Piano - versione per Pianoforte - V

Seven Haiku I

Seven Haiku II

Seven Haiku III

Seven Haiku IV

Seven Haiku V

Seven Haiku vi

Seven Haiku viI

For M.C. and D.T.

Waiting
Disk 2
Socrate (1918) Drame symphonique en trois parties Transcription for two pianos by Cage (1944–1968): I Portrait de Socrate (Le Banquet)

Socrate (1918) Drame symphonique en trois parties Transcription for two pianos by Cage (1944–1968): II Bords de l'Iliussus (Phèdre)

Socrate (1918) Drame symphonique en trois parties Transcription for two pianos by Cage (1944–1968): III Morte de Socrate (Phédon)

Cheap imitation (1969) I

Cheap imitation (1969) II

Cheap imitation (1969) III
Disk 3
Etudes Boreales I (Piano)

Etudes Boreales II (Piano)

Etudes Boreales III (Piano)

Etudes Boreales IV (Piano)

Etudes Boreales I (cello)

Etudes Boreales II (cello)

Etudes Boreales III (cello)

Etudes Boreales IV (cello)

Etudes Boreales I (cello & Piano)

Etudes Boreales II (cello & Piano)

Etudes Boreales III (cello & Piano)

Etudes Boreales IV (cello & Piano)