Calace: Music for Mandolin Quartet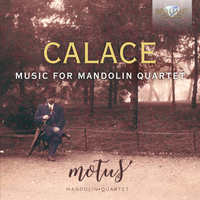 Composer
Raffaele Calace
Artist
Motus Mandolin Quartet
Raffaele La Ragione mandolin
Salvatore Della Vecchia lute
Format
1 CD
Cat. number
95494
EAN code
5028421954943
Release
August 2017
About this release
With concertos, duets, preludes, studies, sonatas and miniatures galore to his name, Raffaele Calace is a seminal figure in the history of the Neapolitan mandolin. He was born in Naples in 1863 into a family of luthiers, yet surpassed his father and grandfather in a reasonably long career dedicated to the manufacture and promotion of his instrument. After taking over the family workshop in 1905 he transformed it into a cultural centre that covered all aspects of music-making.

Alongside his fertile talent for composition displayed on this disc, Calace continued to innovate in manufacture, designing and producing a concerto mandolin which in range and volume would stand up to a fair-sized orchestra, thus enabling many other composers to write for the instrument. He also created a ten-stringed mandolon-cello and a bass archlute, which could replace the bowed double bass in mandolin orchestras. It was on this instrument that Calace was himself a noted virtuoso, and his own family followed his path; including his daughter Maria, to whom the album's opening Fantasia Poetica is dedicated, and his son Enzo, dedicatee of a lovely Idyll Op.58. Another son, Vincenzo, even attended the prestigious classes of Ferruccio Busoni in Berlin.

All the works here have an immediate charm, whether they are reflective in mood such as the Largo mesto (dedicated to Mussolini in its original version as the slow movement of a concerto for mandolin and piano), Slow Minuet and the album's concluding Elegy, straightforwardly exuberant (a Spanish Dance Op.105) or more ambiguously reflecting Calace's Neapolitan heritage, in the unstoppable energy of an early Tarantella and the Saltarello Op.79.

Having founded the Motus Mandolin Quartet in 2015, the four members belong to two generations of Neapolitan musicians. This is their first recording together. For them, it could have only one subject: Calace, 'the most charismatic musician in the history of our instrument.'

Raffaele Calace (Naples 1863-1934) is without doubt the most important figure in the history of the Neapolitan mandolin. Born into a family of luthiers he took over the workshop of instrument manufacturing, developing in the course of the years several new instruments, like the Concerto Mandolin, the Mandocello or the Liuto Cantabile and the Archlute, a sort of plucked double bass to be used in mandolin orchestras. Needless to say he was also considered one of the greatest mandolin virtuosos of his time, performing in Europe, the USA and Asia, where he played for the Japanese Emperor. He also founded an important publishing house, the Edizione Raffaele Calace.
This new recording features original works by Calace, highly attractive character pieces with titles like Tarantella, Fantasia Poetica, Idillio, Elegia and Danza Spagnola.
Played with total dedication and amazing skill by the Motus Quartet, consisting of two mandolins, a mandola and a liuto cantabile.
The booklet contains an extensive text on the composer and his works, in English and Italian.
Listening
Track list
Disk 1
Raffaele Calace: Fantasia poetica, Op. 56

Raffaele Calace: Tarantella Op. 18

Raffaele Calace: Minuetto lento, Op. 59

Raffaele Calace: Danza spagnola, Op. 105

Raffaele Calace: Largo mesto, Op. 144

Raffaele Calace: Saltarello, Op. 79

Raffaele Calace: Idillio, Op. 58

Raffaele Calace: Danza caratteristica, Op. 61

Raffaele Calace: Danza esotica, Op. 165

Raffaele Calace: Elegia, Op. 131