Caldara: Missa dolorosa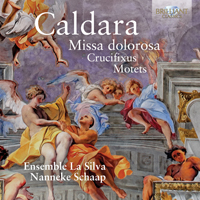 Composer
Antonio Caldara
Artist
Ensemble La Silva
Nanneke Schaap direction
Format
1 CD
Cat. number
95482
EAN code
5028421954820
Release
April 2017
About this release
Antonio Caldara's magnificent Missa dolorosa was among his last settings of the mass. First heard on the feast day of the Seven Sorrows of the Virgin Mary, a week before Easter, the piece is characteristic of Caldara's seemingly effortless capacity for counterpoint writing. Written for the Habsburg emperor Charles VI, whose predilection for contrapuntal textures was well known, Caldara manages to weave emotional power into the music, using dramatic harmonies to underline the anguish in the text. Caldara's motets are also based on religious themes, using quotations from the Bible, plus psalms and well known prayers. The ten motets vary considerably in length, with some compact and others expansive; nevertheless, like the mass, they are all characterised by Caldara's expert contrapuntal writing. The English composer John Ravenscroft, who was based in Italy for most of his life, probably never met Caldara; however, their names were entangled when Ravenscroft's music was mistakenly published under Caldara's name in the 20th century. The addition of his dramatic Sonata – also an exercise in first-class fugal writing – is a tribute to an influence in common, as both men were likely pupils of Corelli.

This thoughtful and interesting programme comes from the Dutch Ensemble La Silva and its artistic director Nanneke Schaap. Formed in 1984, the ensemble mainly performs Baroque music, including works by Bach, Handel, Frescobaldi and Telemann. They are interested in exploring new ways of performing, particularly pursuing the connections between music and dance.
They have previously performed Buxtehude's Membra Jesu Nostri in collaboration with a modern dance ensemble, with the singers singing from memory and moving alongside the dancers.

Antonio Caldara (1670-1736) was an Italian Baroque composer. Born in Venice he was a chorister in the famous San Marco, where Legrenzi was his teacher. He soon spread his wings across Europe and held several important posts in Mantua, the Spanish court in Barcelona, Rome and eventually the post of Kapellmeister at the Imperial Court in Vienna.
Caldara left a substantial oeuvre, consisting of instrumental music in the tradition of Corelli, sacred music and operas.
This new recording presents several sacred choral works of great beauty and intensity. Caldara's innate feeling for drama is reflected in the highly expressive vocal lines, as expected from a composer famous for his operas and oratorios.
Ensemble La Silva was established in 1984 by Nanneke Schaap, it consists of Dutch and Italian musicians well schooled in the Historically Informed Performance Practice.
The booklet contains scholarly written liner notes by a musicologist, as well as the sung texts and their English translation.

Recorded in Italy in 2000 and in the Netherlands in 2014 and 2015.
Contains liner notes by Caldara expert Brian W. Pritchard.
Contains the sung texts in Latin and English.
Track list
Disk 1
I. Kyrie: Kyrie eleison

I. Kyrie: Christe eleison

I. Kyrie: Kyrie eleison

II. Gloria: Et in terra pax

II. Gloria: Domine deus

II. Gloria: Domine fili

II. Gloria: Qui tollis peccata mundi

II. Gloria: Quoniam tu solus sanctus

II. Gloria: Cum sancto spiritu

III. Credo: Credo in unum deum

III. Credo: Crucifixus etiam pro nobis

III. Credo: Et resurrexit

III. Credo: Et vitam venturi saeculi

IV. Sanctus

V. Benedictus

VI. Agnus dei: Agnus dei

Dona nobis pacem

Suonata da chiesa No. 3 in B Minor: I. Grave 1'35

Suonata da chiesa No. 3 in B Minor: II. Allegro

Suonata da chiesa No. 3 in B Minor: III. Adagio

Suonata da chiesa No. 3 in B Minor: IV. Allegro

Crucifixus in A Minor

Motetti for 2 Voices: Caro mea vere est cibus

Motetti for 2 Voices: Ad dominum cum tribularer

Motetti for 2 Voices: Ego sum panis vivus

Motetti for 2 Voices: Transeunte domino

Motetti for 2 Voices: Benedictus deus

Motetti for 2 Voices: Transfige, dulcissime Jesu

Motetti for 3 Voices, Op. 4: Exaudi domine

Motetti for 3 Voices, Op. 4: Miserere mei domine

Motetti for 3 Voices, Op. 4: Peccavi super numerum

Motetti for 3 Voices, Op. 4: Laboravi in gemitu meo

Ciaccona No. 12, Op. 2