Cambini: 6 Flute Quartets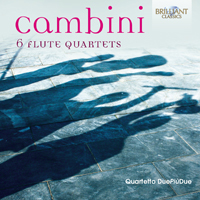 | | |
| --- | --- |
| Composer | Guiseppe Maria Cambini |
| Artist | Quartetto DuePiùDue |
| Format | 2 CD |
| Cat. number | 95081 |
| EAN code | 5028421950815 |
| Release | August 2015 |
About this release
Giuseppe Maria Cambini was probably active in Naples in the mid-1760s, but nothing certain is known of him until his move to Paris in the early 1770s, where his Op.1, a set of string quartets, was published shortly afterwards. Within the next 35 years upwards of 600 instrumental works had appeared under his name – enough to stretch even the famous Brilliant catalogue of 'complete' composer boxes… But Cambini's well-crafted melodies and good-humoured charm are well worthy of investigation, and from this set of quartets with flute, it is easy to see why his music was so popular: he was the galant Parisian composer par excellence. His life was even more anonymous than his music, and his death still more so; he may have died in Paris in 1825, or perhaps a decade earlier in the Netherlands.
The structure of these quartets is generally in no more than two movements, often both quick and in the same key. The themes are easy on the ear, with a natural, simple, unsurprising language and characterized by part-writing of unfailing sympathy. There is a strong stylistic elegance, touching inspiration and pre-Romantic feeling with hints of proto-Schubertian inspiration. In these historically informed performances, Stefano Parrino plays on a modern Yamaha copy of a Classical-model wooden flute. He is himself a graduate of the Paris Conservatoire, where he studied with Patrick Gallois.

This music is not otherwise available on CD: another Brilliant original, and a disc of guaranteed if undemanding pleasure.

Giuseppe Cambini was born in Naples, but settled early in his life in Paris, where he became a well known musician, teacher and composer of an astonishing quantity of works, mainly of instrumental chamber music.
His flute quartets are delightful works, light, sprightly, charming, full of good tunes and interesting instrumental flourishes. A true composer of the Galant Style, in Parisian spirit.
Played by a young and enthousiastic Italian ensemble DuePiùDue, playing original instruments, obviously enjoying these highly entertaining works.
World premieres!
Listening
Track list
Disk 1
Guiseppe Maria Cambini: Quartet in D Major, T.145: I. Allegro con spirit

Guiseppe Maria Cambini: Quartet in D Major, T.145: II. Rondo. Allegretto

Guiseppe Maria Cambini: Quartet in G Major, T.146: I. Allegro grazioso

Guiseppe Maria Cambini: Quartet in G Major, T.146: II. Rondo. Allegretto

Guiseppe Maria Cambini: Quartet in A Minor, T.147: I. Allegro affettuoso

Guiseppe Maria Cambini: Quartet in A Minor, T.147: II. Presto
Disk 2
Guiseppe Maria Cambini: Quartet in C Major, T.148: I. Allegro brillante

Guiseppe Maria Cambini: Quartet in C Major, T.148: II. Tempo di minuetto. Grazioso

Guiseppe Maria Cambini: Quartet in G Major, T.149: I. Allegro espressivo

Guiseppe Maria Cambini: Quartet in G Major, T.149: II. Andante. Arioso con variation

Guiseppe Maria Cambini: Quartet in A Major, T.150: I. Allegro con grazia e moderato

Guiseppe Maria Cambini: Quartet in A Major, T.150: II. Presto