Campagnoli: 6 Duos for Flute and Violin, Op.2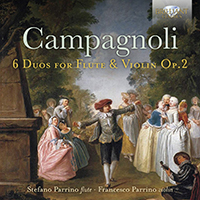 Download booklet
Composer
Bartolomeo Campagnoli
Artist
Francesco Parrino violin
Stefano Parrino flute
Format
1 CD
Cat. number
95974
EAN code
5028421959740
Release
October 2019
About this release
Two previous albums on Brilliant Classics have introduced audiences to the music of Bartolomeo Campagnoli (1751-1827), an early-Classical violinist and composer whose music had until recently been almost entirely lost to history. And yet these recordings of string quartets (BC95037) and flute quartets (BC95399) have shown how charming, unaffected, original and enjoyable is Campagnoli's voice, at least in performances sympathetic to the performing style of his time. The quartets album was awarded five stars and nominated for Album of the Month by CdClassico.com: 'Required listening'.

The duos on this new recording are two- or three-movement sonatas in all but name. Some of them have been recorded before, but Stefano and Francesco Parrino present here the only available complete recording. The works illustrate how Campagnoli could write of his own music as combining 'German erudition and Italian soul', and without false modesty. Spohr heard him play in 1804 and described his style as elegant and fluid but somewhat old-fashioned, which fits Campagnoli's duos too. He wrote them between 1780 and 1796 while in the employ of Charles of Saxony, Duke of Courland, in Dresden, and they are expertly calibrated to appeal to aristocratic tastes for pleasant and lively music in the galant style, always falling easily upon the ear.

As well as performing and recording in duet for many years, the Parrino brothers have been members of orchestras across Italy and beyond. As one half of the Quartet DuePiùDue they recorded the Flute Quartets of Cambini for Brilliant Classics (BC95081), 'a close-knit and well balanced ensemble,' according to the Critica Classica website, 'producing excellent interpretations which should delight a wider public without courting banality.'

Bartolomeo Campagnoli (1751-1827) learned his trade with famous Italian musicians Tartini and Nardini. As a virtuoso on the violin he traveled Europe, where he held several important posts in Freising (Bavaria), Dresden and Stockholm, before settling as Kapellmeister of the famous Gewandhausorchester in Leipzig.
Campagnoli claimed for himself "the German learnedness with Italian soul", and his duos for the attractive combination of flute and violin abound in lyrical melodies set into the firm musical structures of the first Viennese School.
Lovingly and brilliantly played by Francesco and Stefano Parrino, who already successfully collaborated in the recording of chamber music by Leo Ornstein, which received excellent reviews in the international press.
Listening
Track list
Disk 1
Bartolomeo Campagnoli: Duet I in E Major, Op. 2: I. Allegro

Bartolomeo Campagnoli: Duet I in E Major, Op. 2: II. Rondò allegro

Bartolomeo Campagnoli: Duet II in A Major, Op. 2: I. Allegro

Bartolomeo Campagnoli: Duet II in A Major, Op. 2: II. Lento Romance

Bartolomeo Campagnoli: Duet II in A Major, Op. 2: III. Rondò allegro molto

Bartolomeo Campagnoli: Duet III in D Major, Op. 2: I. Allegro

Bartolomeo Campagnoli: Duet III in D Major, Op. 2: II. Siciliana

Bartolomeo Campagnoli: Duet III in D Major, Op. 2: III. Polonoise

Bartolomeo Campagnoli: Duet IV in G Major, Op. 2: I. Allegro

Bartolomeo Campagnoli: Duet IV in G Major, Op. 2: II. Romance con espressione

Bartolomeo Campagnoli: Duet IV in G Major, Op. 2: III. Rondò

Bartolomeo Campagnoli: Duet V in E Minor, Op. 2: I. Allegro

Bartolomeo Campagnoli: Duet V in E Minor, Op. 2: II. Minuetto un poco adagio

Bartolomeo Campagnoli: Duet V in E Minor, Op. 2: III. Rondò allegro

Bartolomeo Campagnoli: Duet VI in C Major, Op. 2: I. Andante con variazioni

Bartolomeo Campagnoli: Duet VI in C Major, Op. 2: II. Minuetto

Bartolomeo Campagnoli: Duet VI in C Major, Op. 2: III. Rondò