Campion: Music for Baroque Guitar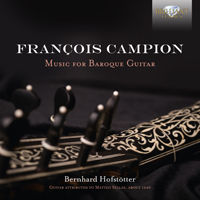 | | |
| --- | --- |
| Composer | Francois Campion |
| Artist | Bernhard Hofstötter baroque guitar |
| Format | 1 CD |
| Cat. number | 95276 |
| EAN code | 5028421952765 |
| Release | August 2017 |
About this release
A distinguished addition to the extensive Brilliant Classics catalogue of guitar music brings yet another new name to the catalogue, that of François Campion. Born in Rouen around 1685, Campion published an influential teaching method for the guitar but his own music is far more than merely academic. Here are Gavottes, fugues, preludes and 'tombeaux' (written in memory of contemporaries) that exploit and stretch his instrument's potential for polyphonic complexity to a degree unprecedented for his time. The album closes with a wonderfully elaborate passacaglia with 36 variations.

A special feature of this recording is the instrument played by Bernhard Hofstötter. It's common enough for Baroque keyboard and guitar music to be played on modern copies of the few instruments to have survived the ravages of time and now preserved in museums. However, the guitar used here was made by Matteo Sellas in around 1640, thoroughly restored in the modern era by Alexander Batov. According to one contemporary, Sellas was the most distinguished Venetian lute-maker of his generation, and the instrument is in excellent shape for its age, with a full-bodied, velvety sound which radically differs from most modern instruments and lends special colour to Campion's music, with a round, fully resonating and at the same time subtle and fragile sound.

The playing of Bernhard Hofstötter combines 'technical ease with a masterful sense of phrasing' (Lute Society of America) and reveals 'a refined rhythmic sensibility and understanding' (International Record Review). According to Gramophone, Hofstötter's recordings of music by the Baroque lute virtuoso Silvius Leopold Weiss feature 'some of the most sympathetic and beautiful Weiss-playing committed to disc'.

François Campion was born around 1685 in Rouen, France. In 1705 his "Nouvelles Découvertes Sur la Guitarre" was published in Paris. With this work Campion positioned himself, with Robert de Visée, as one of the finest representatives of the French guitar at the close of the 17-th century.
In his works Campion firmly establishes the guitar as a polyphonic instrument capable of producing complex harmonies and counterpoint, which is shown in the 4 complete fugues on this recording. The other works feature popular dance forms of the time: allemande, courante, sarabande and gigue, expressing the full range of French charm, grace and brilliance.
Austrian lutenist and guitarist Bernhard Hofstötter plays a unique historical guitar built around 1640 by the famous instrument maker Matteo Sellas.
Track list
Disk 1
Gavotte en rondeau

Prélude

La montléon

Courante la victoire

Allemande

Les soupirs

Sarabande

Rondeau

Gigue la somptueuse

Fugue

Les ramages

Fugue

Prélude

Tombeau

Fugue

Rondeau

Prélude

Tombeau de mr. De Maltot

Air

Passacaille