Campioni: 6 Harpsichord Sonatas Op.4B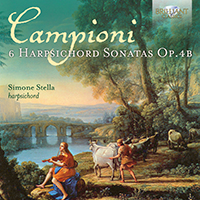 | | |
| --- | --- |
| Composer | Carlo Antonio Campioni |
| Artist | Simone Stella harpsichord |
| Format | 1 CD |
| Cat. number | 95997 |
| EAN code | 5028421959979 |
| Release | March 2021 |
About this release
Born as Charles-Antoine Campion in the Lorraine region of France, Carlo Antonio Campioni (1720-1788) made the decisive move to Florence as a 17-year-old violinist, probably studying with Giuseppe Tartini in his famous 'school of nations' in Padova. By 1752 he had become an experienced music director as well as composer, appointed as maestro di capella at the cathedral in Livorno. Around a decade later he moved back to France for a temporary stay in Paris but in 1763 he took up the prestigious post of maestro di capella for the Grand Duke of Florence.

In this capacity Campioni travelled widely and his own music became known through its publication in Amsterdam, Paris and London. One eager consumer of his music through the London editions was the young amateur violinist (and future US president) Thomas Jefferson, who made a thematic
catalogue of the seven collections he then owned, and this catalogue still serves as an aid to sorting out the bewildering confusion of Campioni's printed works. By 1789, when he left Paris, Jefferson owned nearly all of Campioni's music for strings. Campioni amassed an impressive music library of his own, which attracted the attention of the traveller and writer Charles Burney.

Campioni was also an accomplished harpsichordist, as this collection of sonatas amply demonstrates. Full of elegant writing, graceful melodies and graceful ornamentation, the six sonatas fuse Classical-era and Baroque forms: sonata-form movements with dances such as gigues and minuets, and arpeggiated preludes such as one finds in the dance suites of Bach and Couperin. The Sixth Sonata stands apart from the others, being written for violin and harpsichord, with a continuous dialogue between the two instruments rather than simply the string instrument doubling the right hand of the keyboard as one commonly finds in such sonatas of the period. These bold and venturesome works should delight all lovers of Baroque rarities, winningly performed as they are here by Simone Stella.

Praise for Simone Stella on Brilliant Classics:
'There is a great deal to admire here. There's no question that Stella has the proper Buxtehude style... I also love Stella's daring.' (Fanfare on Buxtehude, 94312)
'Stella succeeds in restoring to Buxtehude all the facets of his expressive universe.' (Diapason on Buxtehude, 94312)
'His realizations are invariably lively in tempo and rhythm, colourful in use of registrations and stops, and expressive in phrasing and dynamics... this is a release of major importance.' (Fanfare on Walther, 94730)

· Charles-Antoine Campion (later Italianized as Carlo Antonio Campioni) was born in 1720 in the region of Lorraine, France. At age 17 he and his family moved to Florence in Italy, where the young prodigy received lessons from the famous Tartini. After serving for 10 years as Chapel Master of the Livorno Cathedral he was asked by the Grand Duke of Tuscany to move to Florence again and he was appointed Master of the Court Chapel. He became increasingly famous, and he traveled himself to several European capitals (Paris and London) to see to the publication and promotion of his own compositions.
· A representative composer of Italian eighteenth-century pre-classicism, Campioni was considered one of the direct heirs of the Tartini school, and especially of Nardini and Pugnani. He represents a fusion between baroque compositional methods and those of the classical style, composing many instrumental pieces.
· This new recording contains the keyboard Sonatas Op. 4B. These Sonatas, which were known by Mozart, are particularly interesting for the elegant writing characterized by elaborate arpeggiated figures, graceful melodies and much ornamentation on Albertine basses. Great virtuoso of the harpsichord, Campioni was defined by Torrefranca as "the most pianist of all the harpsichordists of his time".
· played on the harpsichord by Simone Stella. With his earlier recordings for Brilliant Classics (Buxtehude, Böhm, Reincken, Walther, Pachelbel and many others), Simone Stella established his reputation as one of the foremost interpreters of Baroque keyboard music, receiving 5 star reviews in the international press. In the 6th Sonata Stella is seconded on the violin by Valerio Losito.
Listening
Track list
Disk 1
Carlo Antonio Campioni: Sonata No. 1 in A Major, Op. 4b: I. Allegro

Carlo Antonio Campioni: Sonata No. 1 in A Major, Op. 4b: II. Giga

Carlo Antonio Campioni: Sonata No. 2 in E Major, Op. 4b: I. Allegro

Carlo Antonio Campioni: Sonata No. 2 in E Major, Op. 4b: II. Allegretto

Carlo Antonio Campioni: Sonata No. 3 in D Major, Op. 4b: I. Arpeggio

Carlo Antonio Campioni: Sonata No. 3 in D Major, Op. 4b: II. Allegro spiritoso

Carlo Antonio Campioni: Sonata No. 3 in D Major, Op. 4b: III. Allegro "la caccia"

Carlo Antonio Campioni: Sonata No. 4 in G Major, Op. 4b: I. Allegro

Carlo Antonio Campioni: Sonata No. 4 in G Major, Op. 4b: II. Allegretto grazioso

Carlo Antonio Campioni: Sonata No. 5 in C Major, Op. 4b: I. Allegro maestoso

Carlo Antonio Campioni: Sonata No. 5 in C Major, Op. 4b: II. Minuet

Carlo Antonio Campioni: Sonata No. 6 "col violino obbligato" in G Major, Op. 4b: I. Andante non troppo

Carlo Antonio Campioni: Sonata No. 6 "col violino obbligato" in G Major, Op. 4b: II. Allegro

Carlo Antonio Campioni: Sonata No. 6 "col violino obbligato" in G Major, Op. 4b: III. Allegro