Carissimi: Complete Motets of Arion Romanus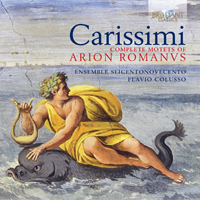 Download booklet
Composer
Giacomo Carissimi
Artist
Ensemble Seicentonovecento
Flavio Colusso conductor
Format
3 CD
Cat. number
94808
EAN code
5028421948089
Release
August 2014
About this release
One of the most significant musical figures in mid-17th-century Rome, Giacomo Carissimi was a prolific composer of motets and cantatas, who also greatly influenced the developments of the Latin oratorio. This set brings together his 28 motets that were published under the title Arion Romanus by Giovanni Battista Mocchi, a student and loyal admirer of Carissimi. Arion was an ancient Greek bard and musician, who, in Greek and Roman mythology, was thrown overboard by pirates and rescued by a dolphin. In the liner notes that accompany this collection, the authors draw fascinating parallels between Arion and Carissimi himself: both were accomplished, charismatic and influential artists and musicians, and just as Arion was plunged into the depths of the sea, Carissimi explored the depths of the sacred music tradition to create a perfect synthesis of spiritual contemplation and intense emotional expression. The motets from the Arion Romanus collection also showcase his mastery of a wide range of formal structures, from the concertato to the madrigal.

Carissimi's beautiful motets are brought to life here by the pioneering Ensemble Seicentonovecento, who regularly present world premiere recordings and performances of both new works and unpublished masterpieces from the past. Their conductor and founder member, Flavio Colusso, is also a renowned composer with a special affinity for sacred music.

Other information:
- This 3 CD set present the 28 Motets which were published under the title Arion Romanus, referring to the ancient Greek bard who, in Roman and Greek mythology, was thrown overboard by pirates and rescued by a dolphin. The motets are of a varied structure, in which dramatic recitatives, arias and madrigals alternate.
- Giocomo Carissimi was one of the most significant composers of 17th century Rome, he was especially known as the creator of the Oratorio, which he developed into substantial dramatic works for vocal soloists, choir and orchestra. His complete Oratorios are available on 9 CD 's on Brilliant Classics (BC 94491).
- Performed by the Italian Early Music group Seicentonovecento, conducted by Flavio Colusso, who received great critical acclaim in the international press for their recording of Carissimi's complete Oratorios (see above).
- Booklet includes extensive liner notes, biographies and photos.
Track list
Disk 1
Giacomo Carissimi: Arion Romanus: I. Mortalis homo

Giacomo Carissimi: Arion Romanus: II. Sicut stella

Giacomo Carissimi: Arion Romanus: III. Convertere

Giacomo Carissimi: Arion Romanus: IV. Domine deus

Giacomo Carissimi: Arion Romanus: V. Panem caelestem

Giacomo Carissimi: Arion Romanus: VI. Anima nostra

Giacomo Carissimi: Arion Romanus: VII. Laudemus virum

Giacomo Carissimi: Arion Romanus: VIII. O dulcissime Jesu
Disk 2
Giacomo Carissimi: Arion Romanus: IX. Sicut mater

Giacomo Carissimi: Arion Romanus: X. Ecce sponsus

Giacomo Carissimi: Arion Romanus: XI. Hymnum jucunditatis

Giacomo Carissimi: Arion Romanus: XII. Viderunt te domine

Giacomo Carissimi: Arion Romanus: XIII. Quis est hic

Giacomo Carissimi: Arion Romanus: XIV. Omnes gentes

Giacomo Carissimi: Arion Romanus: XV. O Beata virgo

Giacomo Carissimi: Arion Romanus: XVI. Egredimini

Giacomo Carissimi: Arion Romanus: XVII. Benedicite

Giacomo Carissimi: Arion Romanus: XVIII. O Beatum virum

Giacomo Carissimi: Arion Romanus: XIX. Gaudete cum Maria

Giacomo Carissimi: Arion Romanus: XX. Salve virgo
Disk 3
Giacomo Carissimi: Arion Romanus: XXI. Audite sancti

Giacomo Carissimi: Arion Romanus: XXII. Quo tam laetus

Giacomo Carissimi: Arion Romanus: XXIII. Quasi aquila

Giacomo Carissimi: Arion Romanus: XXIV. Exurge

Giacomo Carissimi: Arion Romanus: XXV. Ardens est cor meum

Giacomo Carissimi: Arion Romanus: XXVI. Ave dulcissime

Giacomo Carissimi: Arion Romanus: XXVII. Si deus pro nobis

Giacomo Carissimi: Arion Romanus: XXVIII. O quam dilecta mensa