Carlevaro: Guitar Music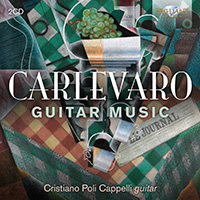 | | |
| --- | --- |
| Composer | Abel Carlevaro |
| Artist | Cristiano Poli Cappelli guitar |
| Format | 2 CD |
| Cat. number | 95684 |
| EAN code | 5028421956848 |
| Release | February 2019 |
About this release
A Uruguayan pupil of Segovia: a man dedicated to the guitar, as a performer, teacher and even maker; a composer who wove together strands of melody and modernism.

This new 2CD set presents an absorbing portrait of Abel Carlevaro (1916-2001) through his music as performed by Cristiano Poli Cappelli, an Italian guitarist making his second album for Brilliant Classics. The first was of guitar music by another relatively forgotten figure, Alexander Tansman (BC95221), and it was enthusiastically reviewed by Classical Guitar magazine: 'Highly recommended!'

Like Tansman, Carlevaro studied with Andres Segovia, the father of the modern guitar, during the 1930s. However, he broke away from his master's teachings in order to make his own experiments in both guitar manufacture and composition. His music caught the ear of Heitor Villa-Lobos, another South American innovator, and it embraces the widest stylistic range captured by Poli Cappelli on this album, from the delicate watercolours of the Preludios Americanos (1969-74) to the vivid brushstrokes and abstract form of Cronomias (1972).

Carlevaro's later music returned often to the milonga, a tango-related dance popularised in the classical sphere by Astor Piazzolla. Milonga para Ling (1999) is brief but saturated with melancholy, while to the Milonga Oriental (1994) belongs one of the composer's happiest melodic inspirations. Later still, a pair of milonga suites describe a peaceful return to the composer's heritage. An essential acquisition for guitar aficionados, but also a collection of beautiful South American melodies that deserve to travel more widely.

First recording of the complete guitar works by Abel Carlevaro.
Abel Carlevaro (1916-2001) was the most important guitarist of his native Uruguay. He had a successful international career and gained the admiration of Villa-Lobos and Andres Segovia, who was his teacher and mentor.
A profound and dedicated teacher, Carlevaro was the creator of a new school of instrumental technique which was revolutionary in its understanding of posture, sound development, and general philosophy of music. He also developed a new model of guitar which is still used nowadays.
Carlevaro was a serious and prolific composer, writing in the Latin-American style, a fusion of passion and nostalgia: dances, preludes, suites and studies.
Played with consummate skill and obvious love by Cristiano Poli Cappelli, a specialist of 20th century guitar music.
Track list
Disk 1
Preludios americanos: I. Evocación

Preludios americanos: II. Scherzino

Preludios americanos: III. Campo

Preludios americanos: IV. Ronda

Preludios americanos: V. Tamboriles

Preludios americanos: VI. Aires de malambo

Aires de vidalita

Milonga oriental

Introducción & capricho

Milonga suite I: I. Azul y blanco

Milonga suite I: II. Milonga triste

Milonga suite I: III. Lunera

Milonga suite I: IV. Rolear

Milonga suite I: V. Milonga tangueada

Milonga suite II: I. Milonga I

Milonga suite II: II. Milonga II

Milonga suite II: Una milonga para lin

Cronomias: I. Poco libero

Cronomias: II. Intermezzo

Cronomias: III. Finale
Disk 2
Suite de antiguas danzas españolas: I. Españoleta

Suite de antiguas danzas españolas: II. Corranda

Suite de antiguas danzas españolas: III.Pavana

Suite de antiguas danzas españolas: IV. Rujero

Suite de antiguas danzas españolas: V. Paradetas

Suite de antiguas danzas españolas: VI. Pasacalle

Estudio No. 1

Estudio No. 2

Estudio No. 3

Estudio No. 4

Estudio No. 5

Tres cadencias: I. Punteo

Tres cadencias: II. Secuencias

Tres cadencias: III. Lejanìa

2 Estudios primaries: Estudio I

2 Estudios primaries: Estudio II

2 Estudios: I. Poco libero

2 Estudios: II. Movimiento alternado

Microestudio No. 1. Festivo

Microestudio No. 2

Microestudio No. 3. Tranquillo

Microestudio No. 4

Microestudio No. 5. Poco rubato

Microestudio No. 6. Calmo

Microestudio No. 7

Microestudio No. 8. Poco animato

Microestudio No. 9. Espressivo, poco libero

Microestudio No. 10

Microestudio No. 11

Microestudio No. 12. Comodo

Microestudio No. 13. Espressivo

Microestudio No. 14

Microestudio No. 15. Poco rubato

Microestudio No. 16

Microestudio No. 17

Microestudio No. 18

Microestudio No. 19. Lento espressivo

Microestudio No. 20