Carrara: Magnificat, Ondanomala, Suite per bicicletta e orchestra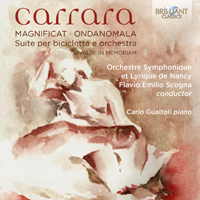 Composer
Cristian Carrara
Artist
Orchestre Symphonique et Lyrique de Nancy
Flavio Emilio Scogna conductor
Carlo Guaitoli piano
Format
1 CD
Cat. number
95213
EAN code
5028421952130
Release
October 2015
About this release
No, there are no bicycles in Suite per bicicletta and orchestra, which arose from a commission for the Orchestra Regionale Toscana and the 2013 UCI Road World Championships. The work was originally conceived as a show comprising music, text and archive images of legendary cyclists; the suite extracts and rearranges the music as a four-movement suite evoking the landscapes, mountains, speed and thrill of professional cycling.

It's a typically entertaining work from the pen of Cristian Carrara (b.1977), who brings references to English music, especially Britten, to a personal language which echoes with the Minimalist composers of eastern Europe (Pärt) and the US (Adams). It is, thus, fairly easy on the ear, highly melodic, and hauntingly beautiful, as can be heard from previous albums such as Liber mundi from 2013, whose title track is a soaring poem for violin, soprano and orchestra.

Ondanomala Vajont is an elegy to mark the 60th anniversary of the tragedy that struck villages in mountainous northeast Italy when a dam burst above them and killed almost two thousand people. Carrara's response is non-doctrinally religious, or spiritual, in the manner of Adams' On the Transmigration of Souls written in the wake of 9/11, attempting to evoke in music a conviction that there is something that transcends man, his rationality and desire to prevail.

Vivaldi is remembered with similar, gentle tenderness in the other commemoration on the album, with a tribute based on the earlier composer's Sinfonia al Santo Sepolcro. To open, there is a specifically Cristian work, which is not a literal setting of Mary's text of exaltation but a concerto for pedal piano in which the words lie behind the music with deep-felt devotion in passages that are full of light and beauty, through to the powerful finale that ends the work like a warm spiritual embrace.

Cristian Carrara (born in 1977) is a highly successful Italian composer, writing in an eclectic post modernist style. Inspired by the minimalist movement, the new spirituality of Pärt and orientalism he created his own personal musical language in which his Italian feeling for harmoniously flowing melodies is mostly apparent.
This new recording contains the Magnificat for pedal piano and orchestra, In Memoriam Vivaldi (its solemn and mysterious atmosphere inspired by Vivaldi's Sinfonia al Santo Sepulcro), and the Suite per bicicletta and orchestra, written for the 2013 UCI Road World Championships, in which the kinetics of cyclists are captured in a strong pattern of changing rhythms and tempi.
Excellent performances conducted by Flavio Emilio Scogna.
Listening
Track list
Disk 1
Cristian Carrara: Magnificat: Meditation for piano and orchestra

Cristian Carrara: Vivaldi. In memoriam

Cristian Carrara: Ondanomala: Vajont, 13 October 1963

Cristian Carrara: Suite per bicicletta and orchestra: I. Paesaggi

Cristian Carrara: Suite per bicicletta and orchestra: II. Pianure

Cristian Carrara: Suite per bicicletta and orchestra: III. Altezze

Cristian Carrara: Suite per bicicletta and orchestra: IV. Traguardi