Casarini: 24 Etudes for Guitar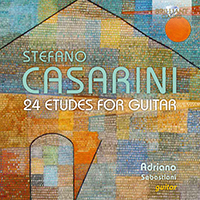 | | |
| --- | --- |
| Composer | Stefano Casarini |
| Artist | Adriano Sebastiani guitar |
| Format | 1 CD |
| Cat. number | 95633 |
| EAN code | 5028421956336 |
| Release | April 2018 |
About this release
Born in 1959, Stefano Casarini has composed an extensive library of concert and educational music for the guitar for different levels of accomplishment. The 12 Grandes Etudes and 12 Petites Etudes recorded here are designed for professional or at least highly accomplished musicians, full of technical challenges yet satisfyingly musical in their own right. The idiom is tonal but modern, often reflective in mood, using repeated motifs which owe something both to the guitar tradition and to Minimalist music.

As Adriano Sebastiani remarks in his booklet notes to this new recording, 'Casarini's compositions are highly distinctive, never banal, certainly idiomatic and always to the point. By the same token they can also be intrepid, and inclined to create evocative atmospheres and states of mind that can convey deep feelings.'

This is Adriano Sebastiani's fifth album for Brilliant Classics, after well-received
recordings where he accompanies singers in music by Dowland (BC94480), Spohr (BC94274), Weber (BC95323) and Rossini (BC94628). Thus he brings to Casarini's music a natural feeling for its Romantic character and easy melodic flow. The album also joins an expanding and valuable collection of studies for guitar on Brilliant Classics, including two collections of Easy Studies (BC95402, BC95557) and volumes dedicated to Sor (BC94791), to Gangi (BC95204) and Gilardino (BC8886), among others. This is the projected first volume of a series designed by Sebastiani to bring Casarini's compositional voice to an international audience and to give a more complete picture of the stylistic variety, the value and beauty of his music.

Stefano Casarini (born 1954) is one of the most remarkable guitarists and guitar composers of present day Italy. Standing in a long line of tradition of the great guitar composers of his country he writes bold, evocative and deeply felt music, expertly written for his instrument.
His 24 Etudes, here recorded for the first time, are highly challenging studies, using all facets of techniques, well integrated in eloquent musical forms.
Excellent performances by guitarist Adriano Sebastiani, friend and fan of the composer.
Listening
Track list
Disk 1
Stefano Casarini: 12 Grandes études: I. Comodo e cullante

Stefano Casarini: 12 Grandes études: II. Largo e cantabile

Stefano Casarini: 12 Grandes études: III. Ostinato e incisivo ma sempre flessibile

Stefano Casarini: 12 Grandes études: IV. Cantabile

Stefano Casarini: 12 Grandes études: V. Allegramente

Stefano Casarini: 12 Grandes études: VI. Un poco rubando

Stefano Casarini: 12 Grandes études: VII. Con leggera malinconia

Stefano Casarini: 12 Grandes études: VIII. Leggero e legatissimo

Stefano Casarini: 12 Grandes études: IX. Poco mosso con largo respire

Stefano Casarini: 12 Grandes études: X. Un poco ostinato

Stefano Casarini: 12 Grandes études: XI. Sostenuto, con espressione

Stefano Casarini: 12 Grandes études: XII. Tempo giusto, ben ritmico

Stefano Casarini: 12 Petites études: I. Vivace e giocoso

Stefano Casarini: 12 Petites études: II. Un poco agitato

Stefano Casarini: 12 Petites études: III. Allegretto, con grazia

Stefano Casarini: 12 Petites études: IV. Mosso ed energico

Stefano Casarini: 12 Petites études: V. Andante, con espressione

Stefano Casarini: 12 Petites études: VI. Allegro poco, con leggerezza

Stefano Casarini: 12 Petites études: VII. Andante sostenuto

Stefano Casarini: 12 Petites études: VIII. Calmo e ben legato

Stefano Casarini: 12 Petites études: IX. Poco mosso e dolente

Stefano Casarini: 12 Petites études: X. Allegretto, un poco languido

Stefano Casarini: 12 Petites études: XI. Larghetto, con serenità

Stefano Casarini: 12 Petites études: XII. Leggero e legato