Casella: Complete Music for Cello and Piano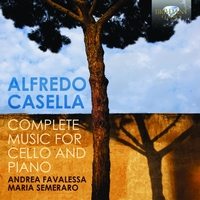 Composer
Alfredo Casella
Artist
Andrea Favalessa cello
Maria Semeraro piano
Format
1 CD
Cat. number
94823
EAN code
5028421948232
Release
March 2014
About this release
Casella was, if it isn't a contradiction in terms, a kind of neoclassical Romantic; of sufficient pianistic skill that he was admitted to the Paris Conservatoire at the age of 13 and thus perhaps escaped from the pressure to plough the furrow of operatic verismo already so well tilled by his countrymen. Instead he made his mark as a composer of abstract, instrumental music such as these two cello sonatas.

The First Sonata, like his other youthful compositions, reveals various stylistic influences: there are hints of Debussy, Mahler and Strauss, as well as traces of what Casella had learnt from Fauré. Even in these early works, however, the composer's own personality comes across clearly in the search for what was new and hitherto unexplored ground. The Second Sonata reveals a change in compositional approach. In fact, it bears witness to his interest in a style that he defined as 'baroque in its monumentality'. With its four movements it is more extensive, with dynamics based on deep contrasts between passages that are passionate and vigorous, and others in which the atmosphere is quietly intimate. The same rhythmic energy returns in the Tarantella, composed in 1929 along with the Notturno for violin and piano, transcribed by Luigi Silva in 1931, and ultimately reworked by Casella for cello and orchestra in 1934.

Andrea Favalessa and Maria Semeraro are young Italian musicians who regularly play together in a fruitful artistic partnership that has won them international recognition and numerous awards.

Other information:
- Recorded in 2013.
- The music of Alfredo Casella is experiencing a true revival: labels like Chandos and Naxos issue his large scale orchestral works to great critical and public acclaim, and this new recording presents his wonderful works for cello and piano.
- Casella's musical language is often called "Neoclassical": clear structures, open and strong melodic lines, vibrant and sharply edged rhythms, music of great vitality and power.
- The cello sonatas receive a passionate and convincing performance by two young Italians, Andrea Favalessa and Maria Semeraro, a duo already for many years, having won several international prizes at chamber music competitions.
- Booklet includes notes on the music by Maria Semeraro.
Track list
Disk 1
Sonata No. 1 in C Minor, Op. 8: I. Allegro assai

Sonata No. 1 in C Minor, Op. 8: II. Adagio

Sonata No. 1 in C Minor, Op. 8: III. Allegro ma non troppo

Sonata No. 2 in C Major, Op. 45: I. Preludio. Largo molto e sostenuto

Sonata No. 2 in C Major, Op. 45: II. Bourée. Allegro molto vivace e scherzando

Sonata No. 2 in C Major, Op. 45: III. Largo

Sonata No. 2 in C Major, Op. 45: IV. Rondo. Allegro molto vivace, quasi giga

Notturno and Tarantella, Op. 54: No. 1, Notturno

Notturno and Tarantella, Op. 54: No. 2, Tarantella