Casella: Music for Piano & Orchestra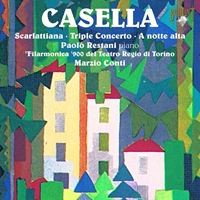 Composer
Alfredo Casella
Artist
Paolo Restani piano
Filarmonica '900 del Teatro Regio di Torino
Marzio Conti conductor
Format
1 CD
Cat. number
8997
EAN code
5029365899727
Release
October 2008
About this release
Italian music in the 19th century had become almost a one-genre enterprise – opera. Gone were the composers of the previous centuries who excelled at instrumental, sacred and chamber music. It was opera all the way, but a few composers were trying to change the balance, and Casella made an important contribution to Italian music by looking back to past glories, and discovering new horizons.

Alfredo Casella was a musical chameleon. Born at the peak of the romantic period in Turin he studied with Guiseppe Martucci (an interesting figure who wrote no operas, and composed probably the only two symphonies by an Italian in the 19th century), then moved to Paris where he studied with Faure, and his fellow pupils were Koechlin, Ravel and his friend Georges Enesco.

With a teacher such as Martucci, it was natural that Casella would be drawn to the German school, and he soon became
immersed (and met) composers such as Richard Strauss,
Schoenberg, Mahler, and the Russian Stravinsky. His style
moved from romantic, impressionistic, experimental to neo
classical.

Casella developed a new conception of tonality, rejecting
polyphony, creating a discordant idiom of horizontally moving
chords. He was also influenced by jazz, but never became 'an
extremist', as did some of his contemporaries. Neo classicism
became his preferred style, and the charming 'Scarlattiana',
a divertissement for piano and orchestra based on sonatas by
Domenico Scarlatti. Stravinsky had reworked Pergolesi for
his ballet Pulcinella.

An example of his earlier post romantic phase is the 'programmatic symphonic poem' for piano and orchestra. Describing a meeting of two lovers, it has echoes of Schoenberg's Transfigured Night. The work won the praise
of Busoni and is one of Casella's finest achievements.

The Triple Concerto, although coincidentally having the same
opus number as Beethoven's famous work is another example
of Casella's scholarly experience creating a fresh work. It is
based on the baroque concerto grosso, and not the sinfonia
concertante that Beethoven used for his triple concerto.

Other information:
- Recorded in 2005, a fascinating introduction to an important and accessible master of the 20th century.
- Paolo Restani has worked with Ricardo Muti, and appeared at the Musikverien Vienna. He also has collaborated with Michael Nyman, and recorded the version of his piano concerto used in Jane Campion's Oscar winning film 'The Piano'.
- Detailed booklet essay included.
Track list
Disk 1
I. Sinfonia: Lento, grave – Allegro molto vivace

II. Minuetto: Allegretto ben Moderato e grazioso

III. Capriccio: Allegro viVacissimo ed impetuoso

IV. Pastorale: AndantiNo dolcemente mosso

V. Finale: Lento molto e grave – Presto viVacissimo

I. Largo, ampio, solenne – Allegro molto vivace

II. Adagio Non trOpp`o, alquanto solenne e assai tranquillo

III. Rondò, tempo di giga: Allegro vivace ma Non troppo

(transcribed from Op.30 for Piano by the composer)