Castelnuovo-Tedesco: Complete Italian Solo Guitar Music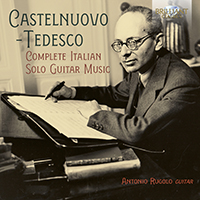 | | |
| --- | --- |
| Composer | Mario Castelnuovo-Tedesco |
| Artist | Antonio Rugolo guitar |
| Format | 1 CD |
| Cat. number | 96662 |
| EAN code | 5028421966625 |
| Release | January 2023 |
About this release
Sunny and exuberant guitar pieces from the 1930s, inspired by the mastery of Andres Segovia.
The guitar became increasingly important to Castelnuovo-Tedesco through the course of his long career. 'My art tends progressively to simplify itself,' he wrote, 'and the guitar has become one of my favourite means of expression because it has led me towards the essential.' He was first drawn to the instrument after meeting Andres Segovia in Venice in 1932. The Variations á travers les siècles Op.71 followed almost immediately.
It's a reflective theme, treated to a technically dazzling array of stylistic treatments, written to give pleasure both to performer and audience like so much of Castelnuovo-Tedesco's music.
Over the course of the next seven years, before fleeing Europe for the US, Castelnuovo-Tedesco produced a string of equally successful pieces for the instrument.
Most substantial is the four movement Guitar Sonata subtitled as a 'Homage to Boccherini': an elegant essay in neoclassicism which evokes the courtly elegance of Boccherini's Guitar Quintets while sounding entirely true to Castelnuovo-Tedesco's own language.
There followed a Capriccio Diabolico, which lives up to its title as a homage to Paganini with fiendish figuration which delighted Segovia, who learnt the piece in 20 days.
Sharing the Capriccio's Opus number of 87 is a contrastingly restrained character-study of Sicilian flavour, 'Oranges in Bloom'. The last guitar piece written by Castelnuovo-Tedesco before leaving Europe for good was the Variations plaisantes sur un petit air populaire Op.95, which takes its theme from a French folk melody after a Swiss critic had taken aim at the Sonata as merely a display piece for Segovia. Castelnuovo-Tedesco proved him wrong with another demonstration of his deep feeling for the guitar as an instrument of both display and reflection, ending with an elaborate fugue.
This album is the latest in an extensive series of new recordings on Brilliant Classics documenting the protean output of Castenuovo-Tedesco (1895-1968). Rather than playing from the standard editions of these pieces by Segovia, Antonio Rugolo has gone back to the composer's manuscripts as well as consulting newer editions by Angelo Gilardino, resulting in performances which are truer to the composer's vision than ever before.

- Mario Castelnuovo-Tedesco (1895-1968) was one of the most successful and remarkable composers of the first half of the 20th century in Italy. His style is influenced by Neo-Classicism, vivid, brilliant, with the occasional odd dissonance, strongly rhythmical and full of catchy melodies. He fled anti-semitism before WWO2, and settled in Hollywood where he successfully composed film music for more than 200 films.
- Castelnuovo-Tedesco met the world famous guitarist Andrés Segovia at the 1932 Venice International Festival. Their friendship was an inspiration for the composer to write for the guitar, in which process he received assistance from Segovia in technical matters. From then on guitar music represents one of the most substantial parts of his entire output. In a letter to Carlo Carfagna in 1964, he wrote: 'My art tends progressively to simplify itself, the guitar has become one of my favourite means of expression because it has led me towards the essential'.
- This new recording presents the complete works for solo guitar which were written in Italy, before the composer's exile to the USA in 1939, music of great melodic invention and true Italian atmosphere.
- Played with love and dedication by Antonio Rugolo, who successfully recorded works by Gilardino and Lloyer for Brilliant Classics.
Listening
Track list
Disk 1
Mario Castelnuovo-Tedesco: Variations á travers les siècles, Op. 71 (1932)

Mario Castelnuovo-Tedesco: Sonata omaggio a Boccherini, Op. 77: I. Allegro con spirito

Mario Castelnuovo-Tedesco: Sonata omaggio a Boccherini, Op. 77: II. Andantino, quasi canzone

Mario Castelnuovo-Tedesco: Sonata omaggio a Boccherini, Op. 77: III. Tempo di minuetto (cerimonioso - con grazia)

Mario Castelnuovo-Tedesco: Sonata omaggio a Boccherini, Op. 77: IV. Presto furioso

Mario Castelnuovo-Tedesco: Capriccio diabolico omaggio a Paganini, Op. 85

Mario Castelnuovo-Tedesco: Tarantella, Op. 87a (1936)

Mario Castelnuovo-Tedesco: Aranci in fiore, Op. 87b (1936)

Mario Castelnuovo-Tedesco: Variations plaisantes sur un petit air Populaire, Op. 95 (1937)