Castelnuovo-Tedesco: Complete Music for Two Guitars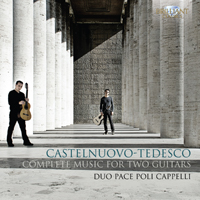 Composer
Mario Castelnuovo-Tedesco
Artist
Duo Pace Poli Cappelli:
Andrea Pace & Cristiano Poli Cappelli guitars
Format
2 CD
Cat. number
94833
EAN code
5028421948331
Release
July 2014
About this release
Florentine composer Castelnuovo-Tedesco contributed a vast array of music to the guitar literature, and this engaging release celebrates his output for two guitars, drawing focus to what is perhaps the repertoire's most awe-inspiring collection: the cycle of 24 preludes and fugues known as Les guitares bien tempérées. The unique nature of this work lies in the composer's great ability to use 'raw' materials, polishing them with an almost unparalleled skill to create small, perfect and autonomous scenes that draw on light and extremely effective use of counterpoint; appending them is the Fuga elegiaca, a work that functions as the perfect conclusion on account of its original key of G minor, the same key in which the series opens.

The Fuga was to be Castelnuovo-Tedesco's parting gift to the world, and the Sonatina canonica that follows takes us back to his first composition for two guitars, one which the composer himself described as a 'modest' little piece. Once again drawing on a hugely diverse range of material, it's an engaging conclusion to a set for which the artists have paid especial attention to the original manuscripts, determined to achieve performances worthy of the great Italian maestro. This they certainly attain; Pace and Poli Cappelli, whose duo has in little over a year become one of the most sought-after of its kind, marry virtuosic display with sensitive, intelligent readings.

Other information:
- Recorded in Italy in 2013.
- This set, the complete works for two guitars by Castelnuovo-Tedesco contains one of the most ambitious, innovating and audacious cycles of the entire guitar literature: "Les Guitares bien tempérées". These works, as already hinted by its title, are inspired by the great keyboard cycle "Das Wolhtemperierte Clavier" by Johann Sebastian Bach, presenting Preludes and Fugues in all 24 keys (both major and minor). A tour de force of contrapuntal ingenuity, composed with great skill and a warm feeling heart.
- Also included are the Sonatina Canonica (also of great contrapuntal invention), and the touching Fuga Elegiaca, the composer's last piece and bittersweet farewell.
- Superbly played by one of the world's best guitar duos, the Poli Cappelli Duo, with a string of international prizes to their name.
- Booklet contains liner notes and artist biography.
Track list
Disk 1
Mario Castelnuovo-Tedesco: Les guitares bien tempérées, Op. 199: I. Prelude and Fugue No. 1 in G Minor

Mario Castelnuovo-Tedesco: Les guitares bien tempérées, Op. 199: II. Prelude and Fugue No. 2 in D Major

Mario Castelnuovo-Tedesco: Les guitares bien tempérées, Op. 199: III. Prelude and Fugue No. 3 in A Minor

Mario Castelnuovo-Tedesco: Les guitares bien tempérées, Op. 199: IV. Prelude and Fugue No. 4 in E Major

Mario Castelnuovo-Tedesco: Les guitares bien tempérées, Op. 199: V. Prelude and Fugue No. 5 in B Minor

Mario Castelnuovo-Tedesco: Les guitares bien tempérées, Op. 199: VI. Prelude and Fugue No. 6 in F-Sharp Major

Mario Castelnuovo-Tedesco: Les guitares bien tempérées, Op. 199: VII. Prelude and Fugue No. 7 in C-Sharp Minor

Mario Castelnuovo-Tedesco: Les guitares bien tempérées, Op. 199: VIII. Prelude and Fugue No. 8 in A-Flat Major

Mario Castelnuovo-Tedesco: Les guitares bien tempérées, Op. 199: IX. Prelude and Fugue No. 9 in E-Flat Minor

Mario Castelnuovo-Tedesco: Les guitares bien tempérées, Op. 199: X. Prelude and Fugue No. 10 in B-Flat Major

Mario Castelnuovo-Tedesco: Les guitares bien tempérées, Op. 199: XI. Prelude and Fugue No. 11 in F Minor

Mario Castelnuovo-Tedesco: Les guitares bien tempérées, Op. 199: XII. Prelude and Fugue No. 12 in C Major

Mario Castelnuovo-Tedesco: Les guitares bien tempérées, Op. 199: XIII. Prelude and Fugue No. 13 in G Major

Mario Castelnuovo-Tedesco: Les guitares bien tempérées, Op. 199: XIV. Prelude and Fugue No. 14 in D Minor
Disk 2
Mario Castelnuovo-Tedesco: Les guitares bien tempérées, Op. 199: XV. Prelude and Fugue No. 15 in A Major

Mario Castelnuovo-Tedesco: Les guitares bien tempérées, Op. 199: XVI. Prelude and Fugue No. 16 in E Minor

Mario Castelnuovo-Tedesco: Les guitares bien tempérées, Op. 199: XVII. Prelude and Fugue No. 17 in B Major

Mario Castelnuovo-Tedesco: Les guitares bien tempérées, Op. 199: XVIII. Prelude and Fugue No. 18 in F-Sharp Minor

Mario Castelnuovo-Tedesco: Les guitares bien tempérées, Op. 199: XIX. Prelude and Fugue No. 19 in C-Sharp Major

Mario Castelnuovo-Tedesco: Les guitares bien tempérées, Op. 199: XX. Prelude and Fugue No. 20 in G-Sharp Minor

Mario Castelnuovo-Tedesco: Les guitares bien tempérées, Op. 199: XXI. Prelude and Fugue No. 21 in E-Flat Major

Mario Castelnuovo-Tedesco: Les guitares bien tempérées, Op. 199: XXII. Prelude and Fugue No. 22 in B-Flat Minor

Mario Castelnuovo-Tedesco: Les guitares bien tempérées, Op. 199: XXIII. Prelude and Fugue No. 23 in F Major

Mario Castelnuovo-Tedesco: Les guitares bien tempérées, Op. 199: XXIV. Prelude and Fugue No. 24 in C Minor

Mario Castelnuovo-Tedesco: Fuga elegiaca, Op. 210a (Prelude - Fugue)

Mario Castelnuovo-Tedesco: Sonatina canonica, Op. 196: I. Mosso. Grazioso, leggero

Mario Castelnuovo-Tedesco: Sonatina canonica, Op. 196: II. Tempo di Siciliane. Andantino

Mario Castelnuovo-Tedesco: Sonatina canonica, Op. 196: III. Fandango en Rondeau