Castelnuovo-Tedesco: Music for Violin and Piano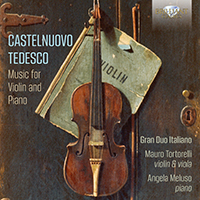 Download booklet
Composer
Mario Castelnuovo-Tedesco
Artist
Mauro Tortorelli violin & viola
Angela Meluso piano
Format
3 CD
Cat. number
95642
EAN code
5028421956428
Release
September 2018
About this release
An unrivalled collection of chamber music charting the course of the 20th century through the eclectic voices and eventful musical journey of an Italian-American composer.

Mario Castelnuovo-Tedesco (1895–1968) may still be regarded primarily as a composer for guitar, best known through his working partnership with Andres Segovia, but Brilliant Classics has illuminated other sides to this prolific musician through first recordings and modern rediscoveries of his piano music (BC94811) and his songs, most notably his settings of Shakespeare (BC95548).

Now the focus falls on his chamber music, with these new studio recordings of suites, sonatas, tone-poems and fantasies. From the piquant miniatures of the two Signorine Op.10 to the neoclassically economical Suite 508 Op.170, all the works here abound in the bitter-sweet harmonies and soaring melodic rapture which gave a distinctive flavour to Castelnuovo-Tedesco's music throughout his long career. Song without words is another thread to his output, first encountered here in the Tre canti all'aria aperta from 1919. Tuscan folksong and medieval troubadour tradition are spiced with Bartokian harmony in a fresh and appealing combination.

The writing for the string instruments is reliably extrovert and idiomatic, influenced by the music's dedicatees and first performers such as Jascha Heifetz, Albert Spalding and Adila Fachiri, grandniece of Joseph Joachim. Notturno Adriatico is a tranquil, dream-like tone-picture with a tenuous hold on the repertoire, like the virtuoso flourish of Exotica: A Rhapsody of the South Seas. However, the extensive fantasy on themes from Donizetti's La fille du regiment is a substantial rarity which deserves much wider currency. In the same tradition of the operatic fantasy is a paraphrase of Rossini's 'Largo al factotum'; like the two deft miniatures from a series of Greetings Cards Op.170, the paraphrase was issued in print, whereas most of the five-movement Donizetti fantasy remains unpublished. So does the Suite 508 for viola and piano, composed in 1960. With typical ingenuity, Castelnuovo-Tedesco works in the name of the different dedicatees to each of the seven movements, resulting in chromaticism on the verge of atonality at times, but reliably handled with verve and melodic prominence.

Mario Castelnuovo-Tedesco was one of the most successful and remarkable composers of the first half of the 20th century in Italy. His style is influenced by Neo-Classicism, vivid, brilliant, with the occasional odd dissonance, strongly rhythmical and full of catchy melodies. He fled Anti-semitism before WWO2, and settled in Hollywood where he successfully composed film music for more than 200 films.
The prolific composer is best known for his numerous works for the guitar. He wrote however in many genres. This new recording presents his complete output for violin and piano: a Sonata quasi una Fantasia, a Suite and a variety of shorter pieces: evocative, dream-like and melancholy music alternates with exciting, rhythmically driven dances.
A highly original, sophisticated voice, wonderfully performed by Mauro Tortorelli (violin) and Angela Meluso (piano): "high standard, versatility and fine musicianship of Mauro Tortorelli..warmly recommended" is what Fanfare wrote about their recording of Milhaud (BC95449).
Listening
Track list
Disk 1
Mario Castelnuovo-Tedesco: Signorine. Due profili, Op. 10: I. Dolce e tranquillo

Mario Castelnuovo-Tedesco: Signorine. Due profili, Op. 10: II. Con grazia

Mario Castelnuovo-Tedesco: 3 Canti all'aria aperta: I. La sera per il fresco è un bel cantare

Mario Castelnuovo-Tedesco: 3 Canti all'aria aperta: II. Stanotte son dormito a ciel sereno

Mario Castelnuovo-Tedesco: 3 Canti all'aria aperta: III. Il mattino ha l'oro in bocca

Mario Castelnuovo-Tedesco: Ritmi, Op.15: I. Lento e languido

Mario Castelnuovo-Tedesco: Capitan Fracassa in G Major, Op. 16

Mario Castelnuovo-Tedesco: Notturno Adriatico, Op. 34
Disk 2
Mario Castelnuovo-Tedesco: Sonata quasi una fantasia, Op. 56: I. Prologo

Mario Castelnuovo-Tedesco: Sonata quasi una fantasia, Op. 56: II. Intermezzo

Mario Castelnuovo-Tedesco: Sonata quasi una fantasia, Op. 56: III. Epilogo

Mario Castelnuovo-Tedesco: Sea urmurs

Mario Castelnuovo-Tedesco: Tango Op. 24b

Mario Castelnuovo-Tedesco: Figaro from the Barber of Seville by Rossini

Mario Castelnuovo-Tedesco: La figlia del reggimento, a Fantasy for Violin and Piano on Themes by Donizetti, Op. 110: I. Ouverture

Mario Castelnuovo-Tedesco: La figlia del reggimento, a Fantasy for Violin and Piano on Themes by Donizetti, Op. 110: II. Romance

Mario Castelnuovo-Tedesco: La figlia del reggimento, a Fantasy for Violin and Piano on Themes by Donizetti, Op. 110: III. Valse

Mario Castelnuovo-Tedesco: La figlia del reggimento, a Fantasy for Violin and Piano on Themes by Donizetti, Op. 110: IV. Tyrolienne

Mario Castelnuovo-Tedesco: La figlia del reggimento, a Fantasy for Violin and Piano on Themes by Donizetti, Op. 110: V. Rataplan
Disk 3
Mario Castelnuovo-Tedesco: Exotica: A Rhapsody of the South Seas

Mario Castelnuovo-Tedesco: The Lark, Op. 64

Mario Castelnuovo-Tedesco: Greeting Cards, Op. 170: XXIII. Intermezzo

Mario Castelnuovo-Tedesco: Greeting Cards, Op. 170: XXV. Hungarian Serenade

Mario Castelnuovo-Tedesco: Suite 508, Op. 170: I. Entrata

Mario Castelnuovo-Tedesco: Suite 508, Op. 170: II. Pavane

Mario Castelnuovo-Tedesco: Suite 508, Op. 170: III. Tambourin

Mario Castelnuovo-Tedesco: Suite 508, Op. 170: IV. Aria

Mario Castelnuovo-Tedesco: Suite 508, Op. 170: V. Toccata

Mario Castelnuovo-Tedesco: Suite 508, Op. 170: VI. Gavotta variata

Mario Castelnuovo-Tedesco: Suite 508, Op. 170: VII. Gigue