Cazzati: Amor Profano, Amor Sacro, Secular and Sacred Vocal Music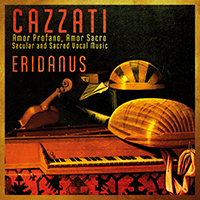 Composer
Maurizio Cazzati
Artist
Alessio Tositenor
Marta Redaellimezzo-soprano
Eridanus
Paolo Giorgiartistic direction
Format
2 CD
Cat. number
95586
EAN code
5028421955865
Release
March 2018
About this release
In this two-disc set the Italian ensemble Eridanus brings to light the lesser-known vocal music of an unjustly neglected 17th-century composer, Maurizio Cazzati (1616–1678). While his instrumental music has enjoyed resurgence in the recent period music revival, this record represents a pioneering interpretation of Cazzati's large and varied vocal output (which forms a substantial part of the oeuvre of this very prolific composer) featuring numerous world premieres.

The music is divided between the discs into secular music (cantatas and canzonetta written, unusually for the period, for the tenor voice) and sacred music (motets, antiphons and cantatas, also for solo voice).

Interspersed among the vocal music on both discs are instrumental works including dances, ostinato compositions and several sonatas, a genre Cazzati played an important role in developing.

The Eridanus ensemble is formed of eminent soloists in their fields, each of them active in other ensembles of note and much sought-after on the early music scene in Italy and abroad.

Maurizio Cazzati (1616-1678) is one of the most underrated composers of the 17th century and yet one of the most prolific and successful in his time. He composed 15 operas and oratorios, masses, cantatas and motets, chamber music and solo sonatas.
Cazzati developed his own personal style, in his "Stile concertato" the voices interact with the instruments of the ensemble, while his melodies have a typical Italian Bel Canto quality. The instrumental writing is lively and brilliant, occasionally making use of text painting.
The Cantatas on this new recording are especially written for tenor voice, featuring secular and sacred texts dealing mainly with love, whether divine or carnal. Between the vocal works we hear instrumental music: balletti, correnti and gagliarde.
Beautifully sung by Italian tenor Alessio Tosi, specialist in Early Music and regular guest with La Venexiana, Jordi Savall's group, I Barocchisti/Fasolis, La Risonanza/Bonnizoni. For Brilliant Classics he recorded music by Stradella (with Emma Kirkby) and Steffani. The ensemble Eridanus play period instruments.
The booklet contains liner notes, biographies and the sung texts, both original and in English translation.
Track list
Disk 1
Capriccio detto "Il Melara"

Sonetto sopra sÌ e no

L'amante ladro

Capriccio sopra sette note

L'amante povero

L'amante consigliero

Passacaglio

L'amante spergiuro

L'amante sdegnato

Correnti e balletti per sonare nella spinetta, Op. 30: I. Correnti prima, decima e nona

L'amante incostante

L'amante pigro

Correnti "la guastallesa", "la Gonzaga" & "la luzzara"

Barzelletta a donna crudele

Barzelletta a quel core ch'arde d'amore

Sonata la varana

L'amante Vecchio

L'amante musico

Ciaccona e nallo della ciaccona
Disk 2
Che fo, che tardo?

Ut queant laxis

Madrigale al crocefisso

Sonata "la pellicana"

Ave virgo Maria

Ave maris stella

Capriccio sopra sedici note

Già la nova improvvisa

Sonata "la nanna"

Ave regina coelorum

Sanctorum meritis

Salve regina