Cello Concertos Edition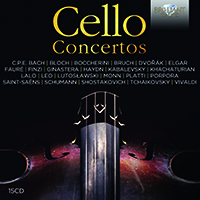 Download booklet
| | |
| --- | --- |
| Artist | Various artists |
| Format | 15 CD |
| Cat. number | 95782 |
| EAN code | 5028421957821 |
| Release | December 2018 |
About this release
This set brings together outstanding performances of landmark works from the full range of the cello concerto's relatively short history, from the Baroque to the end of the last century. Before 1800 few important cello concertos were written – with the exception of works by composers of stature such as C.P.E. Bach, Haydn, Boccherini and Vivaldi. The latter's typically inventive and diverse cello concertos with eloquent slow movements are almost certainly the very first composed for this instrument.

That most of the great cello concertos were composed after the Baroque or Classical period is rather ironic, since the ever-larger orchestral forces of the 19th century and beyond required much more care from the composer to avoid overwhelming the solo cellist in the lower register. Dvořák scored his magnificent cello concerto (1894–5) for a weighty orchestration, containing three trombones and tuba, but his experience enabled him to judiciously manage the solo/orchestra balance. The result is an epic work brimming with melodies and embracing a wide range of emotions. Alongside Dvořák, Schumann and Saint-Saëns brought full recognition to cello concertos. In 1850, Schumann's cello concerto became the first major concerto for this instrument since Boccherini's examples from 1780.

20th-century composers have made the cello a standard concerto instrument. Among the most notable from the first half of the century is Elgar's, composed in 1919, in which the English composer explores introspective and meditative expression.

Polish composer Witold Lutosławski, one of the outstanding musical minds of the latter half of the 20th century, employs avant-garde techniques in his concerto (1969–70) along with the typical drama of soloist/orchestra confrontation.

This CD set offers an extensive anthology of the Cello Concerto on 15 CDs.
The deep resonant and eloquent sound of the cello is able to express the widest spectrum of human emotions, from intimately whispering, mournfully lamenting to passionately singing.
The first cello concertos were written in the Baroque, when the instrument shed its modest role as part of the continuo group to take its place as solo instrument in a concerto setting. During the Classical and Romantic era surprisingly few concertos were written, while the 20th century yielded some of the greatest masterworks in the genre.
The set contains concertos by Vivaldi, Platti, Porpora, Monn, C.P.E. Bach, Haydn, Boccherini, Leo, Schumann, Saint-Saëns, Dvorak, Elgar, Tchaikovsky, Finzi, Lalo, Bruch, Fauré, Bloch, Ginastera, Kabalevsky, Khachaturian, Lutoslawski.
Excellent performers, including Francesco Galligioni, Adriano Maria Fazio, Stefano Veggetti, Enrico Bronzi, Jan Vogler, Maria Kliegel, Alexander Rudin, Raphael Wallfisch, Julius Berger, Zara Nelsova, István Várdai, Alexander Kniazev, Tim Hugh, Timora Rosler and Dmitri Yablonsky.
Listening
Track list
Disk 1
Antonio Vivaldi: Cello Concerto in D Minor, RV 405: I. —

Antonio Vivaldi: Cello Concerto in D Minor, RV 405: II. Adagio

Antonio Vivaldi: Cello Concerto in D Minor, RV 405: III. Allegro

Antonio Vivaldi: Cello Concerto in G Minor, RV 417: I. Allegro

Antonio Vivaldi: Cello Concerto in G Minor, RV 417: II. Andante

Antonio Vivaldi: Cello Concerto in G Minor, RV 417: III. Allegro

Antonio Vivaldi: Cello Concerto in D Major, RV 403: I. Allegro

Antonio Vivaldi: Cello Concerto in D Major, RV 403: II. —

Antonio Vivaldi: Cello Concerto in D Major, RV 403: III. Allegro

Antonio Vivaldi: Cello Concerto in F Major, RV 410: I. Allegro

Antonio Vivaldi: Cello Concerto in F Major, RV 410: II. Adagio, solo a piacimento

Antonio Vivaldi: Cello Concerto in F Major, RV 410: III. —

Antonio Vivaldi: Cello Concerto in A Minor, RV 420: I. Andante

Antonio Vivaldi: Cello Concerto in A Minor, RV 420: II. Adagio

Antonio Vivaldi: Cello Concerto in A Minor, RV 420: III. Allegro

Antonio Vivaldi: Cello Concerto in G Major, RV 414: I. Allegro molto

Antonio Vivaldi: Cello Concerto in G Major, RV 414: II. Andante

Antonio Vivaldi: Cello Concerto in G Major, RV 414: III. Presto

Antonio Vivaldi: Cello Concerto in G Minor, RV 416: I. Allegro

Antonio Vivaldi: Cello Concerto in G Minor, RV 416: II. Adagio

Antonio Vivaldi: Cello Concerto in G Minor, RV 416: III. Allegro
Disk 2
Antonio Vivaldi: Cello Concerto in A Minor, RV 418: I. Allegro

Antonio Vivaldi: Cello Concerto in A Minor, RV 418: II. —

Antonio Vivaldi: Cello Concerto in A Minor, RV 418: III. Allegro

Antonio Vivaldi: Cello Concerto in C Minor, RV 401: I. Allegro non molto

Antonio Vivaldi: Cello Concerto in C Minor, RV 401: II. Adagio

Antonio Vivaldi: Cello Concerto in C Minor, RV 401: III. Allegro ma non molto

Antonio Vivaldi: Cello Concerto in G Major, RV 413: I. Allegro

Antonio Vivaldi: Cello Concerto in G Major, RV 413: II. Largo

Antonio Vivaldi: Cello Concerto in G Major, RV 413: III. Allegro

Nicola Antonio Porpora: Cello Concerto in G Major: I. Adagio

Nicola Antonio Porpora: Cello Concerto in G Major: II. Allegro

Nicola Antonio Porpora: Cello Concerto in G Major: III. Adagio

Nicola Antonio Porpora: Cello Concerto in G Major: IV. Allegro

Georg Matthias Monn: Cello Concerto in G Minor: I. Allegro moderato

Georg Matthias Monn: Cello Concerto in G Minor: II. Adagio

Georg Matthias Monn: Cello Concerto in G Minor: III. Allegro non tanto
Disk 3
Giovanni Benedetto Platti: Cello Concerto in A Major, D-WD 654: I. Allegro

Giovanni Benedetto Platti: Cello Concerto in A Major, D-WD 654: II. Largo e cantabile

Giovanni Benedetto Platti: Cello Concerto in A Major, D-WD 654: III. Presto

Giovanni Benedetto Platti: Concerto grosso in D Major, D-WD 538: I. Grave – Allegro – Adagio –Grave – Allegro – Adagio

Giovanni Benedetto Platti: Concerto grosso in D Major, D-WD 538: II. Allegro

Giovanni Benedetto Platti: Concerto grosso in D Major, D-WD 538: III. Allegro

Giovanni Benedetto Platti: Concerto grosso in D Major, D-WD 538: IV. Adagio

Giovanni Benedetto Platti: Concerto grosso in D Major, D-WD 538: V. Allegro

Giovanni Benedetto Platti: Cello Concerto in D Minor, D-WD 657: I. Non tanto allegro

Giovanni Benedetto Platti: Cello Concerto in D Minor, D-WD 657: II. Adagio

Giovanni Benedetto Platti: Cello Concerto in D Minor, D-WD 657: III. Alla breve. Fuga

Giovanni Benedetto Platti: Concerto grosso in C Major, D-WD 539: I. Adagio

Giovanni Benedetto Platti: Concerto grosso in C Major, D-WD 539: II. Allegro

Giovanni Benedetto Platti: Concerto grosso in C Major, D-WD 539: III. Adagio

Giovanni Benedetto Platti: Concerto grosso in C Major, D-WD 539: IV. Allegro

Giovanni Benedetto Platti: Concerto grosso in C Major, D-WD 539: V. Allegro

Giovanni Benedetto Platti: Cello Concerto in D Major, D-WD 650: I. Allegro

Giovanni Benedetto Platti: Cello Concerto in D Major, D-WD 650: II. Adagio

Giovanni Benedetto Platti: Cello Concerto in D Major, D-WD 650: III. Allegro
Disk 4
Leonardo Leo: Cello Concerto in D Major, L.10: I. Andantino grazioso

Leonardo Leo: Cello Concerto in D Major, L.10: II. Con bravura

Leonardo Leo: Cello Concerto in D Major, L.10: III. Larghetto con poco moto

Leonardo Leo: Cello Concerto in D Major, L.10: IV. Fuga

Leonardo Leo: Cello Concerto in D Major, L.10: V. Allegro molto

Leonardo Leo: Cello Concerto in A Major, L.20: I. Andantino grazioso

Leonardo Leo: Cello Concerto in A Major, L.20: II. Allegro

Leonardo Leo: Cello Concerto in A Major, L.20: III. Larghetto

Leonardo Leo: Cello Concerto in A Major, L.20: IV. Allegro

Leonardo Leo: Sinfonia concertata in C Minor, L.30: I. Andante grazioso

Leonardo Leo: Sinfonia concertata in C Minor, L.30: II. Fugato

Leonardo Leo: Sinfonia concertata in C Minor, L.30: III. Larghetto

Leonardo Leo: Sinfonia concertata in C Minor, L.30: IV. Allegro
Disk 5
Carl Philipp Emanuel Bach: Cello Concerto in A Minor, Wq. 170: I. Allegro assai

Carl Philipp Emanuel Bach: Cello Concerto in A Minor, Wq. 170: II. Andante

Carl Philipp Emanuel Bach: Cello Concerto in A Minor, Wq. 170: III. Allegro assai

Carl Philipp Emanuel Bach: Cello Concerto in B-Flat Major, Wq. 171: I. Allegretto

Carl Philipp Emanuel Bach: Cello Concerto in B-Flat Major, Wq. 171: II. Adagio

Carl Philipp Emanuel Bach: Cello Concerto in B-Flat Major, Wq. 171: III. Allegro assai

Carl Philipp Emanuel Bach: Cello Concerto in A Major, Wq. 172: I. Allegro

Carl Philipp Emanuel Bach: Cello Concerto in A Major, Wq. 172: II. Largo

Carl Philipp Emanuel Bach: Cello Concerto in A Major, Wq. 172: III. Allegro assai
Disk 6
Luigi Boccherini: Cello Concerto No. 2 in D Major, G.479: I. Allegro

Luigi Boccherini: Cello Concerto No. 2 in D Major, G.479: II. Adagio

Luigi Boccherini: Cello Concerto No. 2 in D Major, G.479: III. Allegro assai

Luigi Boccherini: Cello Concerto No. 3 in G Major, G.480: I. Allegro

Luigi Boccherini: Cello Concerto No. 3 in G Major, G.480: II. Adagio

Luigi Boccherini: Cello Concerto No. 3 in G Major, G.480: III. Allegro

Luigi Boccherini: Cello Concerto No. 1 in C Major, G.477: I. Allegro

Luigi Boccherini: Cello Concerto No. 1 in C Major, G.477: II. Largo

Luigi Boccherini: Cello Concerto No. 1 in C Major, G.477: III. Allegro

Luigi Boccherini: Cello Concerto No. 9 in B-Flat Major, G.482: I. Allegro moderato

Luigi Boccherini: Cello Concerto No. 9 in B-Flat Major, G.482: II. Andantino grazioso

Luigi Boccherini: Cello Concerto No. 9 in B-Flat Major, G.482: III. Rondò. Allegro
Disk 7
Joseph Haydn: Cello Concerto in C Major, Hob. VIIb:1: I. Moderato

Joseph Haydn: Cello Concerto in C Major, Hob. VIIb:1: II. Adagio

Joseph Haydn: Cello Concerto in C Major, Hob. VIIb:1: III. Finale. Allegro molto

Joseph Haydn: Cello Concerto in D Major, Hob. VIIb:4: I. Allegro

Joseph Haydn: Cello Concerto in D Major, Hob. VIIb:4: II. Adagio

Joseph Haydn: Cello Concerto in D Major, Hob. VIIb:4: III. Allegro

Joseph Haydn: Cello Concerto in D Major, Hob. VIIb:2: I. Allegro moderato

Joseph Haydn: Cello Concerto in D Major, Hob. VIIb:2: II. Adagio

Joseph Haydn: Cello Concerto in D Major, Hob. VIIb:2: III. Allegro
Disk 8
Robert Schumann: Cello Concerto in A Minor, Op. 129: I. Nicht zu schnell

Robert Schumann: Cello Concerto in A Minor, Op. 129: II. Langsam

Robert Schumann: Cello Concerto in A Minor, Op. 129: III. Sehr lebhaft

Camille Saint-Saëns: Cello Concerto in A Minor, Op. 33: I. Allegro non troppo – II. Allegretto con moto – III. Tempo I

Gabriel Fauré: Élégie, Op. 24

Max Bruch: Kol nidrei, Op. 47
Disk 9
Piotr Ilyich Tchaikovsky: Variations on a Rococo Theme in A Major, Op. 33

Piotr Ilyich Tchaikovsky: Nocturne No. 4, Op. 19

Piotr Ilyich Tchaikovsky: Pezzo capriccioso in B Minor, Op. 62

Piotr Ilyich Tchaikovsky: String Quartet in D Major, Op. 11: II. Andante cantabile

Piotr Ilyich Tchaikovsky: Variations on a Rococo Theme in A Major, Op. 33

Dmitri Borisovich Kabalevsky: Cello Concerto No. 1 in G Minor, Op. 49: I. Allegro

Dmitri Borisovich Kabalevsky: Cello Concerto No. 1 in G Minor, Op. 49: II. Largo, molto espressivo

Dmitri Borisovich Kabalevsky: Cello Concerto No. 1 in G Minor, Op. 49: III. Allegretto
Disk 10
Antonín Dvorák: Cello Concerto in B Minor, Op. 104: I. Allegro

Antonín Dvorák: Cello Concerto in B Minor, Op. 104: II. Adagio ma non troppo

Antonín Dvorák: Cello Concerto in B Minor, Op. 104: III. Finale. Allegro moderato

Antonín Dvorák: From the Bohemian Forest, Op. 65: V. Silent Woods

Antonín Dvorák: Rondo in G Minor, Op. 94

Ernest Bloch: Schelomo, B.39
Disk 11
Edward Elgar: Cello Concerto in E Minor, Op. 85: I. Adagio – Moderato

Edward Elgar: Cello Concerto in E Minor, Op. 85: II. Lento – Allegro molto

Edward Elgar: Cello Concerto in E Minor, Op. 85: III. Adagio

Edward Elgar: Cello Concerto in E Minor, Op. 85: IV. Allegro – Moderato – Allegro ma non troppo

Gerald Finzi: Cello Concerto, Op. 40: I. Allegro moderato

Gerald Finzi: Cello Concerto, Op. 40: II. Andante quieto

Gerald Finzi: Cello Concerto, Op. 40: III. Rondo. Adagio – Allegro giocoso
Disk 12
Dmitri Shostakovich: Cello Concerto No. 1 in E-Flat Major, Op. 107: I. Allegretto

Dmitri Shostakovich: Cello Concerto No. 1 in E-Flat Major, Op. 107: II. Moderato

Dmitri Shostakovich: Cello Concerto No. 1 in E-Flat Major, Op. 107: III. Cadenza

Dmitri Shostakovich: Cello Concerto No. 1 in E-Flat Major, Op. 107: IV. Allegro con moto

Dmitri Shostakovich: Cello Concerto No. 2 in G Major, Op. 126: I. Largo

Dmitri Shostakovich: Cello Concerto No. 2 in G Major, Op. 126: II. Allegretto

Dmitri Shostakovich: Cello Concerto No. 2 in G Major, Op. 126: III. Allegretto
Disk 13
Édouard Lalo: Cello Concerto in D Minor: I. Prélude. Lento – Allegro maestoso

Édouard Lalo: Cello Concerto in D Minor: II. Intermezzo. Andantino con moto – Allegro – Presto

Édouard Lalo: Cello Concerto in D Minor: III. Introduction. Andante – Allegro vivace

Witold Lutoslawski: Concerto for Cello and Orchestra
Disk 14
Alberto Ginastera: Cello Concerto No. 2, Op. 50: I. Metamorfosi di un tema

Josep Gallés: Cello Concerto No. 2, Op. 50: II. Scherzo sfuggevole

Josep Gallés: Cello Concerto No. 2, Op. 50: III. Nottilucente

Josep Gallés: Cello Concerto No. 2, Op. 50: IV. Cadenza e finale rustic

Josep Gallés: Cello Concerto No. 1, Op. 36: I. Adagio molto appassionato

Josep Gallés: Cello Concerto No. 1, Op. 36: II. Presto sfumato – Trio notturnale

Josep Gallés: Cello Concerto No. 1, Op. 36: III. Assai mosso ed esaltato – Largo amoroso
Disk 15
Dmitri Borisovich Kabalevsky: Cello Concerto No. 2, Op. 77: I. Molto sostenuto – Allegro molto e energico – Tempo I –Cadenza

Dmitri Borisovich Kabalevsky: Cello Concerto No. 2, Op. 77: II. Presto marcato – Cadenza

Dmitri Borisovich Kabalevsky: Cello Concerto No. 2, Op. 77: III. Andante con moto – Allegro agitato – Molto tranquillo

Aram Ilyich Khachaturian: Cello Concerto in E Minor: I. Allegro moderato

Aram Ilyich Khachaturian: Cello Concerto in E Minor: II. Andante sostenuto

Aram Ilyich Khachaturian: Cello Concerto in E Minor: III. Allegro