Cello Solo Journey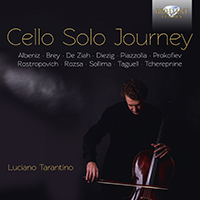 Download booklet
| | |
| --- | --- |
| Artist | Luciano Tarantino cello |
| Format | 1 CD |
| Cat. number | 95964 |
| EAN code | 5028421959641 |
| Release | July 2019 |
About this release
A voyage across a century of solo cello repertoire from Europe and America.

When the Catalan cellist Pablo Casals revived the solo suites of Bach in the first decades of the last century, he reminded both audiences and composers of the huge potential of his instrument to hold the stage in its own right, no less than a violin or a piano. Inspired by his charisma, and that of his successors such as Tortelier and Rostropovich, many modern composers have followed Bach's example. The Italian cellist presents music by ten of them on this exciting debut album for Brilliant Classics.

Tortelier and Rostropovich are represented by their own, little-known but highly imaginative works – a Circus Suite and an innocently titled but fearsomely challenging study respectively. Carter Brey, the principal cellist of the New York Philharmonic, has also written for the instrument with inside knowledge, in a tango of big, seductive gestures preceded on Tarantino's album by Latin-themed showpieces from Albéniz, Piazzolla and Rogerio y Taguell.

Each half of the album is brought to a reflective close with a soliloquy by the modern Italian composer Giovanni Sollima. The cello's melancholy moods are further explored by Ilse de Ziah and Sebastian Diezig, but Tarantino has chosen and ordered his repertoire to display the cello's expressive range to its fullest. Mixing familiar and little-known composers, it's a perfect introduction to the ever-expanding universe of solo cello music beyond Bach.

Born in 1977, Luciano Tarantino is a performer and teacher with his origins in Puglia, in the far south of Italy. He has played with many of today's greatest conductors and founded a music festival in the region of his birth. On this recording he plays a fine 1736 cello by Antonio Testore.

This stimulating program takes the listener on a journey of discovery, a musical universe captured in 20th century original music for cello solo, by such diverse composers as Sergei Prokofiev, Mstslav Rostropovich, Paul Tortelier, Giovanni Sollima, Astor Piazzolla, Alexander Tcherepnin, Isaac Albéniz and others. The music exploits the instrumental and musical possibilities of the cello to the utmost, and sometimes even beyond.
Italian cellist Luciano Tarantino is an enterprising and versatile musician, active as orchestral player, chamber music player and soloist. With the present program he embarked on an extensive international tour.
Listening
Track list
Disk 1
Paul Tortelier: Suite mon cirque: I. En piste

Paul Tortelier: Suite mon cirque: II. Poneys

Paul Tortelier: Suite mon cirque: III. L'Escamoteur

Paul Tortelier: Suite mon cirque: IV. Paillettes

Paul Tortelier: Suite mon cirque: V. L'Hypnotiseur

Paul Tortelier: Suite mon cirque: VI. Haute voltage

Paul Tortelier: Suite mon cirque: VII. Dejà fini…

Sergei Prokofiev: Cello Solo Sonata in C-Sharp Minor, Op. 134

Mstislav Rostropovich: Study in E-Flat Major

Alexander Nikolayevich Tcherepnin: Suite: I. Quasi cadenza

Alexander Nikolayevich Tcherepnin: Suite: II. —

Alexander Nikolayevich Tcherepnin: Suite: III. —

Alexander Nikolayevich Tcherepnin: Suite: IV. Vivace

Miklós Rózsa: Toccata capricciosa, Op. 36

Giovanni Sollima: Alone

Isaac Albéniz: Suite Española No. 1, Op. 47: V. Asturia

Astor Piazzolla: Tango Etude, No .3

Rogerio y Taguell: Suite espagnole No. 1: I. Flamenco

Carter Brey: Tango para Ilaria

Ilse de Ziah: Solace in Darkness

Sebastien Diezig: Blues, Op. 1

Giovanni Sollima: Lamentatio