Chelleri: 6 Sonate di Galanteria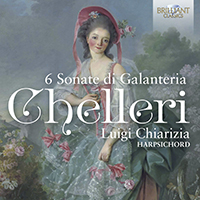 | | |
| --- | --- |
| Composer | Fortunato Chelleri |
| Artist | Luigi Chiarizia harpsichord |
| Format | 1 CD |
| Cat. number | 96308 |
| EAN code | 5028421963082 |
| Release | October 2021 |
About this release
Orphaned at a young age, Fortunato Chelleri (1690–1757) was raised by his uncle Francesco Bazzani, the kapellmeister at Piacenza Cathedral, who taught him organ, harpsichord and composition. He rose to prominence first in Italy as a composer of opera seria but also wrote oratorios, cantatas, orchestral music, chamber music and keyboard music during his time as kapellmeister at Würzburg, a post he took in 1724. Unfortunately the majority of his work has been lost.

The "6 Sonate di Galanteria" performed on this CD were written in the early 1720s, a time when a new compositional style known as the galant was taking hold. (This was a departure from the baroque, with much less emphasis on polyphony and a preference for accompanied melody, making it a forerunner of the Classical period to come.) The 6 Sonate reflect this style with their typical alternation of slow and fast movements and monothematic, binary structure. Some of the movements are based on dance rhythms, including many minuets and some French-style allemandes. In the latter, Chelleri meticulously notates the "swing" or dotted rhythms that would have been implied, unwritten, according to the French notes inégales practice of the time, which suggests that Chelleri wanted to write in a way that players outside the French harpsichord tradition could understand.

He therefore represents a synthesis of French, German and (the less well-known) Italian harpsichord music of his era in one composer who channelled all the compositional features he absorbed, embellished and reworked during his training in Europe in the early 18th century into the emerging galant style.

This album was recorded on a Franco-Flemish two-manual harpsichord built by Michael Johnson in 2006, a copy of a 1637 Ruckers instrument, tuned at a pitch of a=415 in the Kirnberger III temperament, a common choice for mid-18th-century keyboard music.

Other information:
· Recorded in 2017 in L'Aquila, Italy
· Booklet contains a liner note by the artist in Italian and English as well as his biography
· Fortunato Chelleri was orphaned at an early age and was brought up by his uncle, Francesco Bazzani, maestro di cappella at Piacenza Cathedral, who took care of his musical education, teaching him to compose and to play the organ and harpsichord.
· From 1700 to 1703 Chelleri was cantor in the choir of Parma Cathedral; he later became chapel master, first in Florence, from 1724 in Würzburg, and from 1725 at the court of Frederick II in Kassel.
· Between 1707 and 1722 he achieved fame as a composer of opera seria, completing nineteen works that were performed in Italy, Spain and Germany, so that his fame gradually spread throughout Europe.
· During his stay in Germany, Chelleri wrote oratorios, cantatas, orchestral music, chamber music and keyboard music, but unfortunately most of his works have been lost.
· The six sonatas on the disc are from the early 1720s, a period in history characterized by a new way of composing, known as the 'Sonate di galanteria', in Galant style. This style gave less importance to the complex polyphony and counterpoint of the Baroque, and instead favored the accompanied melody, which was to be the protagonist of classicism from this point on. The sonatas present the typical alternation of slow and fast movements with a two-part monothematic structure. Some movements, however, are based on dance rhythms and there is often a minuet and sometimes a French-style allemande.
· Played on the harpsichord by Luigi Chiarizia.
Listening
Track list
Disk 1
Fortunato Chelleri: Sonata No. 1 in G Minor: I. Entrée

Fortunato Chelleri: Sonata No. 1 in G Minor: II. Corrente

Fortunato Chelleri: Sonata No. 1 in G Minor: III. Giga

Fortunato Chelleri: Sonata No. 1 in G Minor: IV. Menuet

Fortunato Chelleri: Sonata No. 2 in F Major: I. Allegro

Fortunato Chelleri: Sonata No. 2 in F Major: II. Andante

Fortunato Chelleri: Sonata No. 2 in F Major: III. Allegro

Fortunato Chelleri: Sonata No. 2 in F Major: IV. Gavotta

Fortunato Chelleri: Sonata No. 3 in E Minor: I. Andante

Fortunato Chelleri: Sonata No. 3 in E Minor: II. Allegro

Fortunato Chelleri: Sonata No. 3 in E Minor: III. Allegro

Fortunato Chelleri: Sonata No. 3 in E Minor: IV. Minuetto

Fortunato Chelleri: Sonata No. 4 in D Major: I. Allegro

Fortunato Chelleri: Sonata No. 4 in D Major: II. Corrente

Fortunato Chelleri: Sonata No. 4 in D Major: III. Rigaudon

Fortunato Chelleri: Sonata No. 5 in C Major: I. Allegro

Fortunato Chelleri: Sonata No. 5 in C Major: II. Andante

Fortunato Chelleri: Sonata No. 5 in C Major: III. Giga

Fortunato Chelleri: Sonata No. 5 in C Major: IV. Menuet

Fortunato Chelleri: Sonata No. 6 in G Major: I. Andante

Fortunato Chelleri: Sonata No. 6 in G Major: II. Sarabanda – Affettuoso

Fortunato Chelleri: Sonata No. 6 in G Major: III. Aria – Allegro

Fortunato Chelleri: Sonata No. 3 in A Minor: I. Allemanda

Fortunato Chelleri: Sonata No. 3 in A Minor: II. Andante

Fortunato Chelleri: Sonata No. 3 in A Minor: III. Menuet

Fortunato Chelleri: Sonata No. 3 in A Minor: IV. Giga