Chopin: Scherzi and Other Music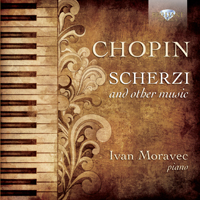 | | |
| --- | --- |
| Composer | Frédéric Chopin |
| Artist | Ivan Moravec |
| Format | 1 CD |
| Cat. number | 95098 |
| EAN code | 5028421950983 |
| Release | December 2014 |
About this release
A 'scherzo' may be a joke, but Chopin's Scherzi are not to be laughed at: indeed, they are highly virtuosic and require
performers with the utmost skill. Within their complexity, though, is hidden some of the most sensitive and tender music Chopin ever composed. On hearing his Scherzo in B flat minor Op.31, Robert Schumann felt compelled to compare it to the romantic poems of Byron, as it seemed to overflow with passion and feeling. The Scherzo in B minor Op.20, marked 'Presto con fuoco', starts at tremendous speed, and climaxes in astonishingly virtuosic arpeggios that span almost the entire length of the keyboard, ending in a minor plagal cadence that seems to sum up the dark despair the piece encapsulates. More light‐ hearted but equally complex are Chopin's Études and Mazurkas, which he performed himself to great acclaim. It was
Schumann, again, who praised Chopin's skilful playing, marvelling at his capacity to bring out the inner voices just as clearly as
the melody. At a time when other composers were turning towards large‐scale orchestral works, Chopin knew his strengths
lay with his solo compositions for piano: his Waltzes, Scherzi, Mazurkas and Études still rank among the most performed and
beloved solo piano works today. This release illustrates why Chopin deserves his reputation as supreme composer for the
piano, featuring as it does his most dramatic works for the instrument. Czech pianist Ivan Moravec, whose recording career spans almost half a century, entered the classical music scene in America with aplomb thanks to his performances of Chopin's Scherzi in 1962. This recording was made in 1989 at the world famous Troy Savings Bank Music Hall in New York State, which boasts one of the finest acoustics in the US. Playing on a Steinway Model D that had to be brought through the window especially for the performance, Moravec sparkles on this recording, as he illustrates why his reputation as a world class pianist is truly deserved.

This release presents one of the best recordings of the 4 Scherzi by Chopin, as played by Ivan Moravec.
Moravec recorded this Chopin recital in 1989 in the USA. Moravec is a "pianist's pianist", someone who combines deep intellectual musicality, passion and a superb command of keyboard. He is counted among today's greatest living pianists, respected and admired by audiences all over the world. Featuring the 4 Scherzi, and a selection of Mazurkas and Etudes.

Other information:
Historic recording made in 1989 at the Troy Savings Bank Music Hall, New York State, USA.
Booklet contains liner notes on music and composer.
Track list
Disk 1
Scherzo No. 1 in B Minor, Op. 20

Scherzo No. 2 in B-Flat Minor, Op. 31

Scherzo No. 3 in C-Sharp Minor, Op. 39

Scherzo No. 4 in E Major, Op. 54

Étude in C-Sharp Minor, Op. 25, No. 7

Étude in A-Flat Major, Op. 25, No. 1 Aeolian Harp

Mazurkas, Op. 41: Mazurka No. 1 in E Minor

Mazurkas, Op. 68: Mazurka No. 4 in F minor

Mazurkas, Op. 7: Mazurka No. 5 Vivo in C Major

Mazurkas, Op. 56: Mazurka No. 2 in C Major