Christmas Harp Music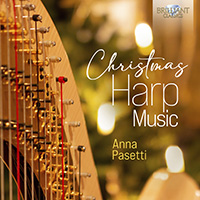 | | |
| --- | --- |
| Composer | Alphonse Hasselmans, Carlos Salzedo, Charles Oberthür, Edmund Schüecker, Henriette Reniè, Johannes Snoer, James Pierpont, Joseph Mazzinghi, Marcel Tournier, Marcel Grandjany, Marcel Samuel-Rousseau, Robert Nicolas Charles Bochsa |
| Artist | Anna Pasetti harp |
| Format | 1 CD |
| Cat. number | 96678 |
| EAN code | 5028421966786 |
| Release | December 2022 |
About this release
Christmas has always been a source of inspiration for musicians, and this harp album contains many Christmas pieces and famous melodies. Robert Nicolas Charles Bochsa (1789–1856) wrote much harp music, including his fantasy on Adeste fideles (dedicated to Clementi). Joseph Mazzinghi's (1765–1844) Andante from Sonata Op.30 No.3 consists of a series of variations on the, likely pre-existing, melody that almost a century later would become the famous song Deck the Halls. Charles Oberthür (1845–1924) was the first harp professor of the Royal Academy of Music in London. His piece "Virgo Maria" is based on the ancient Marian hymn O Sanctissima. Unlike other tracks, Edmund Schüecker's (1860–1911) Weihnachtslied is not inspired by any traditional Christmas melody. His other didactic compositions are well known and still used in conservatories, unlike his concert pieces. The same can be said of his pupil, Dutch composer Johannes Snoer (1868–1936). His Phantasia combines the two themes of the Christmas carols Stille Nacht and Es ist ein' Ros' entsprungen. In France, Alphonse Hasselmans (1845–1912) was the most important harp tutor at the Paris Conservatory, teaching Tournier, Renié, Grandjany and Salzedo. Rather than depicting a light-hearted holiday scene, Hasslemans' Conte de Noël evokes Christmas ghost tales. In 1912, Marcel Tournier (1879–1951) succeeded Hasselmans at the Paris Conservatory. Tournier composed in an impressionistic style, and his two pieces here are from his four volumes of Images (inspired by Debussy). Les enfants expresses children's joy watching the nativity scene, and Cloches evokes the sound of bells under the snow. Hasselmans' first choice for his replacement was, however, not Tournier, but Henriette Renié (1875–1956), perhaps the most important female harp music composer. However, the Minister of Education refused Hasselmans, as there were no women teaching principal courses at the time, and because she was a Christian when the French government was advocating secularism. The melancholic Conte de Noël opens her collection of Six Pièces brèves. Marcel Grandjany (1891–1975), a pupil of Renié, composed many pieces that remain part of study and concert programs for theharp, and his version of Stille Nacht here contrasts with Snoer's version. Marcel Samuel-Rousseau's (1882-1955) Variations Pastorales are inspired by an old French popular carol. Carlos Salzedo's (1885-1961) compositions for harp were very innovative: he invented and described several of the effects that are still used in contemporary harp music. His Concert Variations are based on the song O Tannenbaum, created from a late medieval or Renaissance melody. Jingle Bells needs no introduction. Composed by James Pierpont (1822-1893) in 1850 (originally for Thanksgiving), it has become a distinctive Christmas song, arranged here by harpist Masumi Nagasawa.

Other information:
· Recorded April–June 2022 in Vendelago (TV), Italy
· Bilingual booklet in English and Italian contains a biography and liner notes by the harpist

· This new recording presents original harp music written for the Christmas Season.
· Christmas, its magical atmosphere, carols, nativity scene, decorated trees, the snow outside, the warm intimacy of the house, has always been a source of inspiration for musicians and composers. The harp, with its gentle, comforting and luminous sound, proves to be a perfect and ideal carrier of the Christmas spirit.
· Included are harp compositions by Robert Nicolas-Charles Bochsa (1789-1856), Joseph Mazzinghi (1765-1844), Charles Oberthür (1845-1924), Edmund Schüecker (1860-1911), Johannes Snoer 1868-1936), Alphonse Hasselmans (1845-1912), Marcel Tournier (1879-1951), Henriette Renié (1875-1956), Marcel Grandjany (1891-1975), Marcel Samuel-Rousseau (1882-1955), Carlos Salzedo (1885-1961) and James Pierpont (1822-1893).
· Italian harpist Anna Pasetti is a successful soloist and musicologist, active in the research for unknown music for her instrument.
Listening
Track list
Disk 1
Robert Nicolas Charles Bochsa: Fantasia on adeste fideles

Joseph Mazzinghi: Andante from Sonata, Op. 30 No. 3

Charles Oberthür: Virgo Maria, Op. 106 No. 3

Edmund Schüecker: Weihnachtslied, Op. 21 No. 2

Johannes Snoer: Phantasia über Zwei Weihnachtslieder, Op. 59

Alphonse Hasselmans: Conte de NoëL in E-Flat Minor, Op. 33

Marcel Tournier: Les enfants à la crèche de Noël, Op. 31 No. 6

Marcel Tournier: Cloches sous la neige, Op. 39 No. 11

Henriette Reniè: Conte de Noël

Marcel Grandjany: Noël provençal, Op. 24

Marcel Grandjany: Silent Night, Holy Night

Marcel Samuel-Rousseau: Variations pastorales sur un vieux Noël in G Minor

Carlos Salzedo: Concert Variations on o Tannenbaum

James Pierpont: Jingle Swingle Bells